Exclusive: Glip, a Productivity System Based on Natural Communication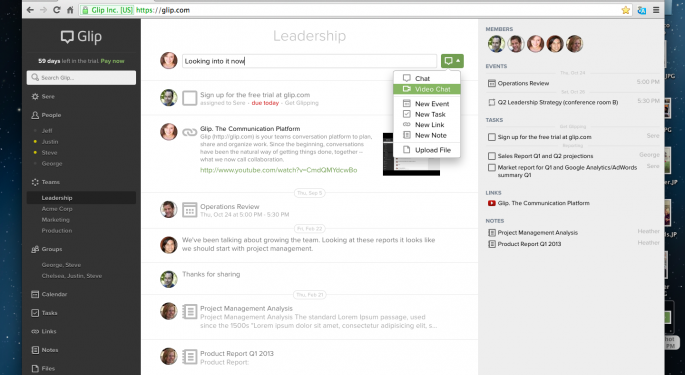 Launching earlier this month, Glip is business collaboration platform based on traits of effective communication.
In an exclusive interview and demo with Benzinga, Glip foundersPeter Pezaris and Claudio Pinkus explained how their brainchild can boost productivity.
"Although the overall market is large, growing at 40 percent a year, there is no winner yet," began Pinkus. "We believe there is no winner because until now nobody has figured out how to make collaboration work the way people work."
Pinkus explained Glip is the result of in-depth research on how a team actually collaborates. A Harvard Business Review article identifies communication as one of the biggest differentiators between high- and low-performing teams. The study also showed face to face interactions are ideal, with email collaboration on the other end of the spectrum; a problem Glip looks to solve.
"Everything [on Glip] is about conversation," PInkus added. "All of the essential apps that you need to get your work done are a part of the conversation and not outside or bolted on."
While giving a walk-through of the platform, Pezaris emphasised Glip's ease of use: "Everytime we thought of something new to add to Glip, we asked ourselves, 'is this going to make the user experience as simple as it can be?'"
Related: Exclusive: Tibco CEO Vivek Ranadive on Industry Valuation and Dan Loeb
Pezaris calls Glip the most intuitive collaboration tool for teams, which is important as workers are already bogged down with myriad tools and softwares. Directly in the Glip stream, users can chat with each other, share links and documents, assign tasks, and set up calendar events.
"Contrast that with the way that most people are working today," Pezaris explained. "You are using some form of communication tool and you finally agree on what time to meet. Now I have to switch to my calendar app, I have to pick the date we were just talking about, then I have to find the people I was just talking to, then I send out meeting invitations, which probably uses a third application."
He described how Glip will compete with existing solutions. "There are approximately 280 million people using Skype for business," he said, "and there are absolutely no productivity tools built into at all. Or there is this document-centric or object-centric type of solution, where you make changes to the document itself, and all these changes might trigger an email; those communication systems are essential bolted onto the side."
"Glip becomes your primary communication tool and you can have all the productivity tools baked right into it," Pezaris concluded.
Update: The Glip iPhone app is not available for download in the app store.
Posted-In: Business Collaboration Platform Claudio Pinkus Glip iPhone Peter PezarisEntrepreneurship Interview General
View Comments and Join the Discussion!