SLIDESHOW: An Exclusive Look Into Shinola's Detroit Factory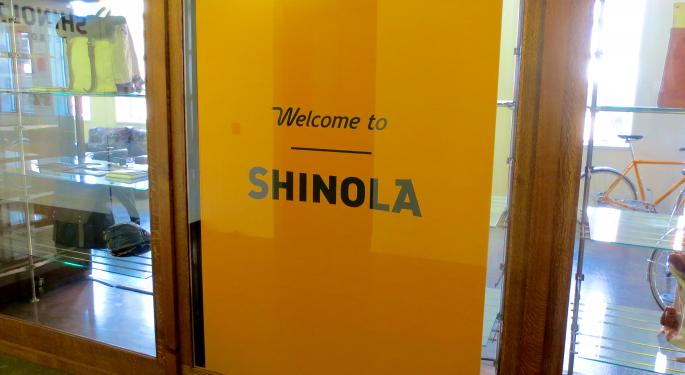 Started by Fossil (NASDAQ: FOSL) co-founder Tom Kartsotis, Shinola is bringing high-end manufacturing to Detroit.
Located at the heat of midtown on the College for Creative Study's campus, Shinola describes itself as a "Made in America" accessories brand.
In its state-of-the-art production facility, the company produces an array of high quality watches, bicycles, leather goods and journals.
Benzinga had the unique opportunity to get a personal tour of the Shinola headquarters where the watches are manufactured and all the products are on display.
Benzinga also had the opportunity to interview Shinola CEO Heath Carr, which was published in three parts:
Check out the slideshow to see the inside of the Shinola factory!
The entrance

Coming off the elevator into the Shinola front office.

The 'factory'

A view of the work room, which is enclosed in a pressurized air work space. Smocks, shoe covers and elastic hats must be work by all employees/visitors to avoid tracking in the hand-made watchmaker's worst enemy: Dust.

Hand-made with compressed air

Compressed air is used to clean and assemble the almost microscopic parts that are involved in the watch assembly.

The Movements

These are assembled movements ready to be implemented into full watch development. At the time of the tour, Shinola claimed to have 60,000 movements stock piled to meet production goals.

The Wrist Watch Lineup

A showcase of Shinola products in the front office.

Accounting/Creative Departments

The creative and accounting departments are serene with a comfortably-chic environment consisting of beautiful wood floors and tables and seating surfaces finished in brown leather.

Showcase #1

Another view of a showcase containing Shinola products in the front office.

Showcase #2

Note that Shinola isn't just known for watches and bicycles; the company manufactures beautifully crafted journals, wallets, purses, bike locks and much more.

Showcase #3

Every watch that Shinola creates is unique and stylish, as can be seen in this showcase.

Shinola Cola

The company even has its own cola!

A special recipe crafted just for the Shinola offices, this unique blend of cola is available exclusively at Shinola locations.

The 'Work Room'

These are the doors that separate the front office, accounting/creative departments and the break room from the pressurized air facility where the watchmaking occurs.

Benzinga Meets Shinola

Benzinga newsdesk analyst Jake L'Ecuyer and managing editor Joe Young all smocked up to enter the manufacturing area. Dexter, anyone?

Related Links
View Comments and Join the Discussion!
Posted-In: bicycle Detroit Journal Leather ShinolaEntrepreneurship Interview General Best of Benzinga