One Year Later: Facebook Employees Are Happier Since the IPO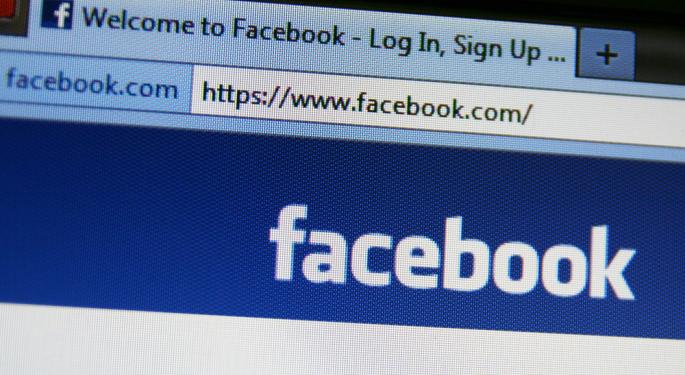 One year following Facebook's (NASDAQ: FB) IPO, its employees are more satisfied than they were in the twelve months before the public offering, as well as more confident in CEO Mark Zuckerberg.
The revealing figures come from a survey conducted by Glassdoor. In the twelve month period before the May 18, 2012 public offering, Facebook workers gave their company a 4.6 rating, where a "5" indicated maximum satisfaction.
In the year since, that rating increased to a 4.7 average among employees. In the same time period, Facebook employees' approval rating of Mark Zuckerberg climbed from 95 percent to 99 percent.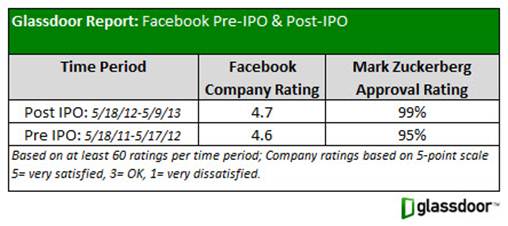 Outside of a rough patch in the first half of 2011, Facebook has maintained a consistently high rating among employees both before and after its IPO.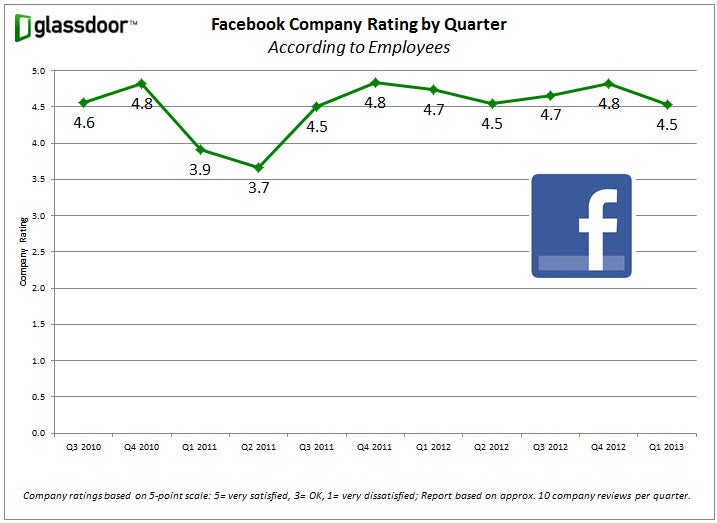 Employee pay at Facebook also appears to be on the rise, at least among software engineers.
In the past year, the average base salary for software engineers at Facebook was $119,262, compared to $112,193 in the twelve months before the IPO.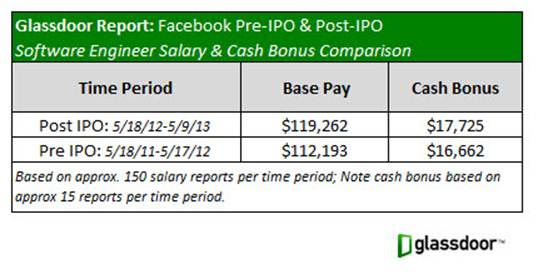 Facebook employees are not satisfied with every aspect of their jobs, however. For the twelve month period following the IPO, the employee rating of Facebook's senior management was 4.0, down from the 4.3 rating in the year leading up to the public offering.
Facebook's interview process has nearly doubled. Job candidates report that in the past twelve months, the process takes about 26 days, compared to an average interview process of 16 days in the year before the IPO. The dynamics of landing a job interview of Facebook have also changed.
Pre-IPO, a plurality of candidates received an interview through an online application process -- 29 percent. In the twelve months since the offering, the most commonly reported method of landing an interview -- 27 percent -- was via a recruiter.
When asked to name some of the best reasons for working at Facebook, employees used these words the most: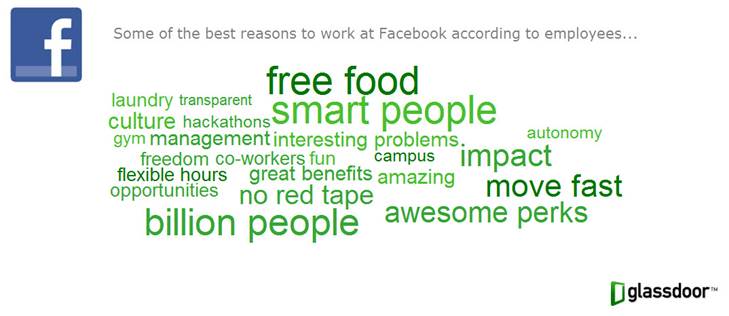 And the downsides: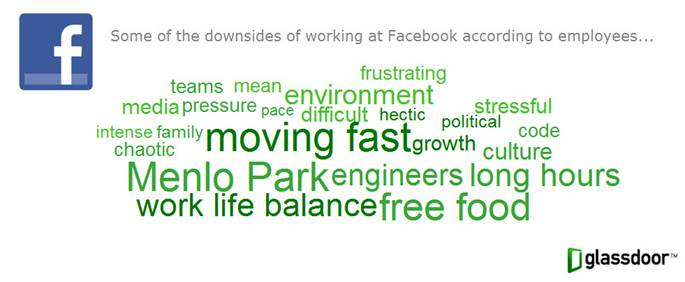 Overall, Facebook employees possess a very optimistic business outlook. When asked at the end of Q1 2013, 91 percent of employees believed the company's business outlook would get better in the next six months. Nine percent said the outlook would stay the same, while zero percent claimed Facebook's outlook would get worse.
Follow Alex Biles on Twitter at @perfectlyaloof
Posted-In: Facebook IPONews Entrepreneurship Rumors IPOs Tech General Best of Benzinga
View Comments and Join the Discussion!