SurveyMonkey's Massive Fundraising Round: Company Raises Nearly $800 Million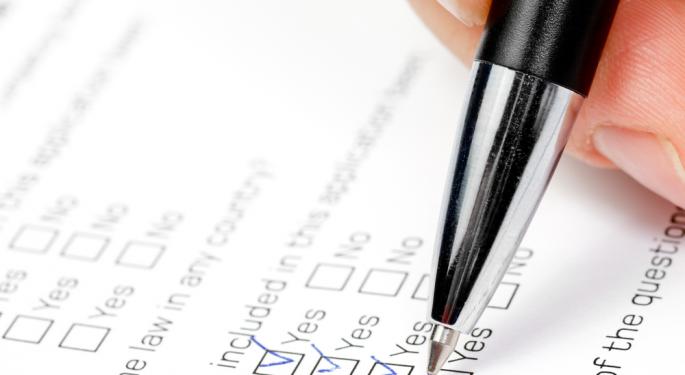 SurveyMonkey, which was founded by Ryan Finley in 1999, and sold to a private equity consortium in 2009, announced on Thursday that it had closed a $444 million fund-raising round in December. The company also said that it plans to raise $350 million in debt, led by JPMorgan Chase (NYSE: JPM). All told, the capital raise will provide SurveyMonkey with almost $800 million while allowing the company to stay private.
According to the New York Times, the financing round values SurveyMonkey at around $1.35 billion. According to the company's CEO Dave Goldberg, the capital raise was structured specifically as a way that would allow SurveyMonkey to stay private while allowing existing shareholders and employees liquidity.
"This transaction affords us all of the capital benefits of a public offering without the costs and distractions of an I.P.O. and the demands of operating as a public company," Goldberg said in a statement. The CEO, who upped his stake in SurveyMonkey by participating in the financing, is a well-known mover and shaker in Silicon Valley having previously sold a company to Yahoo (NASDAQ: YHOO).
He is also the husband of Facebook's (NASDAQ: FB) Chief Operating Officer Sheryl Sandberg. Goldberg's ability to avoid an IPO while raising a substantial amount of capital will likely garner him praise from both investors and employees. His decision to avoid the public markets for the time being could have been influenced in part by his wife's leading role in the botched Facebook initial public offering.
The investors in the fund-raising round included technology luminaries such as Google (NASDAQ: GOOG) and hedge fund Tiger Global Management. Existing shareholders cashed out some of their holdings, but Spectrum Equity Investors, which co-led the company's 2009 acquisition, said it would continue to hold a stake in SurveyMonkey. The company has seen its user base increase almost sevenfold to 14 million free users and 360,000 paid customers since 2009, according to Dealbook.
The ability to raise large sums of capital in the private markets is a trend that has been gaining momentum in recent years. It benefits companies which want to temporarily avoid the headaches associated with an IPO and operating as a public company while also giving private equity and other investors a potential catalyst down the road when the company does go public. Large deals such as SurveyMonkey's also provide existing shareholders and employees an ample amount of liquidity to reduce their own stakes.
Posted-In: News Entrepreneurship Financing Hedge Funds Movers & Shakers Offerings IPOs Success Stories Best of Benzinga
View Comments and Join the Discussion!