The 33 Year Old CEO of a Billion Dollar Company Shares Secrets to Success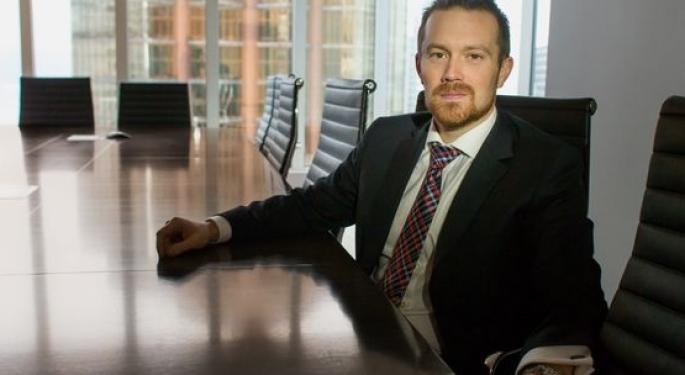 "A lot of people questioned whether a 29 year old kid was going to be able to start a world class company as CEO. We started out with a $4 million market cap and we've grown that to almost a billion and a half in the last four years."
In his teenager years, Nolan Watson was mandated by his father to work at one of the factories he managed. Inhaling dust in the warehouse's hot, sweaty environment, Watson dreaded going to work. That job motivated him to seek a more managerial career.
To say that he achieved that goal is an understatement: now 33, Watson is the CEO of Sandstorm Gold (NYSE: SAND).
Calm and soft-spoken, Watson spoke to Benzinga from his office in Vancouver. Catching Watson in his office is a rare opportunity; between his firm's global mining investments and his philanthropic work in Sub-Saharan Africa, the man is a frequent flyer.
Rapid Rise
In 2006, Watson got his big break when he joined Silver Wheaton (NYSE: SLW) as CFO. Only 26 at the time, he made waves as the youngest CFO of any company listed on the New York Stock Exchange. It was new territory for him.
"When I first got that job, I was in over my head. I didn't quite know what I was doing but I was humble enough to admit that I didn't know what I was doing and never shy to ask questions and never shy to work 100 hour weeks to make up for it."
Watson founded Sandstorm in 2008 to implement a novel approach to gold investing. The firm provides a large amount of upfront capital to mining companies before they begin a project. In exchange, Sandstorm receives the rights to purchase all future production at a set low price.
This business model, which would turn out to be so lucrative for Sandstorm, closely replicated the one that Watson had developed at Silver Wheaton. But whereas Silver Wheaton invests in silver projects, Watson and co-founder David Awram founded Sandstorm to bring the business model to gold.
With the price of gold more than doubling since 2009, Watson started the business at a fortuitous time. Sandstorm has outperformed gold by leaps and bounds, gaining more than 250 percent since its IPO in June 2010.
To explain the company's prosperity, Watson highlighted one of its early deals. "The best deal that we did was back in 2009, with a company that had total resources of approximately 1 million ounces of gold. We struck a deal to buy about 17 percent of their production, which was about 170,000 ounces of gold to our credit. Fast forward three years later, today, they have almost 4 million ounces in resource. We get 17 percent of that once it is produced and they are continuing to find gold at a very fast clip."
By scoring such favorable deals, Watson believes that the company can continue its meteoric growth even without big increases in the price of gold. Indeed, the company has grown nearly 100 percent year-to-date, despite no gain in the price of gold over the same period.
All of this begs the question: in an industry where C-level executives are typically gray-haired veterans, how has Watson risen through the ranks at such a young age? The answer lies in one word: hustle. "I've been working 80 hours a week for the better part of 11 years now. It advanced my career very quickly."
Social Justice
In his scarce time not spent building the company, Watson is still a busy man. He is married with three daughters. And he is dedicated to philanthropy and activism in Sub-Saharan Africa. Watson and his wife are so committed to humanitarian work in the region that the couple adopted one of their daughters from an orphanage in Sierra Leone.
He founded Nations Cry, a nonprofit organization that is building and planning to operate the first middle school in Waterloo, Sierra Leone.
Work/Life Balance
Between philanthropy and business, Watson's approach to success is the same. "You need to always be on. A lot of people talk about work-life balance. They do work during these times and they are with their family during these times. They do either one or the other. What I've tried to get my family comfortable with, and Sandstorm's employees comfortable with, is that I'm always on. If you phone me or email me, at any time, day or night, and ask for a response in half an hour, I will get it to you."
What is the biggest downside of Watson's high octane lifestyle?
"I unfortunately don't have the luxury of hobbies, but hopefully one day when I'm older I'll slow down a little bit. But not anytime soon."
Posted-In: Gold Sandstorm Gold Sierra LeoneEntrepreneurship Commodities Success Stories Markets General Best of Benzinga
View Comments and Join the Discussion!