Here's How Much Investing $1,000 In The 2018 DocuSign IPO Would Be Worth Today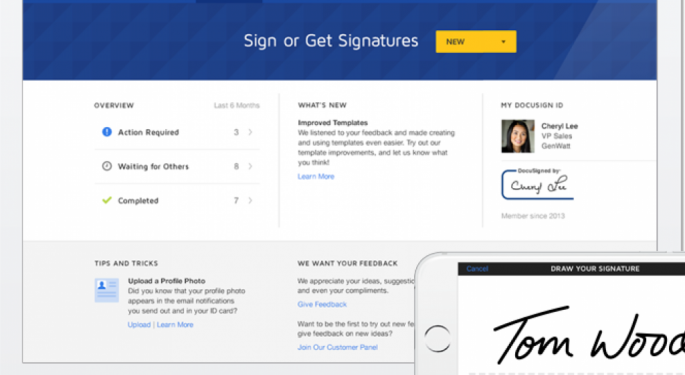 Investors who owned stocks in the past two years generally experienced some big gains. In fact, Since April 27, 2018, the SPDR S&P 500 (NYSE: SPY) total return is 31.9%.
On that day, DocuSign Inc (NASDAQ: DOCU) held its IPO, and IPO investors have significantly outperformed the market in the two-plus years that have followed.
DocuSign's Big Debut: E-signature pioneer DocuSign was founded in 2003 and made the move to go public 15 years later. It priced its IPO at $29 per share, exceeding the high end of its targeted range of between $26 and $28. DocuSign raised $629.3 million by selling 21.7 million shares.
At the time of its IPO, the company was valued at $4.41 billion.
After selling IPO shares at $14, DocuSign shares hit the ground running, opening at around $38 per share and continuing upward to as high as $68.35 in August 2018. At that point, the stock cooled off and consolidated for more than a year. DocuSign traded back to as low as $35.06 in November 2018 and spent most of the next year trading between $40 and $65.
In March 2019, DocuSign announced the DocuSign Agreement Cloud, a suite of new products aimed at digitizing and automating the entire agreement process.
In December 2019, DocuSign began what would ultimately be a major breakout to new all-time highs. The stock hit $80 in January 2020 and peaked at $92.55 in February.
Recent News: The COVID-19 sell-off sent the stock as low as $65.61 in March, but investors soon realized the work-from-home environment would actually provide a massive tailwind for the company's business.
In the second quarter, DocuSign reported 45% revenue growth and exceeded analyst EPS estimates as well.
The stock hit $100 in April, $200 in July and ultimately peaked at $290.23 in early September before pulling back to around $208 during a broad tech sector sell-off.
2020 And Beyond: At the stock's current level, $1,000 worth of DocuSign IPO stock in 2018 would be worth about $7,207 today.
Looking ahead, analysts see even more gains ahead in the next 12 months. The average price target among the 16 analysts covering the stock is $255 suggesting 21% upside from current levels.
Related Links:
Here's How Much Investing $1,000 In Novavax In 2010 Would Be Worth Today
Here's How Much Investing $1,000 In Microsoft At Dot-Com Bubble Peak Would Be Worth Today
View Comments and Join the Discussion!
Posted-In: Education Tech General Best of Benzinga