October's Biggest Losers And Most Surprising Winners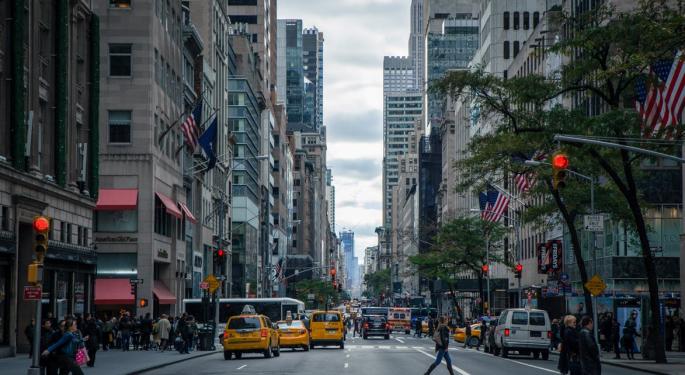 Now that November has rolled around and markets have steadied their nerves from a tumultuous October, new leaders are beginning to emerge from the volatility.
Using trading platform Finscreener's chartboard tools, we can take a look at the top mega-cap gainers in the S&P 500 over the initial trading days of November, filtering by those that are up more than 3 percent over the past 5 trading days.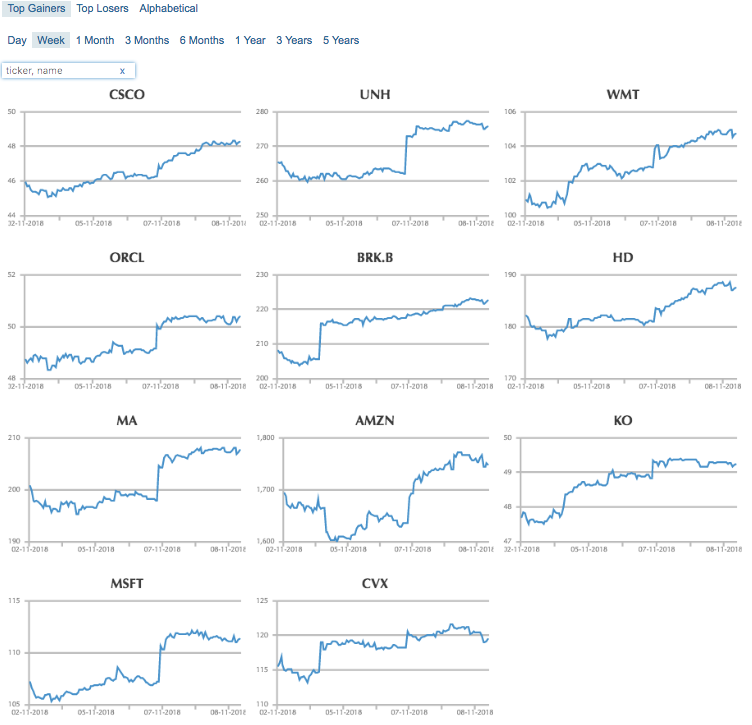 In addition to a few companies that reported strong earnings in this span like Mastercard Inc. (NYSE: MA) and The Coca-Cola Co. (NYSE: KO), this array features quite a few names traders have come to expect to lead the market.
However, while this might imply some momentum, traders shouldn't forget the nosedive that preceded many of these stock's current rallies. With that in mind, let's take a deeper dive into which companies are simply recovering from taking a bath in October and which are actually building upon whatever momentum they might have sustained in the midst of the sell off.
To do this, we'll take a look at historical quotes over the course of the month, first with an eye toward the companies working from the largest deficits, those which posted a loss of more than 3 percent.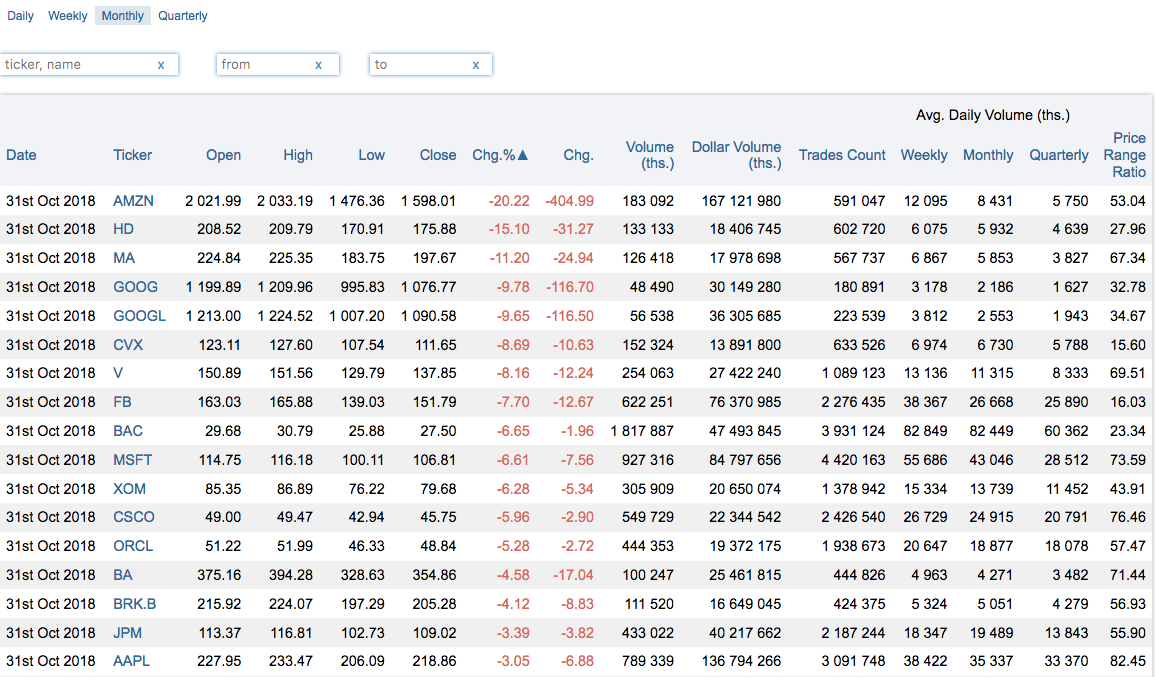 As most market watchers know, and as the chart above reveals, tech, financial and energy names took it on the chin in October, with Amazon.com, Inc. (NASDAQ: AMZN), Mastercard and Chevron Corporation (NYSE: CVX) being particularly hard hit. While those industries have recovered somewhat in the first few days of November, the market has also revealed a lingering eagerness to punish those sectors on falling oil prices and evidence of slower revenue growth in the previously scorching tech industry.
Conversely, some less expected names appear when we look to the one-month gainers over the course of October. Again, we'll bring up Finscreener's historical quotes chart, but this time search for those stocks that added 3 percent or more to their equity.

As you can see, it's a much narrower list. Nonetheless, some clear trends emerge between it and November's top performers. Coca-Cola, for one, makes a strong showing along fellow consumer staples company Procter & Gamble Co. (NYSE: PG). Retailer Walmart Inc. (NYSE: WMT) also reappears from November's standouts, leading the October mega-caps just behind Verizon Communications Inc. (NYSE: VZ).
So, while consumer staples seemed to perform in the volatility as one might expect them to, Walmart, Verizon and Merck & Co., Inc. (NYSE: MRK) stand out as higher growth stocks that managed to defy the trend. In the case of Verizon we can point to the strong earnings the company posted in the period, however, Merck and Walmart, and their respective sectors might bear closer scrutiny.
Returning to the chart board, let's take a look at the extended three-month performance in the drug manufacturing and retail sectors, by filtering by industry.
What's clear from these charts is that Walmart is something of an outlier in the consumer retail space, while the most resilient strength in the market seems to be in the pharma space, with Merck, Johnson & Johnson and Pfizer, Inc. (NYSE: PFE) all still above water over the past 90 days.
This value retention stands to reason given the high degree of liquidity that area of the market has seen over the past year. Pharmaceutical companies have arguably experienced the most benefit from this year's U.S. tax cut, manifesting in the form of high IPO and M&A activity over the past 52-weeks, as well as a slew of reinvestment and stock buyback programs.
While there's no clear indication of what might set off the next sell-off or how dramatic that might be, it's apparent that, even in the midst of a correction, traders haven't abandoned the core strategy of following where the money pools.
Finscreener is a content partner of Benzinga
Posted-In: FinscreenerEducation Markets General
View Comments and Join the Discussion!