How Could You Follow Warren Buffett's Career Path Nowadays?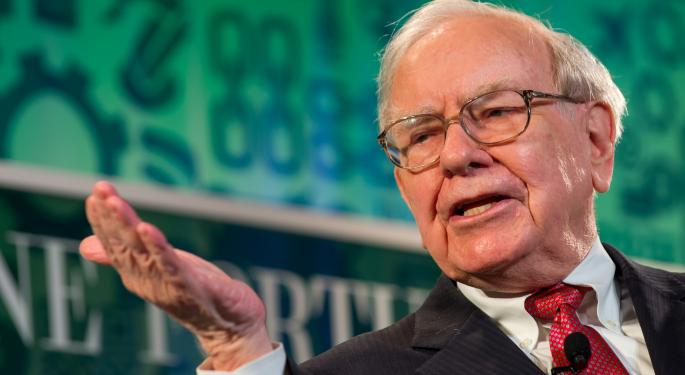 Many consider Berkshire Hathaway Inc. (NYSE: BRK-A)(NYSE: BRK-B) CEO Warren Buffett to be the greatest investor of all time. According to Forbes' 2017 wealthiest people list, Buffett is the second richest person on the planet with a net worth of more than $75 billion. But could somebody repeat Buffett's success story in today's economy?
No matter how much investing prowess Buffett has, it takes money to make money. Buffett was reportedly a millionaire by age 30 and took control of Berkshire at age 32. Here's a look at how Buffett made it to his first million and what it might take to do the same today.
An Early Start
To become a millionaire by age 30, starting young is critical. Buffett became obsessed with money and investing at a very young age, reportedly buying shares of stock starting at 11 years old. Buffett saved and invested his earnings from a paper delivery route and a pinball machine business and obtained a net worth of about $6,000 by age 15.
While putting aside $6,000 by age 15 may not seem like a major accomplishment, the fact that Buffett did it in 1945 is mind-blowing. In today's dollars, Buffett had a net worth of more than $81,000 by the time he was a sophomore in high school. If today's youth can even find somewhere in the world that delivers newspapers, they can expect to earn anywhere between $400 and $500 per month.
Buffett sold his pinball machine business for $1,200 before graduating high school and bought a 40-acre farm. That's a little more than $16,000 in today's dollars for the pinball business, which would be a conceivable price for a teenager to get for a small, profitable venture. Buying the farm may be more difficult, however. Lands of America currently has 40 acres of rural Nebraska farmland priced anywhere between $115,000 and $400,000 depending on location and features.
On This Day In Market History: Warren Buffett Buys First Shares Of Berkshire Hathaway
Early Career
By age 21, Buffett's investments and savings reportedly totaled around $20,000. That's certainly a reasonable number prior to adjusting for inflation, but it represented an impressive $193,000 in today's dollars.
Upon graduating from college, Buffett immediately got a job working as a stock broker for his father's business. According to PayScale, the average starting salary for an entry-level stock broker is currently around $48,500. It probably helps to have your dad as the owner of the business.
After working for his father for three years, Buffett took a job as a securities analyst for Graham-Newton Corp. at age 24. At the time, Buffett was reportedly paid $12,000 per year, or about $107,000 per year by today's standards. Today, a securities analyst with minimal work experience can expect to make about $64,600 per year.
The Buffett We Know And Love
By the time Buffett reached age 26, his net worth was about $140,000, or $1.26 million in today's dollars. At age 25, he formed Buffett Partnership, Ltd., starting with $105,100 and seven limited partners, five of which were family members. The terms of Buffett's first investment fund were reportedly paid him a zero percent management fee and 25 percent of all gains beyond a cumulative 6 percent return. He also agreed to personally reimburse a percentage of all losses.
Buffett hit his goal of a $1 million net worth by age 30 in 1960, but the most impressive part of his achievement is that it would take a net worth of $8.2 million to replicate his feat in today's dollars.
The Buffett Partnership was the birth of Buffett as fund manager, the role in which most investors know him today. Within about 12 years, Buffett had turned that $100,000 initial investment into more than $1.7 million. The same amount of money invested in the Dow Jones Industrial Average would have grown to just $252,000 over that same stretch. But that fact is that Buffett had made his first million by today's standards prior to even beginning his career as a fund manager.
Following Buffett's Footsteps
Here is a rough calculation of how far someone following in Buffett's footsteps could expect to get today.
Assuming a child starts at age 8 and can find a job working a job that is allowed by federal law, it might not be too difficult to earn roughly $6,000 per year in today's economy. Assuming parents pay for rent and expenses, investing those earnings in an S&P 500 index fund would historically yield around a 10 percent annual gain. That savings and return rate would get you to about $60,800 in net worth by age 15.
According to the Bureau of Labor Statistics, today's Americans ages 16 to 19 earn an average of $21,800 per year. Assuming that earnings rate (and no tuition or living expenses thanks to parents), an individual's net worth could climb to $263,591 by the time they reach age 21 once taxes and inflation are factored in.
At this point, assumptions about zero expenses get a bit far-fetched, but assuming you're willing to forgo a social life and live rent-free in your parent's basement, here's what you could expect: Three years at $48,500 as a stock broker would get you to $466,568 by age 24. Another six years as a security analyst at $64,600 would squeak you in at a net worth of about $1.08 million by age 30.
It's Never Too Early
It may be difficult to follow in Buffett's footsteps in today's world and without the family connections that gave Buffett a leg-up in early earning power. But if there's any universal takeaway from Buffett's success story, it's that every year is critical in long-term investing success, and saving and investing early is the true key to incredible long-term gains.
Image credit: Fortune Live Media, Flickr
View Comments and Join the Discussion!
Posted-In: Warren BuffettEducation Psychology Top Stories Personal Finance General Best of Benzinga