This Tool Makes It Easy To See How Company Dividends Have Changed Over Time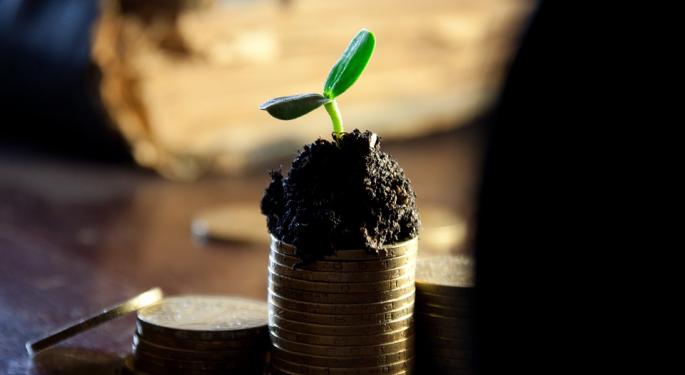 Among the stories coming out of 2017's Q3 earnings season, there has been a strong theme forming around dividends. One of the most jarring pieces of this puzzle to come out in the past few weeks was headlines that General Electric Company (NYSE: GE) could potentially lower its dividend for the second time in 30 years.
At the same time, Mattel, Inc. (NASDAQ: MAT) announced this season that it would suspend its own dividend program while Macy's Inc (NYSE: M), which is facing similar bottom-line struggles, is pushing forward with a generous $0.3775 distribution. Dividend capture traders likely have a keen eye on these moves, along with attractive yields in AT&T Inc. (NYSE: T) and Las Vegas Sands Corp. (NYSE: LVS).
To gain their own context on how these changes to dividend distributions sync with the company's financial performance, traders rely on dividend calendars and histories. Let's take a look at a few dividend-focused widgets from the stock research platform FinanceBoards to get a sense of how this information can come to bear on the value of come of these stocks.
Below you can see the history of Macy's dividend payments In the Dividend Amounts widget as well as the change in those distributions in the Dividend Changes widget.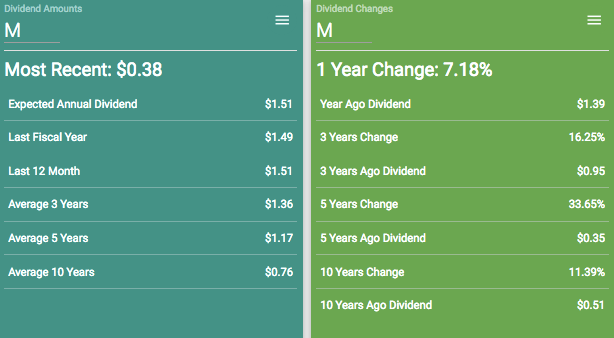 By these two widget alone you can see that Macy's has been raising its dividend payments at steady clip. However, glancing at Macy's chart on the Company Information Widget and its sales performance on the Earnings History widget, you can see the sharp decline in share price and per share revenue.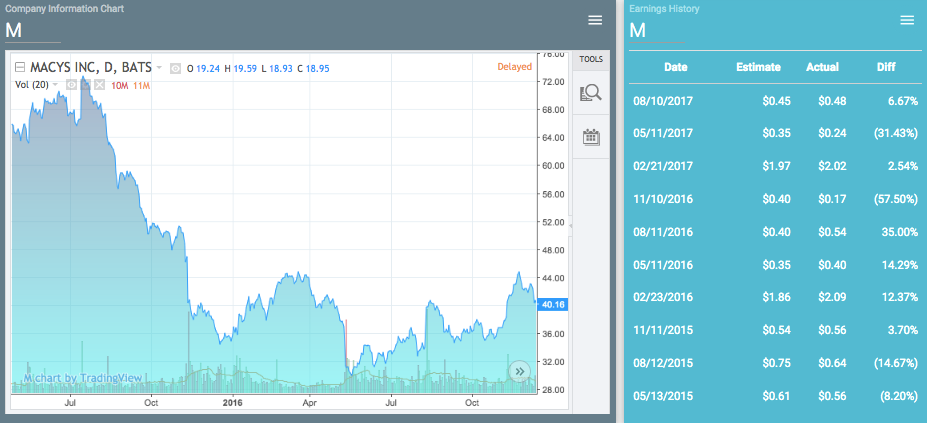 These patterns have signaled to many traders that Macy's decision to continue its 7.88 percent annual yield likely isn't sustainable. This might mean the stocks upcoming distribution on December 18 might be one of the last at that high of a price.
Traders looking to anticipate distributions from dividend-paying stocks take recourse in a dividend calendar to stay abreast of the ex-dividend date, the day on which when they must own the stock in order to receive the dividend. To give a sense of how this information is used, see below the Dividends Calendar and Dividends History widgets for Las Vegas Sands.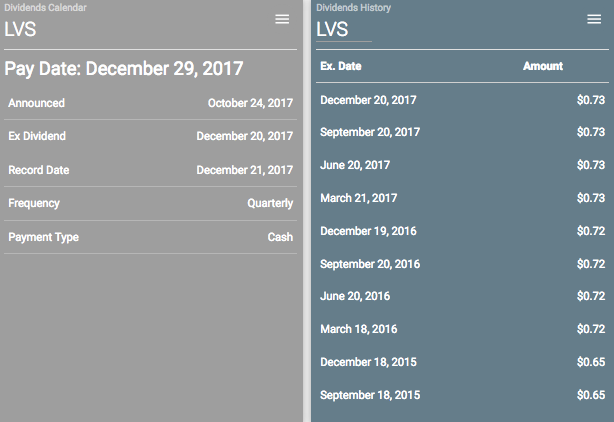 In order to collect the recently announced distribution for the company's fourth quarter, investors will have to purchase shares by December 20, nine days before the actual payment, in order to be counted as a shareholder on the record date one day later.
For dividend-minded investors, or traders who make it part of their strategy, using some tool to keep tabs on past and future dividend distributions is essential for recognizing market-wide dividend trends.
View Comments and Join the Discussion!
Posted-In: FinanceBoards WooTraderEducation Dividends Markets General