Using Risk Ratios To Manage Risk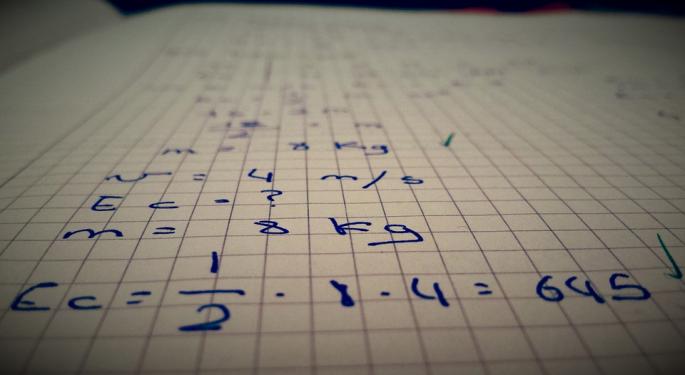 One of the hardest parts of actively managing a portfolio, whether you're making short-term trades or long-term investments, is controlling your risk. Actually, it's probably the hardest part. Everybody wants big gains, but if you're risking blowing out your account in every trade, is it worth it?
There are many ways people try and manage risk, one of the most popular of which is via risk ratios. Risk ratios are, as they imply, financial ratios that measure a company's financial risk. In other words, how financially healthy is the company?
Popular risk ratios include beta, alpha, Sharpe, and Sterling ratios, but there are actually many more you can look at. Using the stock research platform FinanceBoards, we can use the Risk Ratio Widget that lists the top 15 stocks on the platform in terms of that particular risk ratio rating.
As an example, below are the platform's Top Sharpe Ratio widget, which measures a stock's volatility by comparing its returns against that of risk-free investments like bonds, and its Top Information Ratio widget, which compares a stock's returns against that of a benchmark index and divides that by the difference in standard deviation between the two.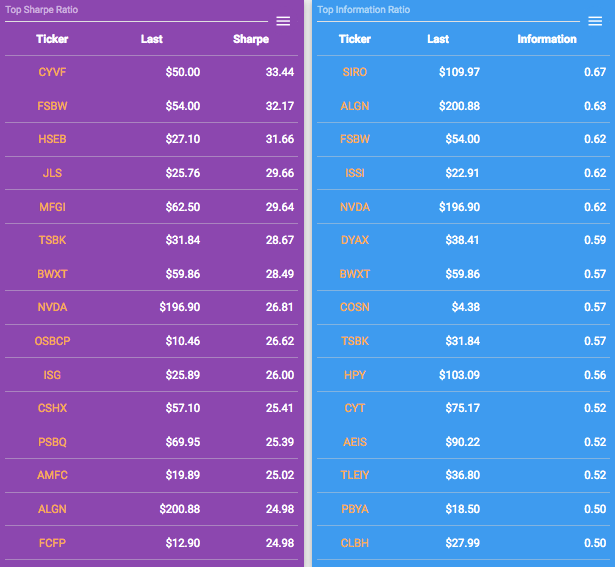 By utilizing both widgets side-by-side, we can get a sense of risk-adjusted performance against two different measures to find stocks that overlap, like FS Bancorp Inc (NASDAQ: FSBW) or BWX Technologies Inc (NYSE: BWXT).
We can also use the information on one of the risk ratio widgets to further explore the full risk profile of a stock.
For Instance, American Water Works Company Inc (NYSE: AWK) has a very high the Treynor Ratio, which is similar to the Sharpe Ratio except it uses beta rather than standard deviation when calculating loss potential.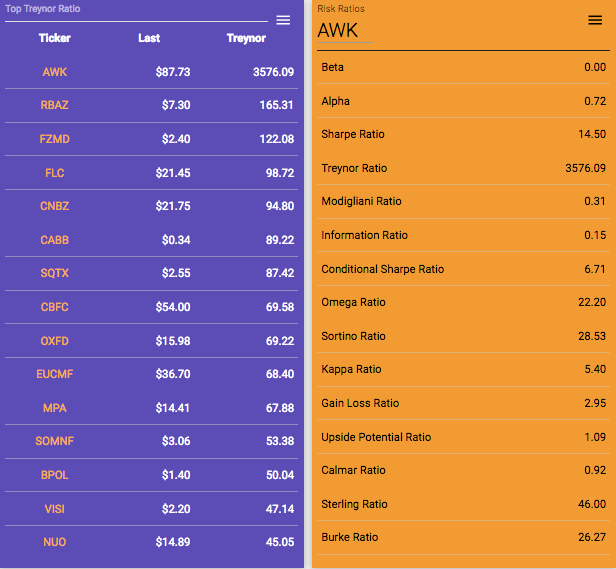 Through this, you can see that AWK's high Treynor ratio is likely due to its extremely low beta and not by outsized return potential.
This same operation can be funneled through all 15 of the risk ratios listed on the searchable Risk Ratio widget.
Again, we want to mention that there are many ways to try and manage risk, and using risk ratios is only one. The FinanceBoards' risk ratio widget is a good way to search through a couple of such ratios to see look for potential red flags in a company's financials, or just compare stocks to each other.
At the end of the day, what's more important is that you're managing your risk in some way.
View Comments and Join the Discussion!
Posted-In: FinanceBoards WooTraderEducation General Best of Benzinga