Using Correlation To Find Stock Market Clones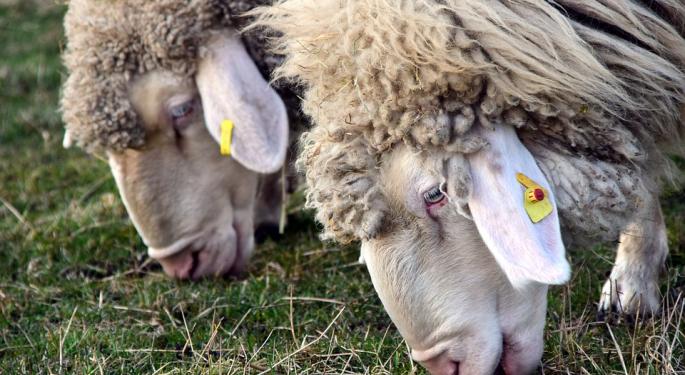 Many traders find that it's easier to sustain success through stocks that meet certain characteristics, which they understand enough to trade on a consistent basis. These stocks could be in a certain sector or industry, have certain fundamental qualities, or follow specific technical patterns.
However, finding stocks that are similar to each other can be a challenge. One of the most relied-upon workaround for this is using statistical analysis methods like correlation coefficients to calculate the relationships between stocks.
As a workaround for the math this involves, we can take a look at one of the widgets on stock research platform FinanceBoards to see how discovering correlation between stocks can be streamlined. Primarily, we're going to use the Most Correlated Stocks widget, which looks at stock performance at over the past 52 weeks.
As an example, let's take a look at stocks correlated with Apple Inc. (NASDAQ: AAPL), a stock many investors would like to have a few hundred shares of.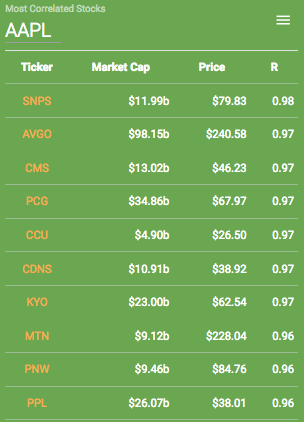 As you can see, after plugging in the ticker, the widget supplies symbols, markets caps and price information on those stocks that most closely match the performance of Apple. Most importantly, on the far right, the widget supplies you with each company's correlation ratio, the degree to which the stock's performance matches Apple's, with 1 being perfect correlation.
As you might expect, many of the highest correlated companies are either direct suppliers to Apple, like Broadcom Ltd (NASDAQ: AVGO) or Kyocera Corp (ADR) (NYSE: KYO), or in the same industry, like Synopsys, Inc. (NASDAQ: SNPS) and Cadence Design Systems Inc (NASDAQ: CDNS). You can find out more about each company by hovering over each symbol.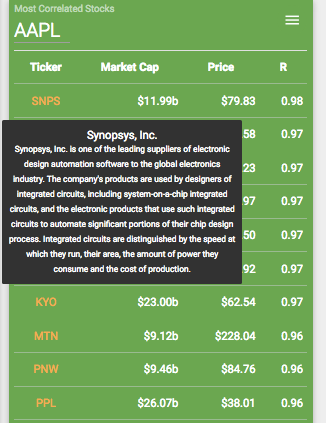 Other stocks listed, however, are in entirely different sectors. For example Vail Resorts, Inc. (NYSE: MTN), which is a holding company that deals in resort properties, or Compania Cervecerias Unidas S.A. (ADR) (NYSE: CCU), a Chilean beverage manufacturer.
Stock discovery-wise, this widget, just like others on the FinanceBoards platform, can prove invaluable to traders seeking leads on their next positions.
FinanceBoards is an editorial partner of Benzinga.
View Comments and Join the Discussion!
Posted-In: FinanceBoards WooTraderEducation Markets General Best of Benzinga