Beans And Bugs: Meat Alternatives Quietly Proliferate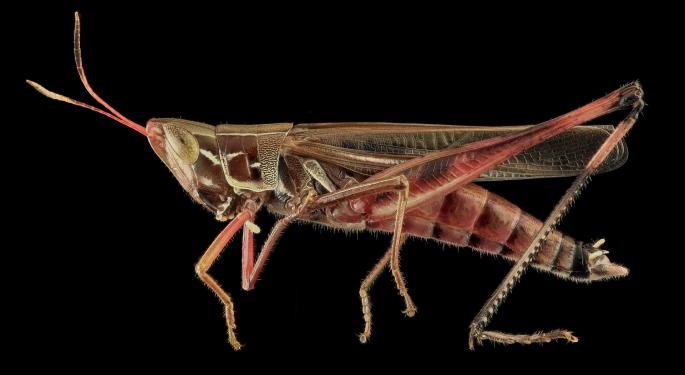 Bugs are the new bacon.
At least, one grocery chain in Switzerland is hoping that's true. Coop is preparing to launch a line of mealworm patties as a beef and pork alternative, according to Bloomberg.
The nutty-flavored beetle-larvae burgers are packed with rice, carrots and spices and are recommended to be consumed like falafel. Coop will begin to shelve the product Aug. 21 for $4.62 each, about twice as much as its organic beef burgers and nearly five times the cost of its least expensive patties.
The test product is a response to consumer trends favoring healthy foods, which, in many cases, means protein substitutes.
The Anti-Meat
It's the same mentality that drove Tyson Foods, Inc. (NYSE: TSN), known primarily for its poultry, beef and pork products, to invest last year in pea protein company Beyond Meat, which produces vegetarian burgers.
Tyson and peers are buying into a food theme that seems, by some measures, not quite ripe yet.
By one estimate, plant-based products grew at a compound annual growth rate of 35.8 percent in the U.S. between 2012 and 2016. At the same time, revenues for vegetarian- and vegan-labeled foods have remained fairly stable over the last year, according to Nielsen data.
And even as food manufacturers embrace meat alternatives, they largely eschew the "vegan" and "vegetarian" labels, which don't appear as en vogue as the lifestyles they represent.
In fact, marking products as such is risky, because some consumers consider it an indication of inferior taste and texture, according to a Fortune source. Beyond Meat actually lobbied to place its meatless burgers in the meat section when it rolled out in Kroger Co (NYSE: KR) in June.
Related Links:
Food Fight: 6 Lawsuits That Alleged Proof Wasn't In The Pudding
Wendy's Veggie Burger Well Received In Test Markets As Vegan, Vegetarian Trend Accelerates
Posted-In: beans Beyond MeatEducation Commodities Top Stories Markets Media General Best of Benzinga
View Comments and Join the Discussion!