White Supremacy And Domestic Terrorism: A Look At The Legacy Left By Timothy McVeigh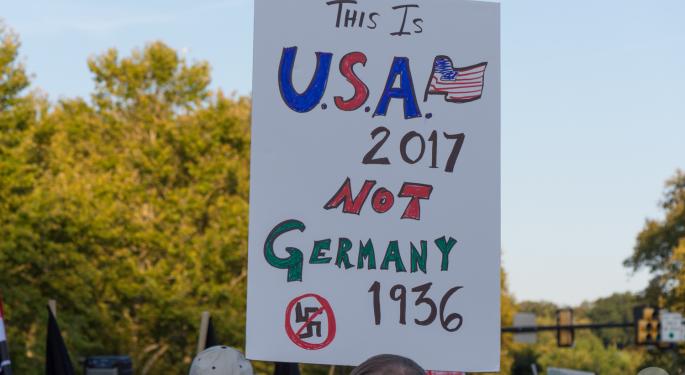 The modern white supremacist movement took root almost 25 years ago today, during a siege at a cabin on a rocky bluff in Idaho called Ruby Ridge.
That moment on Aug. 21, 1992, inspired an ex-soldier named Timothy McVeigh to park an explosives-laden rental truck outside the federal building in Oklahoma City on April 19, 1995, killing 168 children and adults and wounding more than 600.
Hate crimes in America are as old as, well, America, whether it's slavery, the Native-American genocide or the forced labor of Chinese immigrants who died while building the transcontinental railroad.
The ugly clash between neo-Nazis and counter-protesters in Charlottesville, Virginia, overshadowed another incident the same weekend: the foiled plan by an alleged white supremacist who wanted to emulate McVeigh and blow up an Oklahoma City building.
Many young neo-Nazis see McVeigh as an American hero. While Confederate statues fall across the country, a new generation of icons stand as symbols of perverse white pride. Sympathizers see President Donald Trump as a kindred spirit.
Related Link: DOJ Seeking IP Addresses, Emails Of Visitors To Website Organizing Trump Protests
Birth Of A Murderous Martyr
A prescient report published June 27 by the Southern Poverty Law Center, which monitors hate groups, lists crimes in which the culprits expressed an admiration of McVeigh.
Here's a rough timeline of events that inspired McVeigh himself, and the abhorrent legacy he's left.
August 1992: Ruby Ridge
The militia movement took root during the brutal 1981–82 recession. It was galvanized when a clan of family and friends led by Randy Weaver, resisting a warrant on a firearms trafficking charge, engaged in a shootout that killed a federal marshal dead Weaver's 14-year-old son. The resulting 11-day siege led to a sniper kill of Weaver's wife.
Ruby Ridge is etched into the lore of the white racist movement. People sometimes sneak up there to swipe souvenirs.
April 1993: Waco, Texas
Authorities raided a Branch Davidian sect suspected of firearms violations. Gunfire broke out and a standoff ensued for 51 days. The FBI launched another raid and a fire at the compound broke out, killing 78 people. McVeigh, motivated by what had happened on Ruby Ridge, arrived early, selling inflammatory bumper stickers and railing against the government.
April 1995: Oklahoma City
"What the U.S. government did at Waco and Ruby Ridge was dirty," an unrepentant McVeigh said in a death-row interview with the Buffalo News. "And I gave dirty back to them at Oklahoma City."
His co-conspirator, Terry Nichols, is serving life. McVeigh was executed by lethal injection in June 2001.
April 1999: Littleton, Colorado
Eric Harris and Dylan Klebold went on a shooting rampage, killing 12 children and a teacher at Columbine High and injuring 23 before they shot themselves. They'd hoped their massacre would make them bigger than McVeigh.
May 2017: Tampa, Florida
Florida National Guardsman Brandon Russell's Tampa apartment was adorned with neo-Nazi regalia, including a framed photo of McVeigh. He was arrested when one of his three neo-Nazi roommates allegedly killed their other two roomies. Cops found Russell's garage at home full of guns, ammo and bomb-making materials.
May 2017: Washington, D.C.
Bryan Moles was arrested at Trump International Hotel after a military-style rifle was found in his vehicle. The Trump supporter and McVeigh admirer allegedly wanted to talk to Trump and take out some targets. In a voice-mail message, Moles said he stockpiled his car with so much gear that it "looked like Timothy Mc­Veigh" was "going on a camping trip."
May 2017: Portland, Oregon
Two men were stabbed to death after they defended a Muslim woman being harassed on a Portland train by the alleged assailant, Jeremy Christian, who had poems and paeans to McVeigh on his Facebook page. "May all the Gods Bless Timothy McVeigh -- a TRUE PATRIOT!!!" read one.
August 2017: Charlottesville
Andrew Auernheimer, one of the writers for the Daily Stormer, a racist website that heavily promoted the neo-Nazi rally that left one woman dead and dozens injured, proposed crowdfunding a "gigantic bronze statue" of McVeigh.
"I am not joking," Auernheimer wrote.
With nine neo-Nazi rallies scheduled around the country this weekend, there is little to laugh about.
________
Image Credit: By Mark Dixon from Pittsburgh, PA (Charlottesville-1520290) [CC BY 2.0 (http://creativecommons.org/licenses/by/2.0)], via Wikimedia Commons
View Comments and Join the Discussion!
Posted-In: Andrew AuernheimerFutures Politics Psychology Top Stories Markets Media General Best of Benzinga