DOJ Seeks IP Addresses, Emails Of Visitors To Website Organizing Anti-Trump Demonstrations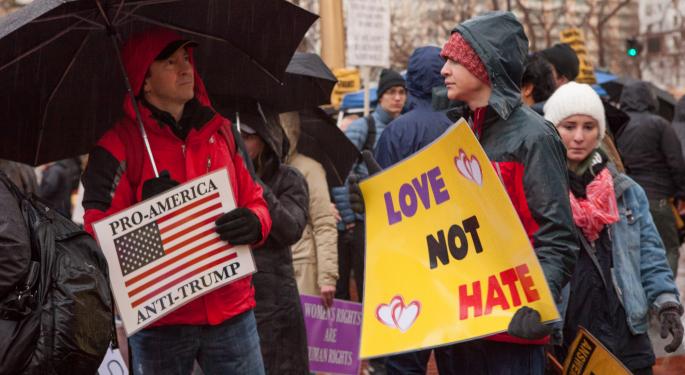 In a case with potential First Amendment repercussions, the U.S. Department of Justice is demanding the IP addresses of people who visited a website that helps organize protests against President Donald Trump, according to the hosting domain.
The hosting domain Dreamhost said in a blog post that it had received a search warrant, which it posted, for the IP addresses of 1.3 million visitors to the website it hosts, called disruptj20.org. Disruptj20 is described as "a website that organized participants of political protests against the current United States administration."
DOJ Seeking Emails Of Trump Critics?
Dreamhost said the DOJ wants not only the IP addresses of the 1.3 million visitors to to disruptij20.org, but all contact information, email content and photos of thousands of people "in an effort to determine who simply visited the website."
Related Link: Is Trump's Foreign Policy Belligerence A Diversion From A Stalled Agenda?
It said Chris Ghazarian, the domain company's lawyer, "has taken issue with this particular search warrant for being a highly untargeted demand that chills free association and the right of free speech afforded by the Constitution."
The Justice Department did not respond to Benzinga's request for a response. When contacted by the Hill, the Justice Department directed that news agency to the U.S. attorney's office in D.C. The Hill said a hearing on the matter is scheduled for Friday in Washington.
Possible Prosecution Of Inauguration Day Protesters
Dreamhost said its refusal to comply with the search warrant resulted in the feds filing a motion in Washington, D.C., Superior Court seeking information about the website's role in organizing protests at Trump's January 20 inauguration.
"That website was used in the development, planning, advertisement and organization of a violent riot that occurred in Washington, D.C. on January 17, 2017."
Six police officers were injured and 217 protesters arrested after peaceful protests gave way to violent street clashes in downtown Washington. Police did not report how many protesters were injured.
______
Image Credit: By Pax Ahimsa Gethen - Own work, CC BY-SA 4.0, via Wikimedia Commons
View Comments and Join the Discussion!
Posted-In: News Futures Politics Legal Events Markets Media General Best of Benzinga