Harvard Admits First Non-White Majority Of Undergrads In 380-Year History; DOJ Investigating Asian-American Discrimination Complaint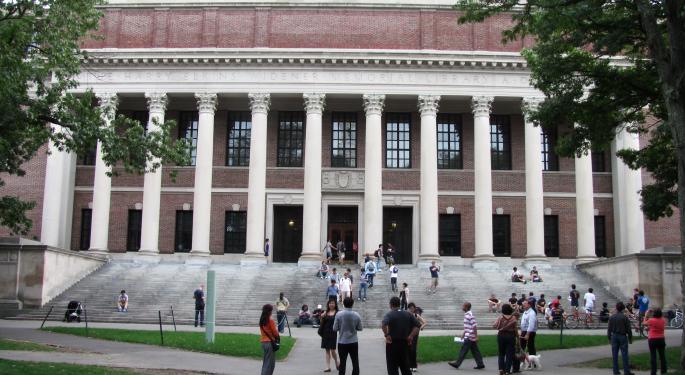 Harvard University will admit its first non-white majority of undergraduates in its 380-year history at a time when the school is under a U.S. Department of Justice investigation for allegedly limiting the number of Asian-American students.
Harvard College, the undergraduate wing of the university that includes a realm of graduate schools, released stats in which nonwhites comprise slightly more than half of the 2,038 students accepted for the class of 2021. It breaks down like this:
Asian-American: 22.2 percent
African-American: 14.6 percent
Hispanic or Latino: 11.6 percent
Native American or Pacific Islander: 2.5 percent
Complaint Says School Keeps Lid On Asian-Americans
The New York Times initially reported on Aug. 2 that the U.S. Justice Department would investigate colleges that discriminate against white applicants, but the DOJ subsequently said it was acting on a 2015 complaint filed by 64 Asian-American associations against Harvard.
The group has also filed suit. Benzinga reached out to Harvard for comment about its admissions and the DOJ complaint, but received no immediate response. In a statement run by CNN, Harvard spokeswoman Melodie Jackson said the college's admissions process "considers each applicant as a whole person" and is "consistent with the legal standards established by the US Supreme Court."
When Affirmative Action Made History
Affirmative action, always a volatile issue, is a term coined President John F. Kennedy in the 1960s and subsequently codified into law in the Civil Rights Act of 1964 under President Lyndon B. Johnson.
The use of quotas for black students became commonplace, essentially making up for centuries of discrimination. In the late 1970s, however, a white applicant to the University of California's medical school, Allan Bakke, sued the school for discrimination after twice being denied admission.
In a landmark decision, the U.S. Supreme Court ruled 5-4 in Bakke's favor in 1978, judging that although race could be one of many factors taken into consideration, the university's strict quotas did not meet that standard.
Related link:
Trump's English-Speaking Edict For Immigrants? The President Might Be Surprised To Learn Most English Speakers Are People Of Color
Image: John Phelan (Own work) [CC BY 3.0 (http://creativecommons.org/licenses/by/3.0)], via Wikimedia Commons
Posted-In: affirmative action Civil Rights Act of 1964 Donald Trump HarvardEducation Politics General Best of Benzinga
View Comments and Join the Discussion!