Expert: Predicted 37% Pop In TV Retransmission Fees A 'Natural Righting Of The Ship'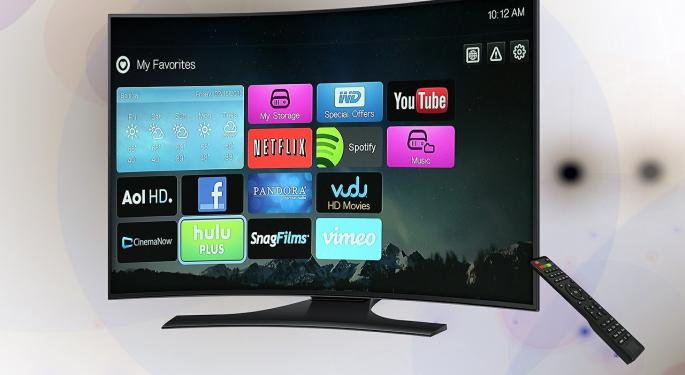 Telecom stocks started to release earnings this week with AT&T Inc. (NYSE: T) and Comcast Corporation (NASDAQ: CMCSA), and many investors are on the watch for changes to retransmission fees.
The charges have been trending upward as broadcasters demand more and more from cable operators like Comcast and multichannel video programming distributors like AT&T to retransmit their channel signals.
Having risen from $215 million in 2006 to nearly $8 billion in 2016, fees are projected to rest around $12.8 billion by 2023, according to Kagan research.
If Kagan's estimates are as conservative as they've been before, figures could be even higher. In 2013, the firm projected fees would hit $6.05 billion within five years. It only took one.
Who Cares?
Some experts don't consider the rise particularly startling.
"These numbers make a lot of sense, frankly," Dan Kurnos, managing director of internet and media equity research at The Benchmark Company, told Benzinga. "This rise of retrans to me is a natural righting of the ship or a natural balancing. The guys that are responsible for the most viewership in the bundle are finally starting to get paid for it."
The fees have been negotiated since the mid-2000s as a delayed result of federal retransmission consent law passed in 1992. At that time, cable owners and MVPDs were first required to secure broadcaster permission to carry and resell station programming within their packages.
"The argument for the broadcasters has always been that the total number of viewers they bring to the table based on eyeballs alone is a fraction of what they are getting paid by the networks," Kurnos said.
Cable owners can reject the terms proposed by broadcasters, but they risk not being able to air certain channels and deliver content. If they accept and pass the cost of fees on to subscribers, they forfeit pricing leverage.
In response to an uptick in retrans fees beginning in 2011, distributors are retaliating with reverse comp fees, which stations pay their networks for programming.
Failed negotiations have resulted in a number of channel blackouts for consumers.
Significance of Retrans
Retrans now accounts for about 40 percent of major companies' revenue streams, Kurnos said.
For Nexstar Media Group Inc (NASDAQ: NXST), it accounted for more than 38 percent of its revenue in 2016 after having contributed about 4.5 percent in 2008. Similarly, E.W. Scripps Co (NYSE: SSP) saw a pop from 9.6 percent in 2016 to nearly 30 percent in 2013.
CBS Corporation (NYSE: CBS) earned a full $1 billion in 2016, and it set a goal of bringing in $2.5 billion in retransmission licensing by 2020.
Fellow broadcasters include TV networks and affiliate station owners, such as Walt Disney Co (NYSE: DIS)'s ABC, Comcast's NBC, Twenty-First Century Fox Inc (NASDAQ: FOXA)'s FOX, Viacom, Inc. (NASDAQ: VIAB), Tribune Media Co (NYSE: TRCO), Sinclair Broadcast Group Inc (NASDAQ: SBGI), Gray Television, Inc. (NYSE: GTN), News Corp (NASDAQ: NWSA), Media General, Inc. (NYSE: MEG), Scripps Networks Interactive, Inc. (NASDAQ: SNI), Meredith Corporation (NYSE: MDP) and Tegna Inc (NYSE: TGNA).
These companies offer news programs, late night shows, dramas and comedies.
While the aforementioned firms profit from the fees, cable and satellite companies like DISH Network Corp (NASDAQ: DISH), Time Warner Inc (NYSE: TWX), Cablevision Systems Corporation (NYSE: CVC), WideOpenWest Inc (NYSE: WOW), Cable One Inc (NYSE: CABO) and Verizon Communications Inc. (NYSE: VZ) take hits.
How Investors React
Retrans fees have become critical to many investment strategies as advertising ostensibly declines, Kurnos said.
"Since it's such a large portion of revenue and it's also a 50-plus percent margin business, because the amount they have to pay in network compensation or reverse retrans, that kind of dictates what's going on in the marketplace," he added.
Kurnos considers retransmission fees central to the stories of MVPDs and over-the-top services, which are going around broadcasters, but even more so telecommunications firms.
"I think the real question is what happens to telco guys, the AT&Ts of the world, because which side of the spectrum do they fall on?" Kurnos said. "Do they push skinny bundles like Dish or Sling, or if the MVPDs go back to a tiered pricing model, how does that look in the grand scheme of things?"
Then there's advertising and ambiguity surrounding ad agency reactions.
"Do we go more programmatic? Does more get placed national?" Kurnos said, noting McDonald's recent pull from local spots. "What happens to the internet advertisers, and how does this all play out on mobile?"
But the rising fees won't necessarily affect streaming services.
"It depends on whether or not the over-the-top services are ancillary or if they are cord-cutting, cord-shaving," Kurnos said. "A lot has been made about the rise of Netflix, Inc. (NASDAQ: NFLX) and Amazon.com, Inc. (NASDAQ: AMZN) and streaming solutions, and there's been a whole bunch of talk about cord-cutting, and yet there's still 100 million pay TV households, Netflix is in over 50 percent of households in the U.S., and the skinny bundles haven't really taken off either, so until you get a dramatic shift where internet is the predominant source of distribution for the marketplace, I don't think you're going to see massive change in viewership habits."
Related Links:
Emmy 2017: Streaming, Premium Cable Earns More And More Recognition
How Will Charter's 'Sports-Free' Cable Bundle Affect Disney's ESPN?
View Comments and Join the Discussion!
Posted-In: broadcast television cable televisionEducation Exclusives Tech Media Interview General Best of Benzinga