Vinyl Records Are Popular Again, So Sony Wants Back In After 30 Years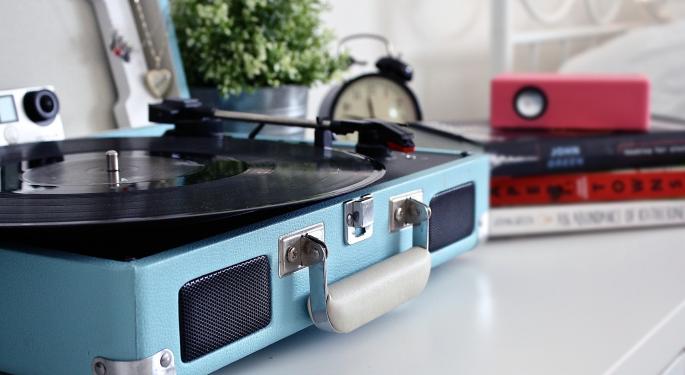 The next major profit driver in the music industry may have nothing to do with streaming, connectivity or the cloud.
Last week, one of the biggest names in the music business, Sony Corp (ADR) (NYSE: SNE), announced it will once again be producing vinyl records for the first time in 28 years.
It's easy to read headlines about a retro push like vinyl records and write it off as a promotion or one-time event to appeal to an older generation of nostalgic music lovers. However, the vinyl record movement appears to be something much larger.
Billion-Dollar Industry
"People think millennials just stream and are just digital, but actually I think we are going to see increasingly over this coming year that young people still want something tangible and real and that's where vinyl is taking on the role that the CD used to have," says Vanessa Higgins, CEO of Regen Street and Gold Bar Records.
Consulting firm Deloitte estimates that vinyl record and accessory sales will be a $1 billion industry in 2017 and that 20 million people will buy at least one vinyl record this year. In fact, in Japan, demand for vinyl records is too strong for vinyl record producer Toyokasei to keep up.
Last year, global vinyl sales surged 53 percent to their highest level in 25 years. A 500 percent rise in streaming music revenue since 2013 has cannibalized many other forms of revenue in the ever-changing music industry. CD sales were down another 10 percent in 2016. The chart below shows how music consumption has shifted from vinyl records to cassette tapes to CDs to digital downloads and now to streaming.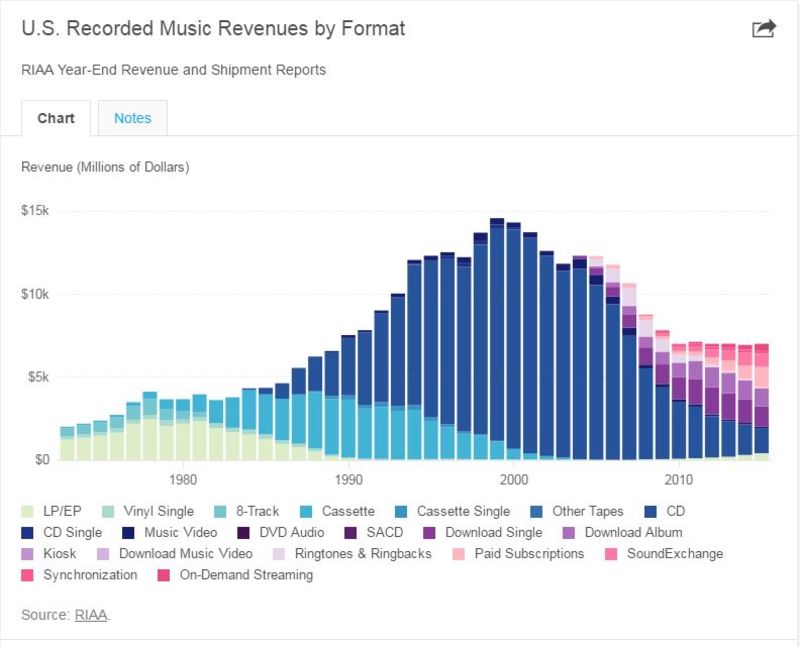 Related Link: Bob Seger Finally Joined The Streaming World: Here Are 8 Music Icons Still Holding Out
But even though vinyl production is making a comeback, vinyl records still account for just about 6 percent of total album sales. According to Jordan Passman, CEO of SCORE A SCORE, the uptick in the popularity of vinyl records has been fueled directly by the rise in streaming services like Pandora Media Inc (NYSE: P), Spotify and Apple Inc. (NASDAQ: AAPL)'s Apple Music.
"As streaming continues to grow (and change), there will always be a market for the powerful emotional impact of something tangible, especially with a nostalgic tie," Passman wrote earlier this year.
Good Rockin' Tonight
In a much more general sense, the role vinyl records play in the future of the increasingly digital music industry could speak volumes about the degree to which the human race is satisfied with an intangible, virtual world. For technology companies working on virtual reality or other services intended to replace real-life experiences with digital ones, the vinyl record phenomenon could be a wake-up call that it may be more difficult than it seems to replicate the innate appeal of hands-on, real-world products and interactions.
For music fans, the vinyl record movement demonstrates that there's something more to music than just the sound.
View Comments and Join the Discussion!
Posted-In: Gold Bar Records Spotify Streaming music Toyokasei Vanessa HigginsTech Best of Benzinga