Bob Seger Finally Joined The Streaming World: Here Are 8 Music Icons Still Holding Out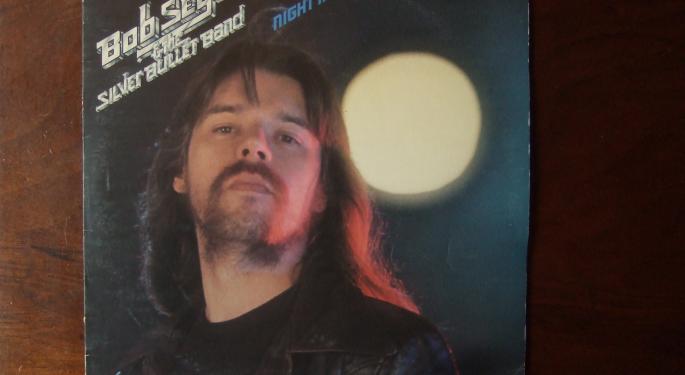 One of the last major music holdouts finally made the move to the digital era last week when Bob Seger announced he will be allowing several of his most popular albums to be streamed on services such as Spotify, Apple Inc (NASDAQ: AAPL)'s Apple Music and Pandora Media Inc (NYSE: P).
Seger has said contractual disputes between his management and Capitol Records have kept his content off of streaming sites in the past. Ironically, the lack of streaming availability for many of Seger's hits may have contributed to his "Greatest Hits" album recently achieving diamond certification status from the Recording Industry Association of America for selling 10 million copies.
Related Link: Where Can You Stream Music For Less Than $10 A Month?
One by one, former streaming holdouts such as Led Zeppelin, The Beatles, Pink Floyd, AC/DC and even Prince (posthumously) have embraced the world of streaming music. Seger was one of the last remaining big-name holdouts, but there are still some popular artists who are nowhere to be found on streaming platforms.
Here's a look at eight musical artists who still don't stream.
1. Aaliyah
Unfortunately, the talented Aaliyah isn't around to give her opinion of streaming music, but much of her content is unavailable on any major streaming service.
2. Def Leppard
No offense to Def Leppard's 2015 album, which is available to stream on Spotify and Apple Music, but fans looking for many of the band's original 80s hits are out of luck.
3. Peter Gabriel
Gabriel has opted not to have large portions of his music catalogue streamed on principle.
4. Thom Yorke
Radiohead's lead singer and principle songwriter Thom Yorke once tweeted that music fans should "make no mistake, new artists you discover on Spotify will not get paid."
5. King Crimson
Guitarist Robert Fripp has been vocal about what he sees as unfair digital music royalties. While some of King Crimson's content eventually appeared on iTunes, much of it is still unavailable on any streaming service.
6. Tool
Frontman Maynard James Keenan once said digital media is "just this disconnected thing that you can't touch and feel and experience."
7. De La Soul
Kelvin "Posdnuous" Mercer has said that De La Soul's contracts with Tommy Boy Records "didn't include the world of digital" and that getting their content on streaming services has been a complicated matter.
8. The KLF
After a strange one-day appearance on streaming services back in 2013, The KLF's catalog is mostly unavailable to stream to this day.
Image: Piano Piano!, Flickr
Posted-In: Aaliyah Bob SegerNews Movers & Shakers Opinion Tech Media General Best of Benzinga
View Comments and Join the Discussion!