What An Artist Learned Writing Poetry For Google Programmers, Investment Bankers, Corporate America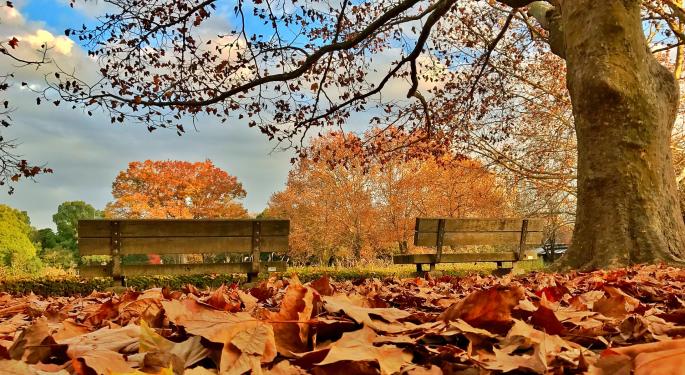 As a self-described "poet-for-hire," Brian Sonia-Wallace has poeticized a slew of topics on-demand, both bizarre and conventional. In the process, he's tapped into the soul of corporate America and identified the joys and struggles common to its workforce.
He's lyricized of dogs, of cross-country moves, of heartbreak in Chipotle Mexican Grill, Inc. (NYSE: CMG). And through gigs and residencies with Amtrak, Alphabet Inc (NASDAQ: GOOGL) (NASDAQ: GOOG) the Mall of America, Dollar Shave Club, a law firm, a real estate firm and a financial conference, he's found that some sectors carry common motifs.
The Cold Heartbeat Of Finance
"I can certainly tell you that at that investment banking conference, that one was quite depressing," he recalled. "With that, it was pretty much all men, who were the employees, and they had beautiful models who were hired just to be there. They all got poems for their wives and girlfriends. None of them got poems for themselves."
He prompted them with questions. What does she do? What is she like? Where did you meet? But beyond "she's beautiful" or a colorless resume, they offered few descriptions.
"Pretty much universally, they couldn't actually tell me anything about their partner," Sonia-Wallace said. "It was just this like checkbox, and that was kind of eye-opening and a bit scary of these men who are kind of determining the future in a lot of ways by determining where money goes and to have such a rigid view of what success looks like and the idea of: 'Of course, I have a wife. I acquired her. She was a high-value wife.' Obviously they didn't say it like that, but that was my perception."
However, the financial workforce redeemed itself in other contexts.
Related Link: How One Detroit Artist Overcame Stuttering To Go On A Beatboxing Quest
"Like when they're with their families, when they're with their kids, if it's not a work event, I've gotten really different responses from them, and that's been kind of eye-opening as well," Sonia-Wallace said.
His lessons come not only by listening but also by watching. One of his more striking observations, he said, was at the conference, where the casting agency models tipped the waiters well even as the investment bankers did not.
"The idea that a few bucks would matter in someone's life or that I wasn't already being taken care of by corporate was completely alien, so that was an interesting note," he said.
The Tech Bubble
The tech scene, particularly Google, prompted more vibrant art.
"Writing for Google employees was super fun, because they're a lot of really interesting programmers, super quirky, in all sorts of different stages of lives with all sorts of different interests," Sonia-Wallace said.
The staff is composed primarily of transplants bringing unique travel stories and the challenges that come with relocation.
"In a world where people are moving around a lot for work, it's a lot of people figuring out how to make it in the new city, how do I have a long-distance relationship," he said. The latter is one of the most common topics requested.
Deathbed Industries
Sonia-Wallace has picked up on themes not only among industry employees, but also among the sectors that contract him. In most cases, they, like the old-fashioned art of poetry, are seeking to remain relevant in the contemporary world.
Amtrak is finding its place among airlines, malls are fading with the rise of e-commerce, and even music festivals like Michigan's Electric Forest, where Sonia-Wallace entertains next week, are confronting free streaming services.
"So, it's an interesting thing to think about bringing poetry, which I think for so many people is considered kind of a dead art, bringing that out of the shadows in conjunction with other industries that are kind of finding their place," he said. "Finding their voice in a modern world that's maybe left them behind a little bit, that's moving around them really quickly."
Posted-In: Brian Sonia-WallaceEducation Psychology Top Stories Exclusives Interview General Best of Benzinga
View Comments and Join the Discussion!