On What Would Be JFK's 100th Birthday, The Words That Put A Man On The Moon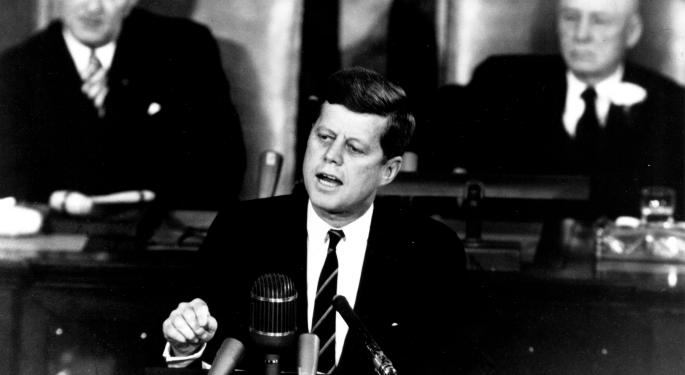 It was Sept. 12, 1962, when the world was gripped by Cold War fright and dueling ideologies grasping for the greatest of symbolic goals. President John F. Kennedy gave a speech at Rice University and used the moment to commit humankind to conquering the moon.
JFK would have been 100 on Monday. He died in Dallas, the victim of a sad little sniper, in a state where he had committed the country two years earlier to landing a man on the surface of someplace other than the Earth.
Many consider his address to Rice University — a school of high academic stature but low athletic aptitude that nevertheless played the titans of the University of Texas every year — his greatest speech. Some consider it one of the greatest speeches of all time.
NASA enshrines this speech in many different ways. People captivated by the space program were riveted by the soaring possibilities of an idealistic age.<
"There is no strife, no prejudice, no national conflict in outer space as yet. Its hazards are hostile to us all. Its conquest deserves the best of all mankind, and its opportunity for peaceful cooperation may never come again."
We Choose To Achieve Excellence, Not Merely Strive To Survive<
The crowd was electrified by the steady build to a crescendo that created almost a frenzy.
"But why, some say, the moon?" Kennedy continued as his audience began the beginnings of a roar.
"Why choose this as our goal? And they may well ask…"
"Why climb the highest mountain? Why, 35 years ago, fly the Atlantic?"
Then, this coda for the underdogs.
"Why does Rice play Texas?"
The crowd roared as he hit the climax.
"We choose to go to the moon."
"We choose to go to the moon in this decade and do the other things, not because they are easy, but because they are hard, because that goal will serve to organize and measure the best of our energies and skills, because that challenge is one that we are willing to accept, one we are unwilling to postpone, and one which we intend to win, and the others, too."
In July of 1969, Neil Armstrong and Buzz Aldrin walked the lunar surface, seven years after Kennedy's commitment and five years after his death.
To listen to the monumental speech in full, follow this link.
________
Image Credit: "Announcing the Apollo program, 25 May 1961" By NASA - Great Images in NASA Description, Public Domain, via Wikimedia Commons
View Comments and Join the Discussion!
Posted-In: JFK John F. Kennedy NASA Space TravelEducation Travel Top Stories General Best of Benzinga