The Teenage Existential Crisis: In Memory Of Our First AOL Instant Messenger Screen Names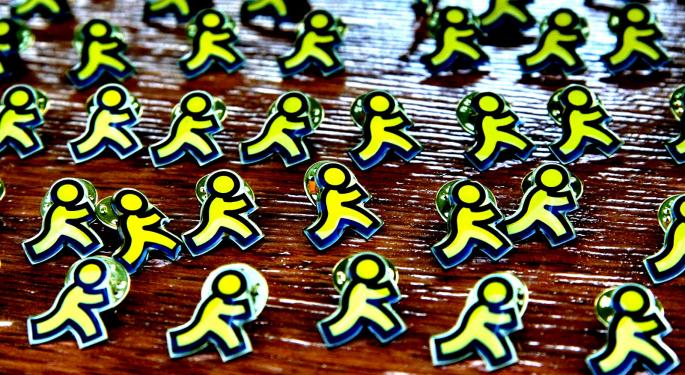 At 13, I sat at my parents' boxy, black Dell in deep distress. It was time to define my first online persona, and as an obsessor of symbols, I placed great importance on my chosen screen name.
My peers played up their court prowess with "bballgirl" or their preoccupation with Michigan State football with "xospartans." But not me. If my moniker was to represent my digital character, it had to encapsulate my whole, perpetual, fundamental being — if only I knew who that was.
Who Was I?
I reviewed the sundry adjectives and interests embodying my eighth-grade self, keenly aware of their impermanence. Tomorrow I might not care about the Fighting Irish. I couldn't commit Harry Potter to my enduring core. Basketball wasn't the essence of Lizzy.
So what was my essence? Who was I? What was I doing here?
I didn't have much time to find out. Parental screen limits cut my existential crisis to a brief 30 minutes, and I hastily settled on fastnfrizzy24 — an homage to my 200-meter dash success, untamable mane and lucky jersey number. As best I could tell, they were "Lizzy" and would be for some time.
These features aptly represented me through my teenage years — long outlasting the agony of my AOL-inspired introspection.
It was dramatic, I admit. And most others were less affected by the demand to capture themselves in a word or two. But I imagine I was neither the first nor the last teen prematurely thrust into contemplative crises by AOL Instant Messenger (AIM).
See Also: Television In The Snapchat Age: 'This Is The Way Of The Future'
In An Instant
As the Verizon Communications Inc. (NYSE: VZ) subsidiary celebrates the 20th anniversary of AIM this month, take a nostalgic look at some of Benzinga's first screen names, the absurd meanings behind them and the psychological history that they preserved.
Editor's note: On Oct. 6, Verizon announced it will shut down AIM in December.
Xopoisongirlox. "I thought I was a goth kid and that the band the HIM was the greatest thing ever. Basically I was super lame."
Cheezypuffs2000. "I was a big fan of South Park... and the year 2000 was the hip thing to latch on to."
Sportswiz515, filanji91, yankeesphan91. "The first and third ones were just things I self-identified as. The second one became my screen name the day after the "Friends" series finale. I didn't watch the show, but it's all anybody talked about, so I picked one reference and made that my screen name (although I only later learned I'd completely butchered the spelling)."
PAL1264. "PAL...my initials. 12...the jersey number I wanted on the peewee football team. 64...the jersey number I got on the peewee football team. That's what happens when you're the youngest chubby kid!"
Novacancy23xx, "because the lame band in "School of Rock" was hilarious."
JesterNeal. "When I was about eight or nine, I was really into this Diablo-esque arcade game called "Gauntlet: Legends" where you could be a court jester that threw bombs at monsters. My dad even bought me a 'court jester hat' at Cedar Point. I felt so cool when I wore that thing. I was a weird kid."
Mortartion, "which is a misspelling of a villain in the tabletop role-playing game Warhammer 40,000 (tabletop games are games in which you build armies out of plastic models and fight your friends according to certain rules). I picked it because I was a major nerd at the time, and remain a major nerd. My like, profile pic on AIM was the logo for the band Slayer, and I set the alert sound that people got when I messaged them to be a distorted guitar note. Interacting with me on AIM must have been really weird."
Duhitsdana. "Nothing too nerdy and actually pretty mild in terms of AIM names. But the real story is that my best friend also had this same screen name with her name. It was back when being "twinsies" was supercool. I was born in '88, and around when AIM first came out, being "twinsies" was en trend. Looking back at it, it makes sense. I usually keep up with trends in my adult life."
Shopgirl23. "I was obsessed with the movie "You've Got Mail." As you know, I love a good romcom."
Sethilus. "Almost all of them stem from a slew of nicknames a friend of mine would procedurally generate on the bus to school. Among the most memorable were "sethertons," "SetheriaJumboShrimp" and "sethilus." "Sethilus" is the one that stuck and remains my digital moniker to this day."
Mak0420. "my initials, plus I liked weed back then. I have probably only smoked a handful of times in the last 14 years."
Image: Travis Wise, Flickr
Posted-In: AIM AOL AOL Instant MessengerPsychology Opinion Top Stories Tech General Best of Benzinga
View Comments and Join the Discussion!