My 3 Takeaways From Testing This Free Market Newsletter
Company buyouts. Industry upswings. Earnings season fallout. Simply staying on top of news and events in the stock market is one of the biggest challenges for today's investors.
That's partly why market newsletters have rose to prominence in recent years—they catch you up in quick, digestible nuggets of information without taking too much time.
With that in mind, I got the chance to test the latest offering in the finance newsletter space: Chaikin PowerFeed, which aims to improve and redefine the traditional stock market newsletter with a focus on snapshot summaries.
Created by the stock research and portfolio management platform, Chaikin Analytics, Chaikin PowerFeed digests and delivers the most important stock market news each morning (on days when the market is open, at least).
What makes Chaikin PowerFeed unique is its core IP (which it's centered around): Chaikin Power Gauge stock rating, a proven 20-factor model that combines fundamental and technical metrics to predict a stock's future performance.
After a few weeks, here some of my favorite parts of the PowerFeed:
1. I didn't have to scan a bunch of financial news outlets to get the biggest stories
Chaikin PowerFeed delivered the most important market news headlines in a bite-sized fashion. One scan was enough for me to get familiarized with the biggest news stories before going about my day.
Also nice was that Chaikin Power Gauge stock rating accompanies each stock mentioned, giving me a feel for the barometer of the stock in question.
2. I got stock ideas delivered to me, with a quick explanation
Each daily newsletter comes with a "Stock of the Day," usually one that's rated Very Bullish on the PowerGauge, and explains why it's rated that way. While I don't trade, this at least gave me something to keep an eye on that day.
While you should always conduct your own research for making an investment, this rating can serve as a great jumping off point. Nuance Communications Inc (NASDAQ: NUAN) was the stock of the day for May 1, 2017.
3. PowerFeed keeps me updated on rising and falling industries
The sector and industry landscape is constantly shifting. That's why it's important for investors to stay on top of which industries are sitting at the top or bottom at any given moment.
The newsletter includes a color-coded chart that breaks down which sectors are up and which are down in the past 5 days. It's very high level and easy to follow. It also offers an Industry Focus each day, highlighting one industry and summarizing its performance. (Here was the breakdown for May 1, 2017.)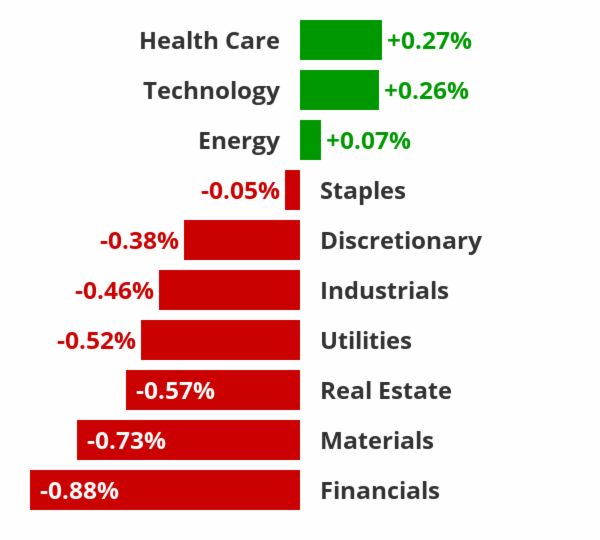 All in all I found Chaikin PowerFeed to be a highly readable stock market summary, readable in about a minute, and a good way to get a stock idea or two every morning.
Interested in signing up? You can go to www.chaikinanalytics.com/powerfeed to get started. It's completely free, and delivered Monday to Friday when the market is open, around 9 a.m. ET.
Chaikin Analytics is a sponsored partner with Benzinga. This article was written in conjunction with Chaikin Analytics, and may have been subject to their approval.
Posted-In: Chaikin AnalyticsEducation Reviews General
View Comments and Join the Discussion!