Weight Watchers: How A Holder Of One Share Has More Voting Power Than Oprah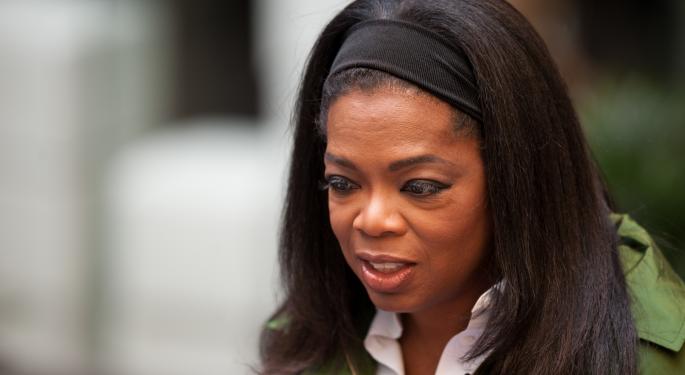 Weight Watchers International, Inc. (NYSE: WTW) may not have vested its star shareholder with enough clout to sway decisions at the company — something easily deduced by looking at the arrangement Oprah Winfrey has with company regarding the stake she picked up way back in 2015.
Oprah's Tryst With Weight Watchers
Oprah bought 6.4 million newly issued shares of Weight Watchers for $6.79 per share or $43.2 million in total on Oct. 16, 2015. This gave the celebrated media proprietress a 10 percent stake in the company. She was also given fully vested options to buy 3.5 million shares at an exercise price of $6.79.
Why New Shares And Why Not Open Market Buy?
Analyzing the logic behind the issue of new shares by the company, a Barron's article indicated that the buying of a such a volume of shares in the open market would have proved disruptive for trading in the stock, given the average daily volume of about two million shares.
Additionally, the time it would take to accumulate the said volume of shares means insiders would be privy to the non-public information about the buy for a duration that would put them at discomfort. Thus, convenience and avoidance of conflicts of interest are the two premises on which the issuance of new shares by the company was based on, the report added.
Stake Rendered Powerless
However, there was a hitch. Weight Watchers was controlled by Artal Luxembourg, the investment arm of a European family, which had about 51.5 percent stake in the company. Oprah's 10 percent stake, which would increase to 15 percent when options were exercised, would have meant dilution of Artal's stake to less than 50 percent.
With the Artal family not wanting to cede majority voting rights, a bargain was struck, whereby Oprah agreed to vote her shares and options for Artal-chosen directors. Therefore, Artal now potentially controls about 60 percent of the company, although it by itself only owns 46 percent of the company. The deal with Oprah had catapulted the Artal family's stake to 60 percent, almost 10 percent more than what it had before Oprah's involvement with the company.
Poor Oprah is now relegated to a situation where even a single retail investor owning just one share in the company is now powerful than her, although only with respect to controlling interest in the company.
Related Link: Putting Weight Watchers' Stock Run Into Perspective
Related Link: Rumor Mill At It Again In Weight Watchers
_________
Image Credit: By Bill Ebbesen (Transferred from en.wikipedia) [CC BY 3.0 (http://creativecommons.org/licenses/by/3.0)], via Wikimedia Commons
Posted-In: Artal Artal Luxembourg Oprah Oprah WinfreyEducation Health Care Media General Best of Benzinga
View Comments and Join the Discussion!