A Look At Amazon's Strength Vs. Other Brick-And-Mortar Retail Struggles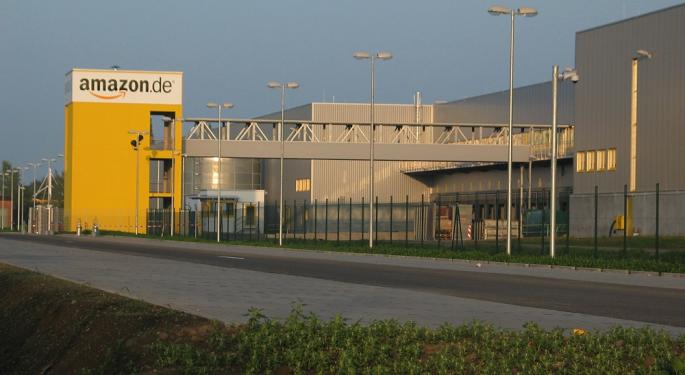 Ever since Amazon.com, Inc. (NASDAQ: AMZN) emerged on the retail horizon in 1994, there has been no turning back for the retail giant. The behemoth has steamrolled past brick-and-mortar rivals, both big and small on its way to glory.
Retailers with a physical store presence have found it difficult to match wits against Amazon and are left high and dry, most fighting for survival. It should be noted, however, e-commerce sales in Q4 accounted for only a little over 8 percent of total sales.
The dominance of Amazon has been such that it has now become the Holy Grail of retailing. What makes Amazon tick against its traditional retail rivals or rather what is its X factor that makes it stand towering and tall?
Related Link: How Store Counts Of America's Biggest Retailers Changed Since 2007
The Differentiators
Constant commitment to innovate: In a business, if you don't change, you can become extinct. (Quote borrowed from the bestseller "Who Moved My Cheese" by Spencer Johnson). Amazon spent 11.8 percent of its net sales or $16.09 billion on technology and content in 2016, up from 10.4 percent in 2014. Amazon has not shied away from potential failures. It tries new things, fails, but perseveres and makes the failure a stepping stone to its success story.
Top scoring: In a response shared in Quora by C.J. Rosenbaum, the founder of Amazon's Sellers' Lawyer, he says Amazon scores over the rest of the pack on time. Every order arrives on time and also helps users save oodles of time, a non-renewable resource.
Customers and customer service: Amazon's customers vouch for its customer service, which is one telling factor that differentiates it from its rivals. In a 2015 interview to the Wired, Amazon's Jeff Bezos said, "More and more money will go into making a great customer experience, and less will go into shouting about the service. Word of mouth is becoming more powerful. If you offer a great service, people find out." How true those words are sounding now.
Amazon Vs. Brick-And-Mortar Retail Rivals
A look at how Amazon has fared against its physical store rivals such as J C Penney Company Inc (NYSE: JCP), Nordstrom, Inc. (NYSE: JWN), Kohl's Corporation (NYSE: KSS) and Wal-Mart Stores Inc (NYSE: WMT) on some key metrics tells it all.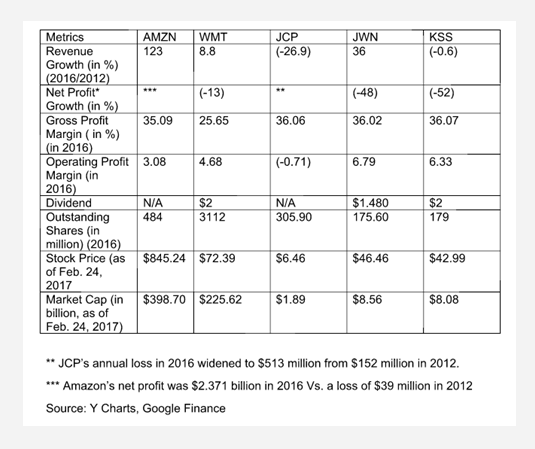 Amazon leaves its rivals way behind in top-line growth and the superlative revenue growth is the basis for its strong profit numbers. In terms of gross profit margin, Amazon's number is comparable to the rest. Underlining its investment-intensiveness, operating margin are a tad behind the rest.
What Is Ailing Brick-And-Mortar Stores?
Traditional retailers are missing a trick in not trying different things. They are trying the same things over and over again but are expecting different results. This is the prime reason as to why they have almost become a dying breed. They have failed to realize that customers' smartphone has now become the point of sale.
Footfalls into stores have dropped, as customers are increasingly gravitating toward digital avenues.
Having come to realize that online is the "in thing," traditional stores are touting online presence and encouraging their customers to buy online, without really operating with the expertise of e-commerce specialists. In their quest to become price competitive, traditional retailers are forced to sacrifice on their margins.
Customers accustomed to end-to-end user experiences from Amazon, now look for amenities, including free shipping, tracking and returns, when they shop online with the traditional retailers. However, these companies pathetically lack the infrastructure, systems and technology to compete online.
In the current scenario, Amazon stands head and shoulders above the rest and it would require more than concerted efforts from brick-and-mortar stores to even stay afloat in the challenging retail environment.
At the time of writing, the SPDR S&P Retail (ETF) (NYSE: XRT) was up 0.41 percent at $41.90.
*Reported Net Income was taken for comparison
Image Credit: By Medien-gbr, CC BY-SA 3.0, via Wikimedia Commons
Posted-In: Education Top Stories Trading Ideas General Best of Benzinga
View Comments and Join the Discussion!