What Was Life Like When The Dow Crossed 7,000 For The First Time?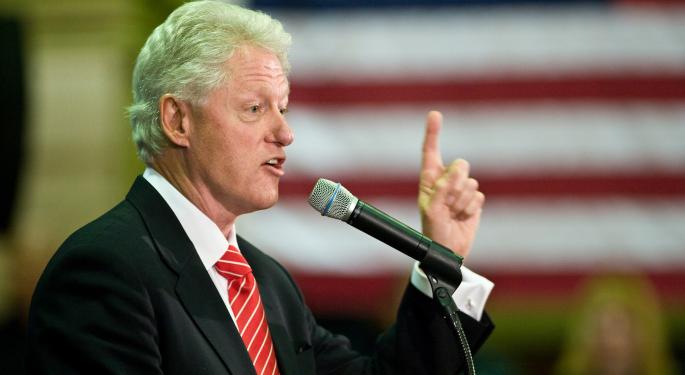 "Downtown" Josh Brown's firm Ritholtz Wealth Management, tweeted out an interesting tidbit. On this day in 1997, the Dow Jones Industrial Average crossed the 7,000 mark for the first time ever.
Today in market history, 1997:

The Dow Jones Industrial Average crosses 7,000 for the first time ever.

— Ritholtz Wealth (@RitholtzWealth) February 13, 2017
Here is a look back at what the world looked like back in 1997.
January 20: President Bill Clinton was sworn in for his second term.
February 5: Morgan Stanley (NYSE: MS) and the investment bank Dean Witter Reynolds announced a merger worth $10 billion.
February 28: A shootout in the streets of North Hollywood sparked the debate of equipping law enforcement officers with high powered weapons.
March 26: 39 cultists belonging to "Heaven's Gate" committed mass suicide.
April 1: "Pokémon" premiered on TV Tokyo for the first time.
May 2: Tony Blair became Prime Minister of the United Kingdom, marking the Labour Party's return to power for the first time in nearly 20 years.
May 11: International Business Machines Corp. (NYSE: IBM)'s "Deep Blue" beat chess master Garry Kasparov.
July 1: The United Kingdom handed back sovereignty of Hong Kong to China.
July 8: Czech Republic, Hungry and Poland were invited to join the NATA alliance.
July 16: The Dow Jones Industrial Average closed above 8,000 for the first time.
August 1: Steve Jobs returned to lead Apple Inc. (NASDAQ: AAPL) as CEO when the company was still called Apple Computer, Inc.
August 6: Microsoft Corporation (NASDAQ: MSFT) announced a $150 million investment in Apple.
September 6: Over 2 billion people across the world watched the funeral of Diana, Princess of Wales.
October 28: 1 billion shares traded hands on the New York Stock Exchange for the first time ever.
December 11: The United Nations adopted the Kyoto Protocol.
Posted-In: Bill Clinton Garry Kasparov Josh Brown Kyoto Protocol Labour PartyEducation Media General Best of Benzinga
View Comments and Join the Discussion!