Kevin O'Leary Taunts His Kids With Gold Bricks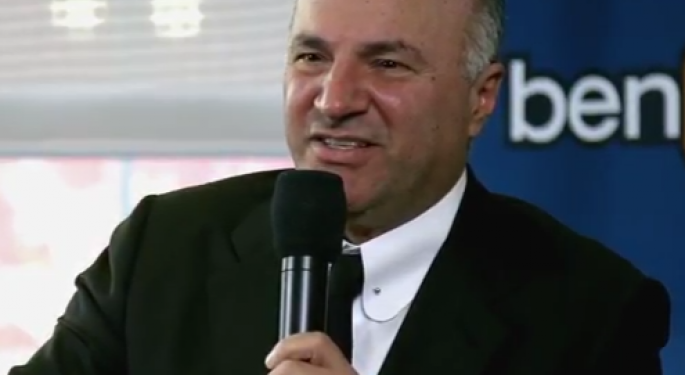 "Shark Tank's" Kevin O'Leary owns gold — bulky, shiny, polished gold — not for any practical purpose, but more as a prop for parenting.
"I have a two-and-a-half kilo brick that I like to slam on the table on Sunday nights, and I show it to my kids saying you'll never own this," O'Leary told Benzinga. "This you'll never own unless you get a job and buy your own."
He said the bar is essentially useless and doesn't pay a dividend, but it merely supplements his gold portfolio. Still, O'Leary recommended potential gold investors bring home the physical bricks.
"A 5 percent weighting in a portfolio of gold has been useful in times of volatility, but if you look long-term at a gold chart, there have been decades where it gives you nothing," O'Leary said. "If you're going to do it, use the GLD to balance the 5 percent every quarter because it's so liquid and it's low cost to you. You can put $4 million in in the morning and take it out a week later and get complete liquidity."
O'Leary recently headlined the first "Benzinga Leadership Series" talk, titled "From the Basement to Billions: the Kevin O'Leary Story" at Benzinga's office in downtown Detroit.
Read about Kevin's advice to young entrepreneurs here.
View Comments and Join the Discussion!
Posted-In: Gold Kevin O'Leary Shark TankEducation Entrepreneurship Commodities Markets General Best of Benzinga