Mother Nature Will Determine Future Of Portfolio When It Comes To Climate Change Stocks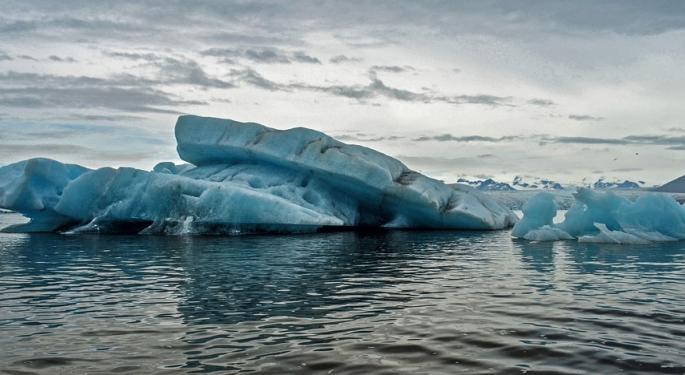 This article was originally published by Motif Investing.
Lately, Arctic ice hasn't been the only thing that appears to be melting down. Investors who put their money in climate change-related stocks may be feeling as though the values of their portfolios are vanishing, as well. Shares in First Solar, Inc. (NASDAQ: FSLR), the Tempe, Ariz.-based manufacturer of utility-scale solar power plants, are down more than 50 percent over the last year. Stock in Cameco Corp (USA) (NYSE: CCJ), the world's biggest publicly traded uranium mining company, has been climbing steadily but remains about 30 percent off its one-year high. And Maxwell Technologies Inc. (NASDAQ: MXWL), the San Diego developer and manufacturer of energy storage products, has suffered a nearly 30 percent loss in stock value over the last year.
Almost eight years after the White House and Congress passed a mammoth $787 billion economic stimulus package that included roughly $90 billion in renewable energy investments and tax credits, there's little political relief in sight for the climate change industry from the nation's capital. Although 97.1 percent of the 11,944 climate-related studies between 1991 and 2011 endorsed the theory that humans are causing global warming, President Donald Trump has described climate change as an issue "created by and for the Chinese in order to make U.S. manufacturing non-competitive." Rep. Lamar Smith, the Texas Republican who leads the House Science Committee, has accused researchers of altering data to push former President Barack Obama's "extreme climate agenda."
Evidence, however, suggests that Mother Nature is not impressed. And even the most die-hard skeptic has to acknowledge that efforts to curb real or imagined climate change won't happen in a U.S.-centric vacuum. Almost 200 countries agreed at a United Nations conference in December 2015 to reduce carbon emissions thought to be linked to climate change; the global tab has been put at $17 trillion (approximately the gross domestic product of the United States). Even individual states have threatened to go their own way on climate action, with California Gov. Jerry Brown, a Democrat, vowing to reduce carbon emissions whether a Trump administration likes it or not.
Costs of Change
While debate continues in Washington, the rest of the world is preparing to deal with fallout from climate change. The World Economic Forum determined that failure to deal with climate change was the third most-likely risk faced by the global economy in 2016, and the one that had the highest potential for impact, even ahead of weapons of mass destruction.
As those risks become apparent, they're likely to affect carbon-heavy portfolios. A 2015 analysis by Credit Suisse estimated that coal stocks could fall between 26 percent and 138 percent over the next decade, while renewable-focused equities soar as much as 97 percent.
Despite the concern over scope of the problem, direct spending on climate change has only climbed modestly over the last two decades, according to the U.S. Government Accountability Office (GAO). The GAO estimated that $11.6 billion in tax dollars were spent in 2014 studying the science of climate changes, developing technologies to mitigate it, or offering international assistance to foreign countries feeling its effects.
While a Trump administration is likely to slash direct spending on climate change, indirect costs are expected to mount. The Natural Resources Defense Council found that the federal government spent $96 billion in 2012 to clean up after weather-related disasters – more than it spent on education or transportation. Private insurers picked up the tab for another $33 billion in losses, and $10 billion was incurred in uninsured losses, according to the NRDC.
The Congressional Budget Office estimates that hurricane damages, which currently average around 28 billion annually, are likely to climb almost one-third by 2075 to $39 billion, with almost equal blame shared by increased coastal development and climate change.
Basic Needs
Even if federal spending on climate change is completely eradicated, investors still may find some related niche markets that could turn profits. Changing weather patterns, for example, are expected to wreak havoc with water quality and supply throughout the planet. The changes are expected to cause more than cosmetic problems; roughly 77 percent of water is used for crop irrigation or electrical power generation. Xylem Inc (NYSE: XYL), a spinoff of water-related businesses of ITT Corp. (ITT), has seen its stock shoot up more than 40 percent in the last year; more than half of the 13 analysts who follow the company rate its shares as a "strong buy."
Stock in San Leandro, Calif.-based Energy Recovery, Inc. (NASDAQ: ERII) has increased more than 60 percent since last year. The company makes devices designed to increase the efficiency of applications such as desalination and hydraulic fracturing. And shares of Cadiz Inc (NASDAQ: CDZI) have more than doubled over the past year, boosted by a series of legal and regulatory victories in its effort to transfer water from the Mojave Desert to fast-growing Orange County suburbs.
Agriculture stocks also may be a wise investment to hedge against climate change; shares of FMC Corp (NYSE: FMC), a Philadelphia manufacturer of pesticides that's also one of the three biggest producers of lithium in the world, have jumped almost 65 percent in the last year. The metal is a key element in smartphones and is expected to be a primary source of energy for electric vehicles.
View Comments and Join the Discussion!
Posted-In: Education Commodities Topics Events Global Economics Markets Tech