Iceberg Ahead? The Massive Rally In Shipping May Be A Function Of Brokerage Issues, Not Fundamentals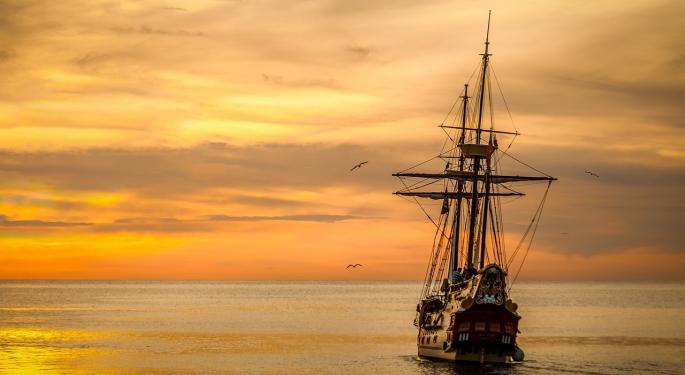 A number of stocks, led by DryShips Inc. (NASDAQ: DRYS), have delivered mind-boggling gains in the week since Donald Trump's victory in the U.S. elections. The SPDR S&P 500 ETF Trust (NYSE: SPY) is up just 1.4 percent since the election, but DryShips has exploded more than 1,530 percent.
While DryShips may be one of the most extreme examples, there are plenty of other post-election movers as well. Euroseas Ltd. (NASDAQ: ESEA) is up 291.3 percent, Globus Maritime Ltd (NASDAQ: GLBS) is up 175.9 percent and Eagle Bulk Shipping Inc (NASDAQ: EGLE) is up 130.5 percent since Election Day.
There's no question that Trump's election has improved the fundamentals for shipping stocks, prison stocks and certain energy and healthcare stocks. The Baltic Dry Shipping Index is up eight days in a row and is currently at its highest level since 2014. However, moves like the 1,500 percent-plus jump by DryShips aren't anywhere close to justified by fundamentals alone.
Short Squeeze
The typical short squeeze happens when a stock's fundamentals unexpectedly improve. As a result, the surge in buying following the news is compounded by short sellers buying to close out their short positions. However, in extreme cases, such as the DryShips scenario, broker inventories can also come into play.
When brokers can't get their hands on enough shares of a stock to close out traders' short positions, things can get fairly chaotic.
Buy-Ins
According to the Interactive Brokers (IB) website, extreme cases of short squeezes can force brokers to close out short positions at market price without the short seller's consent. This phenomenon is called a "buy-in."
"Customers holding short stock positions are at risk of having these positions bought-in and closed out by [prime brokers], oftentimes with little or no advanced notice. This is a risk which is inherent to short selling and generally outside the control of the customer," the website reads.
DryShips
Therefore, in the case of stocks such as DryShips, fundamental buyers are joined in the market by both voluntary short coverers and brokerages that are involuntarily covering customers' short positions due to lack of inventory. To make matters worse, it becomes temporarily difficult for new short sellers to take advantage of the massive run-up in prices because there are no shares available to borrow.
Of course, these issues tend to settle down in time after the initial buying frenzy dies down, and short squeeze stocks eventually come back down to earth. However, it's difficult to predict when that regression will happen and whether or not there will be enough shares available for short sellers to take advantage of the opportunity.
View Comments and Join the Discussion!
Posted-In: shippers shippingEducation Short Ideas Top Stories Movers Trading Ideas General Best of Benzinga