A How-To Guide To Holiday Travel: Hotel Edition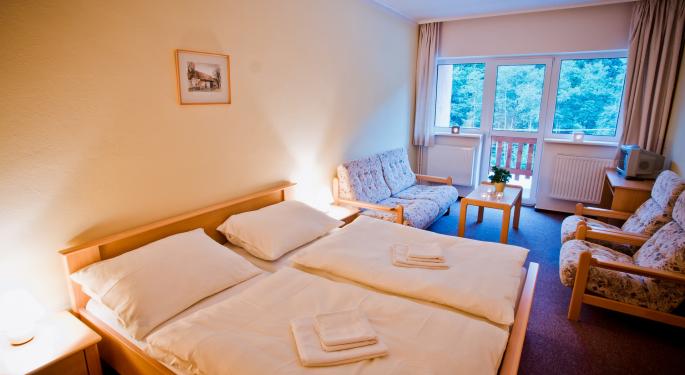 Traveling can be a stressful experience, but it doesn't have to be. One of the most common concerns among travelers is accommodation - finding a hotel that falls into a budget and is in a convenient location.
The online hotel booking market has seen a shift over the past few years in which many competitors are buying out each other. The most recent occurred in September of last year when Expedia Inc (NASDAQ: EXPE) acquired Orbitz.
Expedia is also the parent company of Hotels.com, Hotwire.com, Trivago, Travelocity, HomeAway and several other properties.
Priceline Group Inc (NASDAQ: PCLN) is a major competitor and owns the core Priceline.com business along with Booking.com, Kayk.com, Agoda.com and OpenTable.
Where To Start?
Booking a hotel should be a time consuming activity, especially for travelers looking to save money.
Each and every platform has different agreements with hotels so each site will offer consumers a different price, although the difference is typically limited to a few dollars in cost a night.
It's also important to consider several perks that travel agencies offers. Orbitz offers users a cash-back loyalty reward program applicable to future hotel visits while Hotels.com offers one free hotel night after booking 10 nights.
Most, if not all sites offer consumers a best price guarantee as well.
Booking directly through a hotel is also an option available to consumers as is the start-up Airbnb which is making a "noticeable dent" in the hotel industry.
Regardless, the online travel space is highly competitive so many sites are scrambling to gain market share at almost any cost.
Non-Traditional Booking
Consumers can save a good amount of money by sacrificing certain aspects of their trip.
For example, Hotwire.com will offer consumers a discounted hotel price but with one major catch - the identity of the hotel will only be revealed after the non-refundable booking is completed.
Here is how it works:
Suppose you want to book a hotel in New York City from December 2 through December 6 to enjoy a nice long weekend.
After inputting the details on Hotwire's main page, you will see several options such as a five-star hotel in SoHo-Tribeca for $270 a night. By selecting this option, you're booking an unnamed five-star hotel somewhere within the SoHo-Tribeca region.
Large cities like New York will have many regions available to choose from.
This sounds like a bargain for New York City and travelers who are okay with not knowing in advance which hotel they're booking and were it exactly is located could come out ahead by using Hotwire.
Communities such as Betterbidding.com try to help consumers gain an advantage over the travel platform through sharing tips and hints.
Priceline Express Deals, Name Your Own Price
Priceline.com has a similar feature called Express Deals and will display results of unnamed hotels within a certain region. Similar to Hotwire, the identity and location of the hotel will only be made available after the non-refundable booking is completed.
Priceline has another feature called Name Your Own Price. Consumers will select a region they want to "bid" on and the price they are willing to pay. If a hotel in the selected region is willing to accept the price offered than the consumer won a booking.
Don't Forget About The Coupons
Prior to any hotel booking consumers should take a few minutes and hunt for coupon and discount codes. RetailMeNot Inc (NASDAQ: SALE) is a good starting point. Here are a few coupons which are listed for Orbitz's platform.
Posted-In: Airbnb Hotel BookingsEducation Entrepreneurship Travel Top Stories Tech General Best of Benzinga
View Comments and Join the Discussion!