Here's Everything You Need To Know About Blue Chip Stocks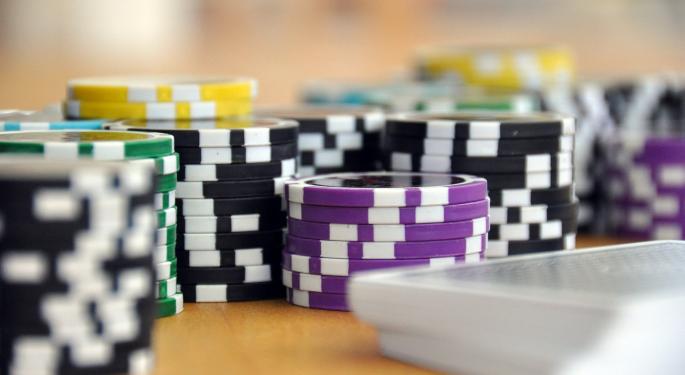 As a new investor, you have a lot of investing and trading terms thrown at you and it's hard to keep track of them all. Luckily, we're here to help simplify things for you! You may have heard of the term "Blue Chip Stock," but what is it and what (if any) place do so called "blue chip stocks" have in your portfolio?
Let's start with a real-life analogy. Were you a loyal follower of the TV show Friends when it was on the air? If so, it's likely that you still dutifully watch the show's reruns. Whether you love it or hate it Friends is a show that has stood the test of time, even if you have never watched an episode in your life.
Like a good TV show, companies that are "Blue Chip" stocks have stood the test of time and provide products and services that consumers continue to value.
These companies, such as The Coca-Cola Co (NYSE: KO), Johnson & Johnson (NYSE: JNJ), and The Walt Disney Co (NYSE: DIS), are generally large, well established companies that have been around for decades. They almost always have solid financials, pay out dividends regularly, and are usually included in the Dow Jones Industrial Average. These characteristics have earned Blue Chip stocks the reputation of being less risky relative to other stocks.
Historically, Blue Chip Stocks have held up better in periods of recession. During the height of the Great Recession of 2008-2009, companies like Coca-Cola and Johnson & Johnson saw lower dips in their stock price relative to many other companies. Johnson & Johnson actually increased their earnings by 10% and increased their dividend payout by 11%, despite a 29% decline in its stock price. Today, Coca-Cola and Johnson & Johnson have continued their dividend payouts and their stock prices have significantly increased since the recession.
Due to their ability to "weather the storm" many investors feel that Blue Chip stocks are relatively less risky than other stocks. However, it's important to keep in mind that there have been Blue Chip companies that went bankrupt, such as General Motors Company (NYSE: GE). Therefore, it's crucial to understand a company's financials and business before making the decision to invest in them.
Because of their relative safety, Blue Chip stocks won't allow you to turn a quick profit as an investor They are stable companies that have been around for a while, so it is highly unlikely that there will be major swings in their price. When you invest in a Blue Chip stock, it should be with a "buy-and-hold" mentality rather than a "beat-the-market" mentality.
So, how can Blue Chip stocks fit into your portfolio? You should consider investing in Blue Chip stocks as part of your broader strategy to build a diversified portfolio. Depending on your tolerance for risk, you'll want to have some money in less risky investments (like Blue Chips) and some money invested in growth stocks (like tech stocks).
Building a diversified portfolio including Blue Chip stocks can get expensive as many of these tried and true stocks have higher share prices. The DriveWealth app helps solve this problem with fractional share technology, which makes it easy for investors to create a diversified portfolio on any budget. Fractional shares allow investors to put any dollar amount they want into any stock they want, regardless of share price. Having the ability to invest in terms of dollars will allow you to spread your money out across securities in different sectors, asset classes, and geographic locations without being constrained by high share prices. With DriveWealth you can make Blue Chip stocks part of your diversified portfolio without worrying about the price tag!
View Comments and Join the Discussion!