NY Times Profiles R. Martin Chavez, A Gay Latino Partner At Goldman Sachs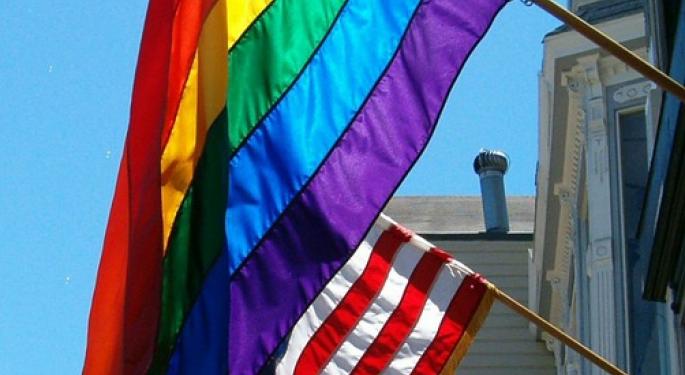 Goldman Sachs Group Inc (NYSE: GS) suffered in the 2008 financial crisis, and its image took a major hit. Wall Street was criticized for the opacity in its everyday dealings. Goldman has been on the path to changing its public image after Rolling Stone's Matt Taibbi called the company a "great vampire squid wrapped around the face of humanity" in 2009, the New York Times reported.
A Multi-Faceted Employee
One of these changes is R. Martin Chavez, who was promoted two years ago to oversee the company's over 9,000 computer engineers. Chavez is a gay Latino born to immigrant parents; he also went to Harvard. Chavez prides himself on his transparency and views it as a crucial step toward changing Goldman's public image. His first project was Marquee, which gives clients "access to sophisticated trading data previously available only by phoning a Goldman employee," the Times stated.
Related Link: Apple's Tim Cook And 5 Other Notable LGBT CEOs
Chavez is in the process of shifting Goldman toward a less opaque and more technologically savvy and efficient company. After an early departure from the company, Goldman's Gary D. Cohn asked him to return and work for the company. After the 2008 crisis hit, Chavez had an opening to standardize and automate more of its trading operations. He unified the elite trading desk programmers and the regular IT department to streamline operations. He also pushed projects like Symphony a program that began as an application that would allow Goldman employees to communicate. Now it has spun off and became an independent company that the banking industry as a whole is working on.
Leading Change Through Example
Chavez's style and personal choices are a departure from the culture that has been built up since the famous bank's inception. "For Mr. Chavez, transparency is a kind of personal credo. He displays his gay and Latino identities proudly, as well as the Japanese tattoos on his arms," the Times explained.
"Conversations with him routinely turn to the intricacies of marrying his husband, a Briton, and raising their baby son, who was born to a surrogate in California. He urges his colleagues to open up more as well, arguing that it can serve as an antidote to the negative public image of Goldman," the Times described.
While it may seem unconventional, it is the right direction — as the task is to take Goldman "to a different place," Chavez concluded.
View Comments and Join the Discussion!
Posted-In: New York Times R. Martin Chavez Rolling StoneEducation Topics Media General Best of Benzinga