Examining The Predictive Power Of Small-Cap ETFs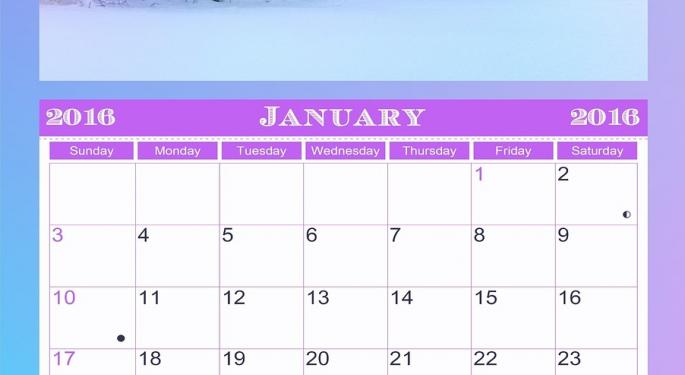 Followers of the January Effect believe that so goes January, so goes the year for stocks. Add to that, it is widely believed that small-cap stocks are supposed to do the leading in the first month of the year to validate the January Effect.
There is some bad news on that front. The iShares Russell 2000 Index (ETF) (NYSE: IWM), the largest small-cap ETF, is down 8.4 percent over the past month and has closed lower in three of January's four trading sessions. However, there is some good news. That being: As a given year moves along, small-cap stocks lose their predictive power.
Seasonality And Historical Performance
"Twenty years of market returns suggest that the predictive nature of small cap performance lessens as we get further into the year. In 70 percent (14 of 20) market years between 1996 and 2015, a positive first trading day for US small caps led to a positive full year, and vice versa. This direct positive and negative correlation decreases to 65 percent (13 of 20) for the first two trading days, 60 percent (12 of 20) for the month of January and to 40 percent (8 of 20) for the first quarter," said index provider FTSE Russell in a note out Thursday.
Related Link: Small-Cap Seasonality: It's The Right Time For This ETF
Small-Cap Strength, The Rising Dollar And Rising Interest Rates
Investors have heard about small-cap strength by way of the rising dollar, which implies small-cap stocks and the exchange-traded funds that hold them should be beneficiaries of rising interest rates. Obviously, that scenario has yet to materialize in earnest. Making matters worse is the fact that small caps have lagged large caps even as the latter's earnings have been hampered by the rising dollar.
"While past performance is no guarantee of future results and US small cap market performance is inherently less predictable than other asset classes, historical analysis through market indexes can help investors identify potential patterns which may inform greater market understanding. None of us have a crystal ball, but objective analysis through market indexes can provide additional perspective to investors charting a plan of action," said FTSE Russell Senior Research Director Tom Goodwin in the note.
There are some signs traders are preparing for small caps to bounce. On Wednesday, the Direxion Small Cap Bull 3x Shares (ETF) (NYSE: TNA), the triple-leveraged equivalent of IWM, added $102.4 million in new assets, more than any other Direxion ETF that day, according to issuer data.
Image Credit: Public Domain
Posted-In: Long Ideas News Broad U.S. Equity ETFs Education Short Ideas Small Cap Analysis Intraday Update Markets Best of Benzinga
View Comments and Join the Discussion!