Boston College Students Blame Chipotle As Food-Borne Illness Cases Reach 120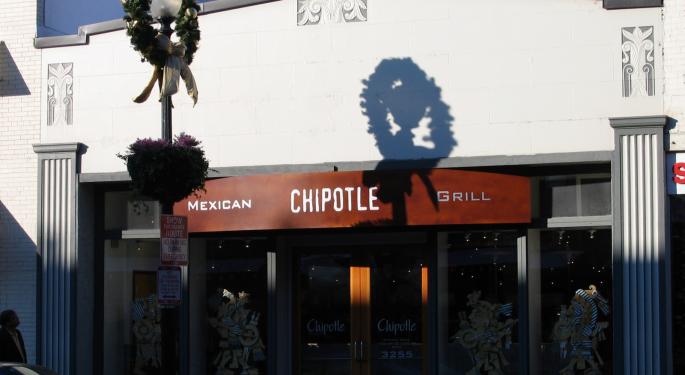 Chipotle Mexican Grill, Inc. (NYSE: CMG) is getting its own outbreak, as it recently was blamed by the students at Boston College. According to a new press release by Boston College, nearly all cases of the confirmed norovirus are related to students who ate at the Chipotle restaurant in Cleveland Circle during the past weekend. As of Thursday, the number of people sickened from Boston's Chipotle location has risen to more than 120.
Concerns continue to be expressed by both investors and analysts on the fast-casual restaurant's valuation.
Related Link: Oppenheimer Is Bullish On Chipotle's Recovery
Are Concerns Momentary?
Despite the worries, some analysts believe the restaurant chain's highly publicized public health problems are ephemeral, and it will be poised to bounce back to its winning ways, making the stock an excellent bargain. Other analysts are still weary that the announcement of even more food-borne illness outbreaks from last week will place the Chipotle in a detrimental crisis and the stock will only continue to plummet.
Documented E.Coli And Other Illnesses
Chipotle's shares are down by 11.5 percent this past month since the outbreak of the norovirus that has rapidly spread from two states to now nine and has affected more than 50 people. Chipotle's shares fell 6.47 percent this year before October 31, when health authorities initially reported E. Coli victims linked to a meal at a Chipotle restaurant.
According to a statement from Chipotle, "We do not have any evidence to suggest that this incident is related to the previous E. coli incident. There are no confirmed cases of E. coli connected to Chipotle in Massachusetts."
Image Credit: By Aude (Self-published work by Aude) [CC BY-SA 2.5], via Wikimedia Commons
Posted-In: Long Ideas News Education Short Ideas Health Care Retail Sales Restaurants Trading Ideas Best of Benzinga
View Comments and Join the Discussion!