9 IPOs That Fell Flat On Wall Street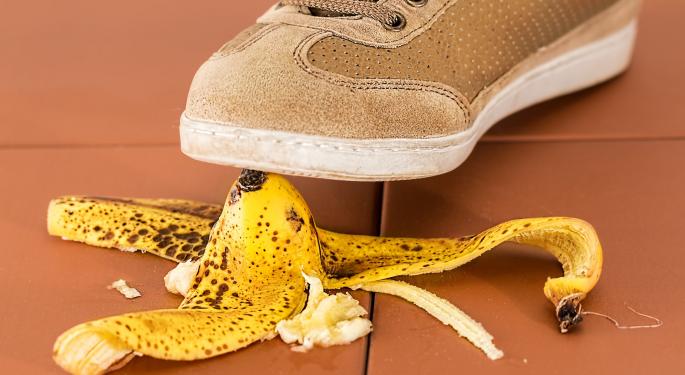 Deciding whether to go public is a big decision for most companies. A firm's stock market debut is often taken as an indication of its future success, though a few miserable initial public offerings have given rise to some of the most powerful companies on Wall Street.
Hype, investor confidence and anticipation surrounding a new firm's first days on the market all contribute to the excitement that IPOs bring to the market. However, sometimes the increased public scrutiny coupled with fickle Mr. Market tip the scales in the other direction, causing an IPO to fall flat on its face.
Here's a look at nine of Wall Street's biggest IPO flops.
Related Link: Who Wins From Square's IPO?
Invest in IPO shares before the stock hits the market with ClickIPO. Check it out here
1. King Digital Entertainment PLC (NYSE: KING)
King Digital Entertainment is the name behind mobile gaming fad "Candy Crush Saga." In 2014 when the company prepared to launch its IPO, "Candy Crush" was at its peak of popularity with upward of 500 million downloads and some $2 billion worth of sales.
However, worries about the firm's pricing gave investors jitters, and the company's share price declined quickly upon hitting the market. By the end of its first day on the market, King Digital's $22.50 IPO price had lost 16 percent, and the firm's valuation had dropped to $7.1 billion.
Many believe the company's failed IPO was based largely on pricing issues, while others say the fact that "Candy Crush" had reached saturation made investors nervous that the company had nothing left to deliver.
Whatever the case, King Digital's failed initial public offering went down in the books as one of the largest failed IPOs of the decade.
2. Facebook Inc (NASDAQ: FB)
Perhaps the most famous failed IPO is that of social media giant Facebook, which saw the company's shares fall flat soon after hitting the markets three years ago in May 2012.
Facebook's initial public offering was a comedy of errors that ended with the firm fighting against a bad reputation for a year after the event, coupled with several lawsuits. First, the company's initial trades were delayed, leading to investor confusion. Then, Facebook was accused of "selectively" disclosing information about the company's financials to big-name banks. Finally, Facebook wasn't the profit machine it has morphed into over the past three years when the company went public.
At the time of the IPO, the firm was a weak player in the mobile market, and ad revenue was lackluster. In the weeks following Facebook's May 18 debut, the company's share price dipped below its $38 offering price and cost investors nearly $40 billion.
However, in Facebook's case, the adage "begin as you mean to go on" doesn't hold true; the company's shares have risen 181.89 percent over the past three years.
Related Link: Two Years Ago, Twitter's IPO Gained 72%, Will Square Beat It?
3. Vonage Holdings Corp. (NYSE: VG)
Telecommunications firm Vonage Holdings Corp. held one of the market's messiest IPOs in 2006 when the firm went public. Despite the fact that the company's service was considered a huge success, the firm's IPO was poorly handled and resulted in major losses and shareholder lawsuits.
Technical glitches required investors to pay full IPO prices for Vonage shares that had dropped significantly without their knowledge – a mistake that cost people hundreds of dollars. The company's opening share price was $17, but within 24 hours, it had fallen to $13 per share. Since the IPO, Vonage has continued to struggle with share prices falling 47.77 percent over the past nine years.
4. Groupon Inc (NASDAQ: GRPN)
Discount and coupon site Groupon was a hit among consumers, leading Google to offer the company $6 billion for a sale. However, the firm decided to go at it alone, and in 2011 Groupon filed to go public.
From the very beginning, the IPO faced challenges after Groupon's accounting methods were questioned and the firm was forced to re-file. In November, Groupon's stock made its market debut at $20 per share. The initial response was mostly positive, bringing share prices up almost 50 percent.
However, soon after the IPO, questions about the company's profitability and future sustainability began to weigh on share prices, and the firm's earnings report took share prices down to $6.32. Since the time of its IPO, Groupon has struggled to demonstrate value to shareholders, and the company's share price has fallen 89.7 percent to date.
5. Zynga Inc (NASDAQ: ZNGA)
Zynga is another mobile gaming firm whose popular entertainment offerings weren't enough to convince investors of the company's sustainability.
In December 2011, the company went public with shares priced at $10. However, by the close of the day Zynga shares were down to $9.50. Then, on July 26, 2012, Zynga released a disappointing earnings report that caused its share price to slide below $3.
Since the firm's debut, shares have fallen 73.16 percent, and the firm has had to fend off lawsuits from shareholders who say the firm defrauded them by concealing declining user numbers at the time of its IPO.
6. FriendFinder Networks
In 2011, dating website FriendFinder earned a nod from the Wall Street Journal as the "worst U.S. debut of the year."
The company went public with its shares priced at $10, but they finished the day at just $7.85. Investors were not impressed by the firm's business model, which relied largely on subscription fees for dating and hookup sites in order to generate revenue. The company was also weighed down by financial issues and credit defaults, which depressed share prices.
Eventually, as prices fell below the $1.00 mark, prominent investors began to sue to company, saying they were fraudulently persuaded to back the site.
Related Link: Match Group IPO Investors: Here's What Matchmaking Brands You'll Own
7. EP Energy Corp (NYSE: EPE)
In January 2014, energy exploration and production firm EP Energy launched an IPO that fell flat amid concerns about sinking energy prices.
The company's debut was forecast to raise $1 billion with shares priced between $23 and $27 per share. However, EP Energy ended up selling for $20 per share and raising only $713 million. The poor IPO performance caused a 10 percent stock drop, and the firm had the worst single-day performance of any $500+ million IPO since 2009.
Not only did EP Energy enter the market at a time of extreme uncertainty in the energy sector, but the firm's high debt levels left investors wary. Since its IPO, EP Energy has continued to struggle in a difficult economic environment, and the firm's share price has fallen 67.59 percent to date.
8. Fifth Street Asset Management Inc (NASDAQ: FSAM)
In late 2014, alternative asset management firm Fifth Street went public in what many have dubbed one of the worst financial IPOs.
The company's shares declined soon after being offered, falling 21 percent to $13.37 after selling just 6 million shares for $17 apiece. The company initially planned to sell 8 million shares at $24 each in order to raise $200 million, but shortly before the deal was set to launch, the company revised its valuation to just $102 million.
In the year since its debut, Fifth Street's shares have made no recovery and instead continued on a steady downward trajectory, losing 69.86 percent to date.
9. Omeros Corporation (NASDAQ: OMER)
In October 2009, pharmaceutical firm Omeros Corporation went public and raised $62 million with its shares priced at $10 apiece. The firm was on the verge of producing a drug designed to help ease joint pain and help knee surgery patients recover. The company hoped to raise $80 million in order to carry it through Stage III trials and FDA approval.
In the weeks before the IPO, a former Omeros exec accused the company of inaccurate timekeeping practices, which had been used to obtain National Institutes of Health grants, leading to some speculation about the company's trustworthiness.
The firm's troubles continued and a month after Omeros' IPO, its share price had fallen 42 percent. However, in the six years since Omeros went public, the company has been able to do some damage control, and its share price has increased 63.24 percent.
Image Credit: Public Domain
Posted-In: FriendFinder NetworksEducation IPOs Top Stories Trading Ideas General Best of Benzinga
View Comments and Join the Discussion!