These 6 Stocks Skyrocketed During The 2008 Crash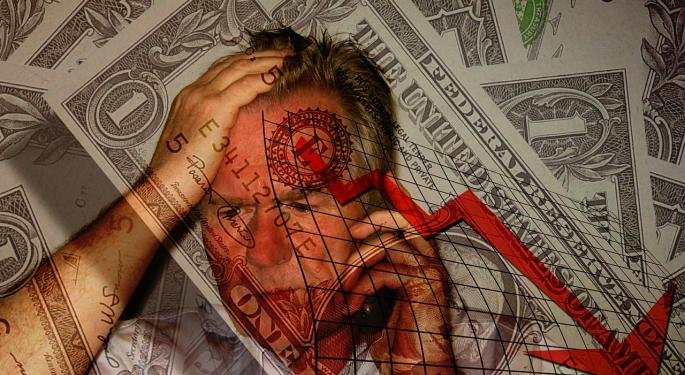 As the S&P 500 flirts with some of its most dangerous long-term support levels, fears that the market may finally have reached the end of its six-year bull cycle are growing stronger by the hour. While most traders remember the sickening feelings involved with the 2008 market collapse, it's easy to forget that 2008 ended up being a stellar year for a handful of select stocks.
Even though the S&P 500 declined by more than 37 percent in 2008, these six stocks produced big gains for their shareholders while the financial world was disintegrating all around them.
1. Hasbro, Inc. (NASDAQ: HAS) (+16.6 percent)
When economic fears hit hard, inexpensive board games such as Scrabble and Monopoly start looking a lot more appealing than expensive electronics do.
2. H&R Block Inc (NYSE: HRB) (+22.0 percent)
Apparently, the old expression about death and taxes holds true no matter how bad the stock market is doing. H&R Block's stock gained more than 20 percent in 2008.
Related Link: The Politics Of Recovery
3. Celgene Corporation (NASDAQ: CELG) (+19.4 percent)
Shares of Celgene climbed nearly 20 percent in 2008 on high hopes for its revolutionary cancer treatment Revlimid.
4. Wal-Mart Stores, Inc. (NYSE: WMT) (+19.5 percent)
Not only was Wal-Mart appealing in 2008 because of consumers' growing desire for discounted shopping, the stock also represented a source of stability and value for risk-averse traders.
5. Amgen, Inc. (NASDAQ: AMGN) (+23.9 percent)
Amgen was one of the beneficiaries of the shift toward healthcare stocks in 2008, a sector that has traditionally been seen as a defensive play.
6. Dollar Tree, Inc. (NASDAQ: DLTR) (+64.7 percent)
Nobody told Dollar Tree that the market was collapsing in 2008, as the discount retailer soared more than 60 percent on the year when defensive buyers flocked in.
Image Credit: Public Domain
View Comments and Join the Discussion!
Posted-In: S&P 500Education General Best of Benzinga