How Have Bank Stocks Traded During The Last Three Fed Tightening Cycles?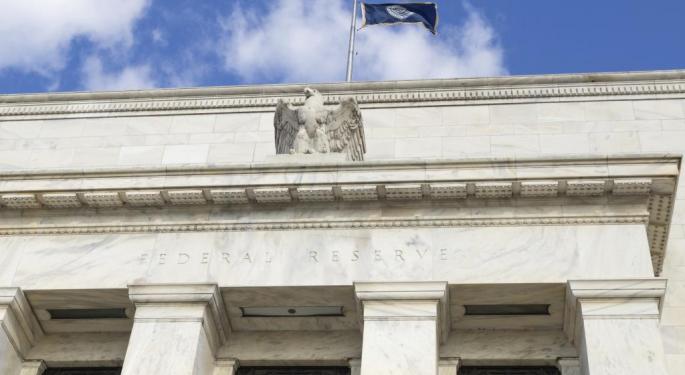 A growing number of traders and analysts have begun to anticipate that the first FOMC rate hike of a new tightening cycle could happen as soon as next month. Conventional wisdom says that rising interest rates are good for banks' net interest margins, but do rising interest rates produce rising share prices for banks stocks?
In Theory
A large part of banks' profits comes from the spread between the interest they collect from long-term loans and the interest they pay on short-term debt. While a rise in interest rates across the board doesn't necessarily improve this spread, it theoretically gives banks more wiggle room when it comes to their net interest margins (NIM), which have been declining steadily in recent years.
Related Link: How To Find Bank Financials Before They Come Out
What Does History Tell Us?
The last FOMC tightening cycle occurred from June 2004 to June 2006. Here's a look at how the "Big 4" U.S. bank stocks performed throughout the cycle.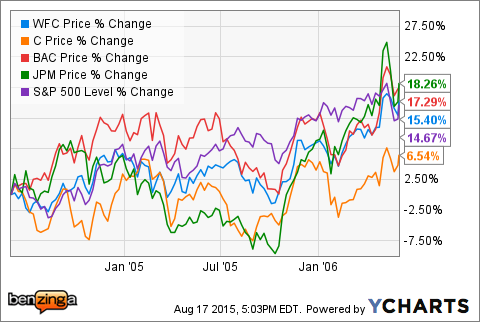 Perhaps contrary to prevailing beliefs, the banks demonstrated lackluster performance throughout the duration of the tightening cycle compared to the S&P 500. Wells Fargo & Co (NYSE: WFC), Bank of America Corp (NYSE: BAC) and JPMorgan Chase & Co. (NYSE: JPM) all modestly outpaced the S&P, but Citigroup Inc (NYSE: C) lagged the market by about 8.0 percent.
Prior Cycles
Going back to the previous tightening cycle, there is still no clear outperformance by the big banks. From June 1999 to May 2000, JPMorgan, Bank of America and Wells Fargo all underperformed the S&P 500; Citigroup was the lone outperformer.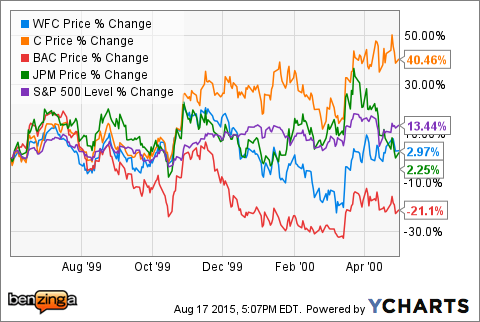 During the only other tightening cycle of the past 25 years, from February 1994 to February 1995, three of the four big banks again lagged the S&P 500. During this cycle, the top performer of the bunch was JPMorgan, which only managed a flat zero percent return throughout the cycle.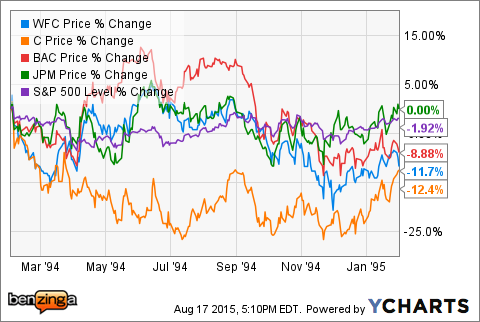 Takeaway
During the past six months, all four of the big banks mentioned in this article have outperformed the S&P in anticipation of the first interest rate hike. However, shareholders that are expecting big returns from higher interest rates might soon find themselves very disappointed.
Disclosure: the author owns shares of Bank of America.
View Comments and Join the Discussion!
Posted-In: FOMCEconomics Federal Reserve Trading Ideas Best of Benzinga