Plenty Packed Into Stock Market's Holiday Week: Greece Crisis, Payrolls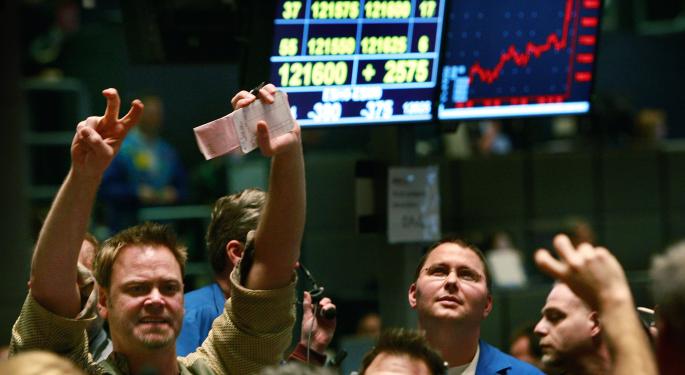 A nail-biter for Greece and China, major U.S. economic data, and end-of-quarter position squaring headline a holiday-abbreviated trading week.
That's a lot of news packed into four days of potentially dwindling trading volume and cranked tight volatility as markets shutter on Friday for Independence Day.
Attention will be stretched from domestic issues to the uncertainty stirring for markets abroad. And tensions are only heightening. U.S. stock futures are sharply lower in early action Monday, tracking steep declines for European and Asian equities.
Bracing For The Worst
The biggest unknown is, in a word, Greece. Its uncertain debt situation's potential risk of spreading to broader Europe and the globe has clouded trading even as U.S. stock averages remain near record-high territory.
As the weekend wrapped, Greece's European partners had refused to extend a credit lifeline to Athens after the government rejected tough belt-tightening demands. Greece instead put its bailout deal to a referendum that detractors believe won't produce the hard reforms that may be needed to clean up balance sheets, Reuters and other news outlets reported. It's a vote on the future of the euro-zone, say observers. Greek banks were dark on Monday.
Finance ministers of the other 18 countries sharing the euro met for the first time without Greece and flatly rejected its pleas to extend an expiring bailout until after the referendum on July 5, setting the stage for Athens to default on a crucial International Monetary Fund payment on Tuesday, Reuters said.
Related Link: Kinahan: China's Plunge And Greece's Gap...Will Stock Market Fireworks Come Early?
And then there's China. Its Shanghai Composite Index is off some 20% from its recent peak—a move that some industry analysts define as bearish territory. It's been a swift fall; the benchmark hit its highest level seen after the financial crisis as recently as June 12. The decline has taken root first in the startup stocks, shedding a quarter of their value since hitting record highs as a group earlier this month.
Will Hiring Remain Solid?
As for the domestic picture, the closely watched monthly jobs report hits on Thursday, a day early because of the holiday closure (see the full calendar in figure 2 below). According to MarketWatch, the consensus estimate among economists it polled is for a gain of 230,000 in new June hiring, off from May's 280,000. The unemployment rate is expected to dip to 5.4% from 5.5%.
Any big surprises in the economic data, or unexpected earnings warning flares from Corporate America, could potentially trigger fireworks on Wall Street ahead of the July 4 break.
Already, some indicators suggest investors have turned cautious heading into the last two trading days of June. The CBOE Volatility Index (VIX), for instance, is up in the past three trading sessions (figure 1).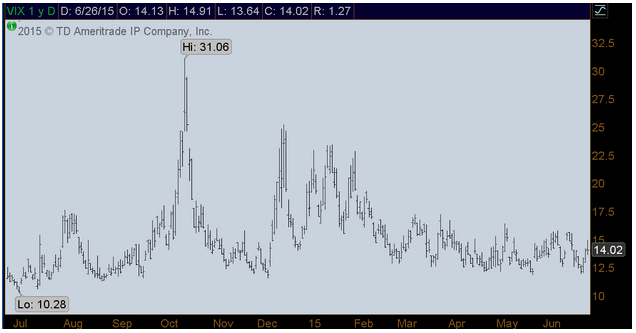 Figure 1: VIX Viewed in Context. The CBOE Volatility Index (VIX), which tracks the implied volatility priced into SPX options, finished Friday at 14.02. It's covered a lot of territory from an intraday low below 12 on Tuesday. Yet, looking at the daily chart, VIX is about midway in its recent trading range, and is lower for the quarter. Data source: CBOE. Chart source: TD Ameritrade's thinkorswim® platform. For illustrative purposes only. Past performance does not guarantee future results.
In fact, many measures of market volatility are not only down for Q2, but have logged substantial declines in the first half of 2015. Volatility in the small caps (RVX), gold (GVZ), and oil (OVX) have seen larger declines than the broader VIX (see table).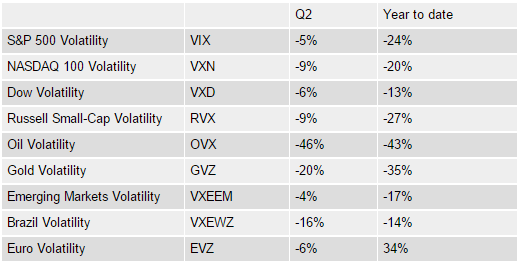 Prettied Up
Tuesday is the last day of Q2. That means so-called window dressing—the process of putting lipstick on portfolios for quarterly result reports to shareholders—will likely drive institutional flows higher through month's end.
The earnings calendar is light as investors look ahead to a mid-July pickup in earnings releases. A handful of second-tier names are on tap, including General Mills (NYSE: GIS), ConAgra (NYSE: CAG), and Constellation Brands (NYSE: STZ). That all changes in two weeks, however. Alcoa (NYSE: AA) unofficially kicks off the reporting period on July 8, and the floodgates on quarterly reports open a week later.
According to Zacks Investment Research, overall earnings-per-share results for Q2 are expected to be down 7.3% from a year ago on a 6.1% drop in revenues. Yuck. Those somewhat dim expectations are perhaps one reason the S&P 500 seems to be chopping around in a range. At the same time, while poor Q2 results are possibly "baked into the cake," the more important issue might be what companies say about the outlook for the third and fourth quarters.
That's plenty to chew on. If China's blood-letting continues, volatility could potentially spill over into other equities markets throughout Asia and elsewhere. And traders are likely to remain wary until the details of any Greece agreement—short-term or not—are ironed out and all the papers are signed. In ink.
Good trading,
JJ
This piece was originally posted here by JJ Kinahan on June 29, 2015.
TD Ameritrade, Inc., member FINRA/SIPC. Commentary provided for educational purposes only. Past performance of a security, strategy, or index is no guarantee of future results or investment success. Inclusion of specific security names in this commentary does not constitute a recommendation from TD Ameritrade to buy, sell, or hold.
Options involve risks and are not suitable for all investors. Please read Characteristics and Risks of Standardized Options before investing. Supporting documentation for any claims, comparison, statistics, or other technical data will be supplied upon request.
The information is not intended to be investment advice and is for illustrative purposes only. Be sure to understand all risks involved with each strategy, including commission costs, before attempting to place any trade. Clients must consider all relevant risk factors, including their own personal financial situations, before trading.
Posted-In: JJ Kinahan The Ticker TapeEducation Opinion Markets General Best of Benzinga
View Comments and Join the Discussion!