How Is The Market Actually Valuing JP Morgan Chase?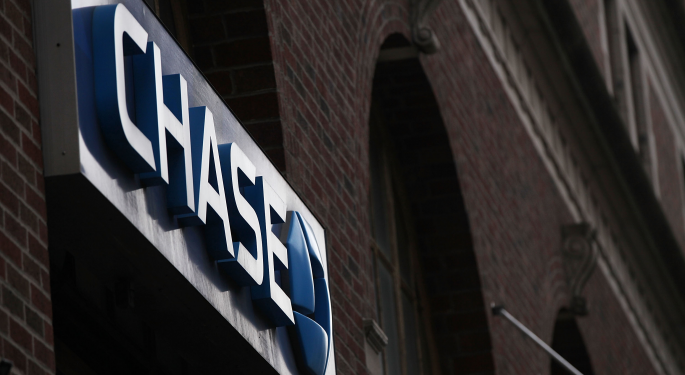 This article, The Morning Monte, was originally published here.
JPMorgan Chase & Co. (NYSE: JPM) is a global financial holding company offering investment banking, commercial banking, consumer banking, transaction processing and asset management services.
JP Morgan's assets totaled $2.6 trillion at the end of 2014. Approximately 47 percent of total firm revenue was generated by interest on loans in 2014. The remaining revenue was attributed to service fees and securities gains. The firm is organized into four segments: Consumer & Community Banking, Corporate & Investment Bank, Commercial Banking, and Asset Management.
JP Morgan is one of the largest banks in the world and leads the market in global investment banking fees.
The banking industry has experienced significant flux following the 2008 financial crisis. Banks were negatively impacted by the downturn in economic activity (and therefore commerical and consumer borrowing) along with rising delinquency and non-performing assets. Monetary policy ushered in a very low interest rate environment, squeezing margins for lenders.
While these effects took hold, regulators simultaneously brought financial institutions under more intense scrutiny, requiring significant spending on compliance and administrative functions.

Discussion
The Bull Case
Most of the effects of economic turmoil, regulatory measures and restructuring are behind JP Morgan. The prospect of Fed tapering signals higher interest rates on the horizon. A more robust economy should bolster lending and baking services volume. While compliance and administrative spending will remain high, the transition to this new expense structure no longer looms over future operations.
The business restructuring and shedding of riskier assets are largely completed as well, and JP Morgan is now more comfortable with their balance sheet relative to previous years. JPM and all of the major US banks meet the Basel III CET1 requirements already.
JP Morgan's financial health and business growth metrics are improving. Nonperforming assets and net charge-offs both declined 18 percent in 2014. Delinquencies continue to trend downward. Consumer and Community banking deposit growth was the largest among the large US banks, and credit card sales volume grew 11 percent.
In the 2014 10-K, management states that they expect 10 percent core loan growth in 2015 and further reduction in loan losses with charge-offs around $4b in 2015.
The Bear Case
Even if the Fed begins tapering in coming months, interest rates will remain well below historical levels for the medium term. Higher regulation and supervision has permanently altered cost structure in the banking industry, and the risk remains that compliance and administrative expenses will continue to grow under increasing regulatory scrutiny.
Global financial instability is another risk to the banking industry. Russian sanctions, Chinese macroeconomic slowdown, and sovereign debt crises in the Euro zone could threaten economic activity and creditworthiness of counter-parties.
JP Morgan's revenue declined 2 percent annually in 2014, and net income only increased due to lower noninterest expense. Noninterest expense declines were driven by lower legal expenses and lower compensation versus 2013, and such improvements may not be realizeable in future years.
While JP Morgan already meets the Basel III 2019 CET1 requirements, they are the only major bank which falls short of the Fed's more stringent 2019 capital target. JP Morgan intends to meet Basel and Fed CET requirements through earnings. Since they have higher CET1 ratio targets than competitors, it may have a larger impact on JP Morgan's ability to pay dividends relative to their peers.
Quality of Earnings Estimates
JPM Management forecasts a reduction of $1.6 billion in both revenue and earnings in 2015 due to simplification initiatives. 2015 earnings consensus among analysts is 0.8 percent revenue growth and an expansion in earnings to $5.78 from $5.29 in 2014. Analysts are very bullish in their 2016 estimates, forecasting 5.5 percent revenue growth in the year.
Consensus estimates have been off by at least 9 percent in three of the past four quarters. The highest analyst estimate for forward earnings is 15 percent higher than the lowest estimate.
Stock Analysis
JP Morgan stands to benefit from improving conditions for the entire banking industry. Banks should generally perform well as the global economy returns to growth. Efforts to improve CET and capital ratios are encouraging and all of the banks look likely to meet Fed and Basel III targets.
Relative performance of the banks will hinge on exposure to global macro threats and their ability to control legal, administrative, and personnel expenses. JP Morgan, along with Citi, has the best average analyst recommendation among the major banks.
Our required rate of return for JPM is 9.4 percent. According to our residual earnings growth model, the implied long-term growth rate in residual earnings is -5.89 percent for a stock price of $61.70. This negative value suggests that fundamentals and consensus forecasts are sufficient to support a valuation in excess of our required returns with an entry point of $61.70.
Our Monte Carlo simulation calculates a mean Economic Value of around $67.50, a margin of safety around $6 or 9 percent of the current stock price. The minimum Economic Value in the distribution from the Monte Carlo simulation is $63.73, 3 percent above the current price.
Significant nonrecurring expenses, such as legal spending, make it difficult to forecast earnings with precision.
So take a look, play with the model, and tell us what you think.
Written By: Ryan Downie and Prudena contributors
Edited By: Charlie Strout
Disclosure: Charlie doesn't own any shares of JPM and doesn't plan of buying any in the next 24 hours.
Published: 4/12/2015 12:57:00 AM UTC
NOTE: The Morning Monte is high-level, and any investment requires a deeper analysis than is presented here. The comments in the Morning Monte are intended to help guide your research and ground you in the fundamentals of the company. In no way should the comments in The Morning Monte be taken as advice to buy or sell a particular equity. Some of the statements are forward looking. As such, these statements are speculation--so beware! The comments represent the views of the author and are not necessarily the views of PRUDENA™.
Have a comment? Please Contact Us.
Posted-In: JPMorgan Monte CarloLong Ideas Education Trading Ideas General Best of Benzinga
View Comments and Join the Discussion!