Cryptocurrency Finds A Place In Education With Smileycoin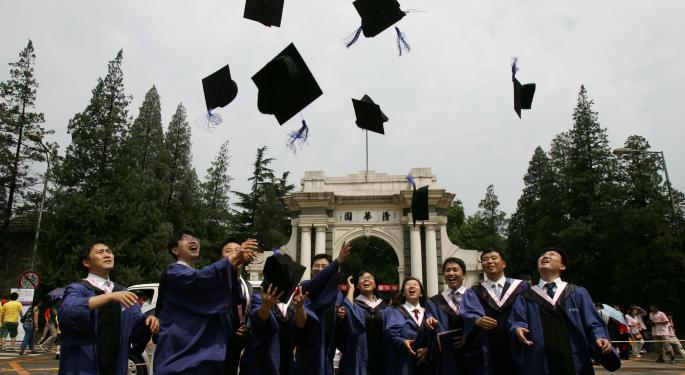 Universities and schools offering online education have grown in number over the past decade as students' preferences change and college enrollment fees rise.
The low-cost nature of an online education has been one of the largest draws for schools like the University Of Phoenix, which offers everything from a Bachelor's Degree in business administration to a Master's Degree in Education.
However for many students, financial constraints and self-esteem issues keep them from even considering a higher education.
Gunnar Stefansson is looking to change all of that with an online tutoring project designed to get low-income students involved in their education through the use of digital currencies.
Online Tutoring
In an effort to increase math proficiency among students across the globe, Stefansson founded Tutor Web, an online tutoring system that helps students by providing courses covering topics like calculus and statistics.
Students from around the globe can participate in the classes, designed by Gunnar himself and some of his colleagues at the University of Iceland.
Digital Rewards
This year, the site added a reward system based on its own cryptocurrency, smileycoin. Smileycoin can be bought and sold on cryptocurrency exchanges and is intended to give students an incentive to participating in the program.
Students can earn the coin in a variety of ways from passing a lecture for a relatively small number of coins to earning the highest mark in the class for a larger sum.
The site is also rolling out a peer-tutoring option, which allows students to tutor each other and pay for those services using smileycoin.
Related Link: Charities Are Turning To Bitcoin
The Bigger Picture
While the value of smileycoin is still quite low, Gunnar told Benzinga that he sees the platform as a jumping off point for bigger things. While only a handful of students have cashed in their smileycoins on an exchange to date, Tutor Web is hoping to expand the project to include new uses for the coin that could further entice students to make use of the service.
In the future, he hopes to partner with other companies like coffee shops and airlines to offer discounts or video game providers to offer free time for smileycoin payments.
Ideally, Stefansson said smileycoin would mature enough to give low income students a way to earn their way to a higher education.
View Comments and Join the Discussion!
Posted-In: Cryptocurrency News Education Forex Top Stories Exclusives Markets Tech Best of Benzinga