The Word Of The Herd: Trading By Social Media Committee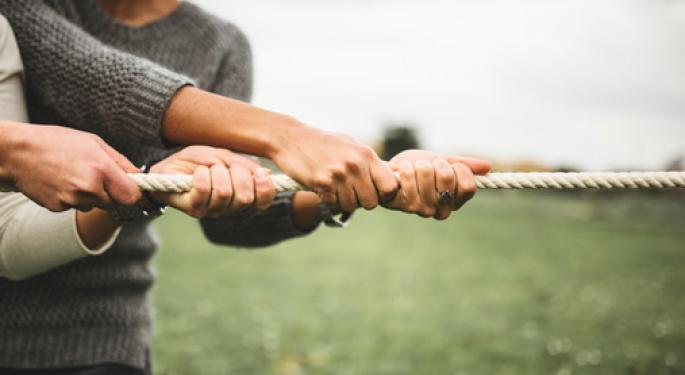 It's been a quarter century since 16 women in a small Illinois town arguably started the investment club craze.
The Beardstown Ladies, averaging 70 years, broke age and gender barriers. They secured television appearances and fat book deals that eventually crumbled under the criticism of allegedly overstated returns.
Yet even with the fall from grace, the Ladies couldn't leave the markets alone, so they quietly revived their meetings. Maybe they knew a little secret: trading can be exponentially more rewarding when done by committee.
Traditional clubs still meet around the U.S.; many have turned stock dabblers into DIY option traders. And there are more than a few trader/author married couples who talk about the yin-yang of risk-taking and risk management that a partner approach can bring.
But now, thanks to social media, so-called investment "clubs" really have no member limit.
We're talking about chat rooms like MyTrade*, platforms including Twitter and StockTwits, and crowdsourcing—where you drink up the trading advice and commentary of the masses (sometimes paid, sometimes unpaid). And we're talking about 24/7 mobile access for all of this.
The regularity and ease of sharing is constantly evolving—as well as the immense pressure to fend off analysis paralysis.
Related Link: Exploring Options: An Introduction To Multipliers
"The best way to use crowdsourcing in your trading strategy is to have already established a base, your own sense of risk, a system that's all you. Developing a strategy that might include borrowed ideas is an evolving process that constantly needs to be tested and refined," says Shawn Cruz, trader content specialist at TD Ameritrade. "Maybe you're grabbing a piece from one contributor and combining it with another, and so on."
The scope of shared content now extends well beyond tweeting a favorite ticker or two.
"The Share tool on thinkorswim® allows users to make a custom indicator that's shareable with one click," says Cruz. "You might share studies, screen set-ups, or outright trade ideas."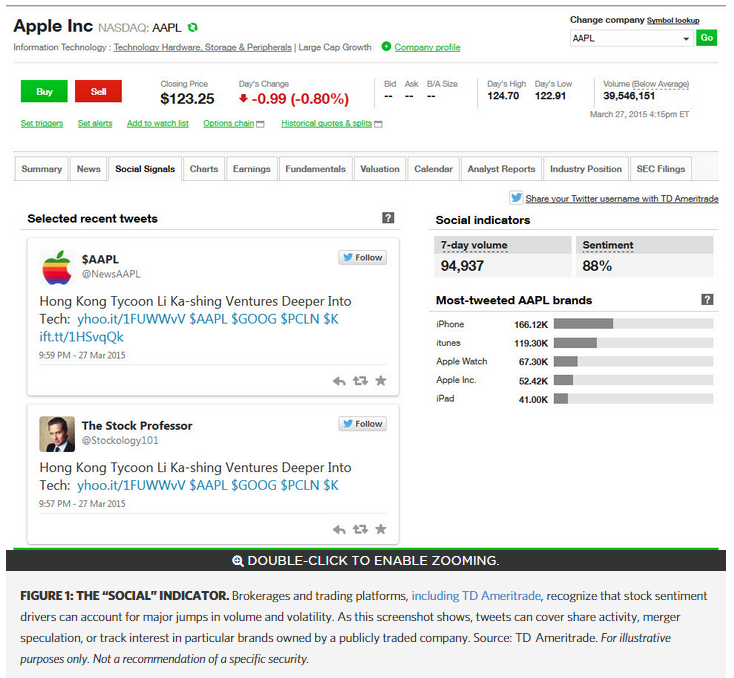 Public Opinion Or Peer Pressure?
Laying claim to social financial dominance is its own high-stakes contest.
In 2012, Twitter co-opted the $ symbol from StockTwits, a social media platform that—unlike the far-reaching Twitter—targets only the financial and investing community. So AAPL becomes $AAPL. Twitter calls them "cash-tags," a twist, of course, on hashtag, and they're clickable. StockTwits accused Twitter of "hijacking" its idea.
And it's not just fellow traders who are sharing. Companies have also increasingly embraced social media to expand the contributors to market research that was formerly locked up under steep subscription barriers.
For instance, Estimize crowdsources corporate earnings and revenue estimates from the sell-side, the buy-side, as well as independent contributors such as academics, private investors, and students. To give an idea of its reach: some 6,290 contributors share forecasts with more than 37,900 "community" members to cover about 1,000 stocks quarterly, according to the company's website.
Another firm, Social Market Analytics, taps into Twitter's data stream to quantify predictive social sentiment for equities. And yet another, SumZero, is an online community where buy-side investment professionals can share and rate investment opinions.
Social Sweet Spot
It all begs the question, how much is too much?
Alex "Sandy" Pentland wrote in the Harvard Business Review of his research project with then-MIT postdoctoral associate Yaniv Altshuler and PhD student Wei Pan involving online trading platform eToro.
It's a largely stock- and currency-trading-focused, Cyprus-based social trading company that allows users to watch the financial trading activity of other users and copy them.
It proved a fertile ground for research, too. As the trio noted, eToro investors conducted two main types of trades: a "single trade," or a standard stock purchase that a user made on her own, and a "social trade," in which a user placed a trade that exactly copied another user's single trade.
Across almost 10 million financial transactions studied, the three said their analysis of the results revealed that the effect of social learning is significant. But there's a desired medium between too much influence and not enough influence.
"The traders who had the right balance and diversity of ideas in their network—meaning that their social learning was neither too sparse nor too dense—had a return on investment that was 30% higher than the returns of both the isolated traders and those in the herd. In this digital trading environment, the sweet spot resides between the two extremes," said Pentland.
Now, does your ride down the river of information make you a better trader? It's likely that many other factors come into play, too, risk management chief among them. With "committees" comes the risk that one listing ship can sink a whole fleet. As the legal disclosure copy that accompanies TD Ameritrade's investing social tools reminds us rather soberly: Posts presented in "social signals" are not subject to any fact-checking, may be without reasonable basis and claims may be unsubstantiated. Thoroughly evaluate all information before trading.
"Just because someone shared their best idea doesn't mean it's your best idea," adds Cruz.
But thanks to the democratization of market data and new avenues to tap the minds of market masters, you can decide what's best and what's not.
This piece was originally posted here by Rachel Koning Beals on April 9, 2015.
Spreads and other multiple-leg option strategies can entail substantial transaction costs, including multiple commissions, which may impact any potential return.
A rollover is not your only alternative when dealing with old retirement plans. Please click here for more information on rollover alternatives.
Futures and futures options trading is speculative, and is not suitable for all investors. Please read the "Risk Disclosure for Futures and Options" prior to trading futures products.
Market volatility, volume, and system availability may delay account access and trade executions.
Past performance of a security or strategy does not guarantee future results or success.
Options are not suitable for all investors as the special risks inherent to options trading may expose investors to potentially rapid and substantial losses. Options trading subject to TD Ameritrade review and approval. Please read Characteristics and Risks of Standardized Options before investing in options.
Supporting documentation for any claims, comparisons, statistics, or other technical data will be supplied upon request.
The information is not intended to be investment advice or construed as a recommendation or endorsement of any particular investment or investment strategy, and is for illustrative purposes only. Be sure to understand all risks involved with each strategy, including commission costs, before attempting to place any trade. Clients must consider all relevant risk factors, including their own personal financial situations, before trading.
TD Ameritrade, Inc., member FINRA/SIPC. TD Ameritrade is a trademark jointly owned by TD Ameritrade IP Company, Inc. and The Toronto-Dominion Bank. © 2015 TD Ameritrade IP Company, Inc. All rights reserved. Used with permission.
Posted-In: Rachel Koning Beals TD AmeritradeEducation Opinion Media General Best of Benzinga
View Comments and Join the Discussion!