#PreMarket Prep Guest List For The Week Of March 23: These Hedge Fund Managers Want To Answer Your Investing Questions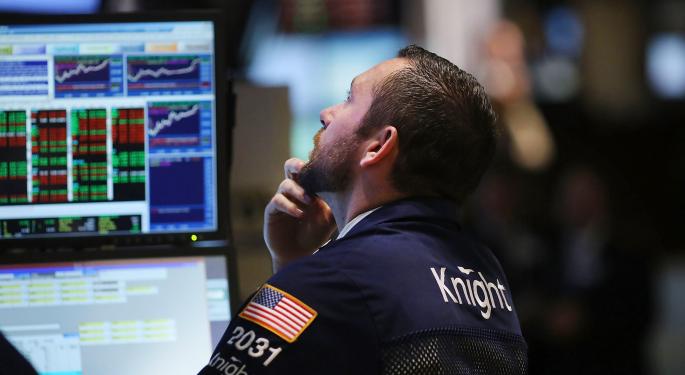 There are plenty of hedge fund managers on this week's show. Triogem Asset Management CIO Tim Seymour joins us as a special guest on this week's #PreMarket Prep, where you can have him answer your questions live on the show!
Be sure to tune in at 8:00 a.m. EST Monday-Friday here to interact with our veteran traders, market technicians and money managers that come on the show.
Monday, March 23, 8:35 a.m.
Anne-Marie Baiynd (@AnneMarieTrades), Author and Financial Analyst
Anne-Marie Baiynd is a trader, author and financial analyst best known for her book, "The Trading Book Course: A Practical Guide to Profiting with Technical Analysis."
9 a.m.
Scott Redler (@RedDogT3), Chief Strategist at T3 Live and T3 Trading Group
Scott Redler has been trading equities for more than 10 years and has more recently received widespread recognition from the financial community for his insightful, pragmatic approach. He began his career as a broker and venture capitalist where he was able to facilitate relationships that led him into trading. Beginning his trading career at Broadway Trading in 1999, Scott moved on with Marc Sperling to Sperling Enterprises, LLC after establishing himself as one of the best young traders in the firm.
9:20 a.m.
John Carter (@johnfcarter), President of Simpler Trading
John Carter is an options trader and the president of Simpler Trading. He's the author of "Mastering the Trade." John is also a Commodity Trading Advisor with Razor Trading and after being commissioned to write a book by McGraw Hill, his book "Mastering the Trade" was released in January, 2006. Carter's trading book soon climbed the charts at Amazon.com Carter has also been featured on CNBC, CME Group, Bloomberg, Fox Business and Tasty Trade.
Tuesday, March 24, 8:35 a.m.
Nic Chahine (@racernic), Options Expert
Nic Chahine joins the show every Tuesday to discuss the week's options outlook. He's a Marketfy Maven and author of the Create Income with Options Spreads blog.
9 a.m.
Dave Kudla (@David_Kudla), CEO of Mainstay Capital Management
David Kudla founded Mainstay Capital Management in 2000 as a firm dedicated to serving individual investors. Mainstay has grown, one investor at a time, to more than 3,500 clients in 47 states and 12 countries. As CEO and Chief Investment Strategist, Kudla oversees all operations of the firm and directs investment policy.
9:20 a.m.
Rev. Emmanuel Lemelson (@Lemelson), Chief Investment Officer of Lemelson Capital Management
Rev. Emmanuel Lemelson is the founder and president of the Lantern Foundation and also the Chief Investment Officer of Lemelson Capital Management.
He writes extensively on the psychology of investment policy as well as on the ethics of contemporary legal and economic issues and has been quoted in USA Today, The Street, ValueWalk, Seeking Alpha and countless other places.
Wednesday, March 24, 8:35 a.m.
Fari Hamzei (@HamzeiAnalytics), Founder of Hamzei Analytics
Fari Hamzei joins the show every Wednesday, bringing his wealth of knowledge on aggressive equity options and index futures trends.
9 a.m.
Michael Rich (@ProTraderMike), Founder of MOJO Day Trading
MOJO Day Trading offers a Live Day Trading Room for Day Traders and The Swing Trade Newsletter for Swing Traders. During the last 15 years, ProTrader Mike has spent endless hours and money developing the MOJO system of trading. In 2012, ProTrader Mike decided to officially launch the mojodaytrading.com website. It's the desire to help other day traders increase their chances of becoming a successful day trader that has compelled ProTrader Mike to start coaching other day traders and do it the right way with integrity, professionalism and comfortable trading environment.
9:20 a.m.
Tim Seymour (@timseymour), Founder of Emerging Money
Tim Seymour founded Emerging Money in 2009 to offer investors broader insight into the asset classes of emerging markets. He is also a co-founder and managing partner at Triogem Asset Management. In addition, Seymour is the emerging markets correspondent for CNBC.
Thursday, March 26, 8:35 a.m.
JC Parets (@allstarcharts), Founder of Eagle Bay Capital
JC Parets is a money manager, chartered market technician, technical analysis practitioner and blogger. He is also a Marketfy Maven and the author of Eagle Bay Solutions.
9 a.m.
Michael Pachter (@michaelpachter), Equity Analyst for Wedbush Securities
Michael Pachter is an experienced equity research analyst covering digital media companies, digital media retail and Internet companies. He has extensive finance, tax, M&A and corporate planning experience.
9:20 a.m.
David Tawil (@Maglan Capital), Co-Founder of Maglan Capital
David D. Tawil is Co-founder of Maglan Capital and serves as Portfolio Manager.
Prior to founding Maglan Capital, David was an investment banker with Credit Suisse, where he served as Director of Leveraged Finance and co-managed the fixed-income alternative asset trading business, focusing on sourcing and trading illiquid high-yield and distressed debt. Before joining Credit Suisse, David was an attorney with Davis Polk & Wardwell, specializing in workouts and bankruptcies.
Friday, March 27, 8:20 a.m.
Christian Tharp (@cmtstockcoach), CMT
Christian Tharp is a certified market technician. He has helped more than 2,500 beginner and advanced traders and investors around the world take control of their own financial futures. Tharp is also a Marketfy Maven and the author of "The Five-Star Stock Watch."
9 a.m.
Ryan Craver (@ryanmcraver), Retail Expert & SVP of Emerging Brands & Digital at Lamour Group
Ryan Craver currently leads strategy and emerging brands for Lamour Group's portfolio of global brands while advising several startups focused on Mobile and AdTech. Prior to joining Lamour, Craver was in charge of the core department store strategy at Lord & Taylor/Hudson's Bay Company and was a senior leader at Accenture, driving growth and profit improvement across multiple clients, including Virgin Media, FedEx and Best Buy.
9:20 a.m.
Nate Tobik (@oddballstocks), Investor and Founder of CompleteBankData.com
CompleteBankData is a place for information on banks, banking institutions and bank-holding companies. Nate Tobik also runs oddballstocks.com, an investment blog that uses research from CompleteBankData.com.
Posted-In: Benzinga #PreMarket Prep Fari Hamzei Nic Chahine Paul La MonicaEducation Exclusives Pre-Market Outlook General Best of Benzinga
View Comments and Join the Discussion!