Find Out What This Trader Means By 'Winning Before You Play'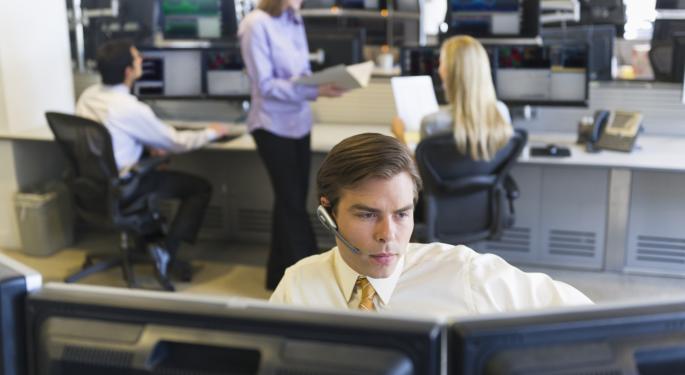 Mike Bellafiore, co-founder of SMB Capital, recently discussed on Benzinga's #PreMarket Prep his trading strategies. His firm, located in New York City, trains and backs traders, helping them navigate tricky financial markets.
Bellafiore is an advocate of the group atmosphere in a trading room. In his opinion, there is "something to be gleaned from other traders calling things out." The communal experience of a trading room multiplies the overall experience; instead of relying on one opinion and observation, a trading room allows multiple voices to be heard as multiple people observe and interpret the market movements.
Power In Preparation
In order to be a successful trader, Bellafiore stresses the importance of proper preparation. In his studies of great traders, he has observed that many traders "do not necessarily have an edge or are great predictors, it is the process they go through" that sets them apart. By establishing a plan to "win before you play," traders can adequately prep for each session.
Related Link: 3 Trading Tips From This Psychology Major Turned Trader
Bellafiore's own preparation for the next trading session begins immediately after the market closes the previous day. To begin, he takes note of any unusual trading activity from the closing prints. For example, issues that close at their highs or lows for the day may provide setups in that same direction or reversals the following day.
He emphasizes reviewing trades made that day to identify any strengths or weaknesses in his own trading for that session. He also compares how he traded according to his profitable days in the past. This allows him to acknowledge his own habits and consciously reinforce his good behavior and eliminate his weaknesses.
In addition, he reviews the information from his proprietary SMB scanner for a "snapshot of what we want to trade" the following day. With this list in hand, he can be on the lookout for any news catalysts that may reinforce or negate the possible trading setups.
Focus On Patterns
Bellafiore stressed using the "news patterns" to find stocks that have a higher probability to close at highs or lows for the session. In other words, he asks if the "news" is so good that no matter where an issue opens, it is going keep on going. Or on the other hand, will the "news," good or bad, provide a fading opportunity.
If he springs into action of the opening bell, it is primarily for a "scalp" trade. Since scalping has become more difficult with proliferation of high-frequency trading, he sets up an "opening drive play" and look to execute according to his predetermined parameters.
Instead, Bellafiore utilizes the first 45 minutes for "price discovery" to unfold. After that time period elapses, he will "focus on stocks that are the most opportunistic" according to his preconceived trading plan.
Bellafiore prefers to use one-minute charts to fine tune his entries and exits, and will rely on the five and 15-minute time frames for further confirmation. He prefers daily charts to identify technical breakouts and breakdowns in high-beta stocks that are "expensive and move a lot." He also has observed that he is most profitable in issues in the $30.00-$60.00 range, but will venture into issues under $10.00 if the circumstances dictate.
Always Adapt
Most importantly, Bellafiore attributes his and his firm's success to being able to adapt with the market. He states that in order to survive in the market world, traders must acknowledge and accept that "markets change and you need to adapt." That coupled with knowing personal strengths and weaknesses are paramount in navigating this multi-faceted trading environment.
Posted-In: #PreMarket Prep Mike Bellafiore SMB CapitalEducation Exclusives Trading Ideas Interview General
View Comments and Join the Discussion!