Is $80 Oil Economically Viable?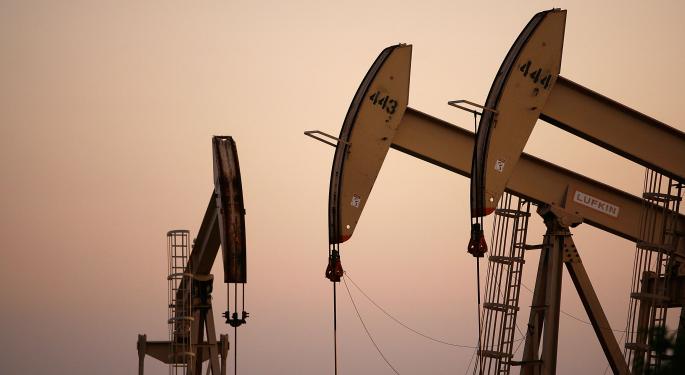 The W&T Offshore, Inc. (NYSE: WTI) "WTI crude oil" spot price is down more than 43 percent this year due to a glut in oil supply worldwide. As new fracking and horizontal drilling technology has spearheaded the energy boom in the United States, oil production has grown at a staggering rate.
The current worldwide supply of oil surpasses the demand by 300,000 barrels per day. Such an imbalance cannot be maintained for long before price or production levels must fall, and so far price has taken the hit.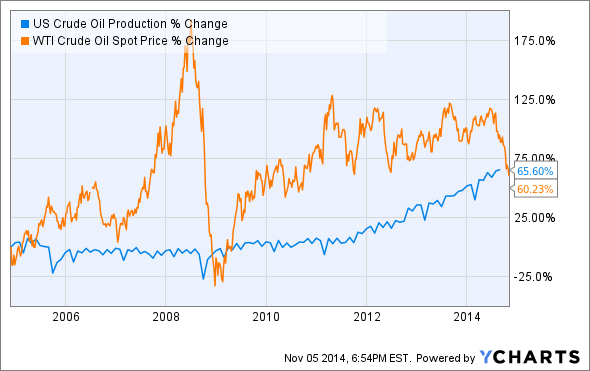 Impact On Wall Street
The dip in oil prices has sent waves through the stock market as well. The United States Oil Fund LP (ETF) (NYSE: USO) is down 16.56 percent year to date. Stocks of offshore drillers have been hammered in 2014, as Seadrill Ltd (NYSE: SDRL) and Transocean Ltd (NYSE: RIG) are both down by at least 40 percent for the year.
Related Link: Oil ETFs Rally On Election Day
Major oil players like Exxon Mobil Corporation (NYSE: XOM) and Chevron Corporation (NYSE: CVX) have been able to tread water so far this year, even reporting increases in profits. However, if oil prices remain low, both companies could see a 7-percent drop in earnings in 2015.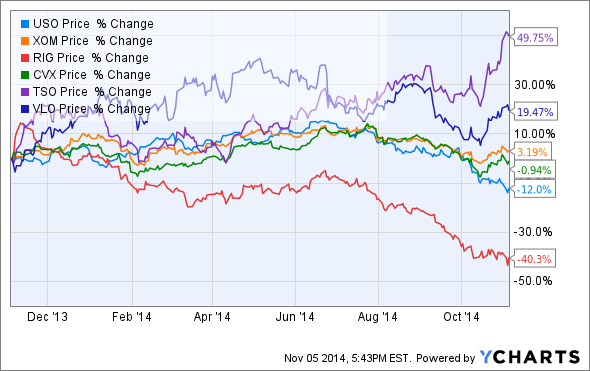 On the other hand, oil refiners such as Tesoro Corporation (NYSE: TSO) and Valero Energy Corporation (NYSE: VLO) are on fire this year. These refiners purchase crude oil and use it to make petroleum products such as gasoline. Over the past 12 months, the average weekly price of gasoline is down only about 8.3 percent, while crude oil futures have declined 18 percent. Refiners have been happily profiting off of the increased spread.
Future Demand For Oil
The U.S. Energy Information Administration (EIA) projects that U.S. liquid fuels consumption in 2040 will be less than it was in 2010. The EIA makes similar projections of decreased consumption in Europe and Japan.
Despite an increase in alternative fuels and improved oil production efficiency, many insiders believe that the oil industry will still be scrambling to supply the likes of China, India and the Middle East for years to come. The EIA projects huge surges in oil demand from these three regions, and Mohamed al-Mady, chief executive of Saudi Basic Industries Corp agrees. Al-Mady believes that the temporary oil glut will have no impact on the long-term price of oil, which will continue to rise due to population growth and increased worldwide demand.
Viability Of $80 Oil
The current WTI crude price of just below $79 per barrel is drifting dangerously close to the breakeven point for unconventional North American oil. According to Morgan Stanley analysts, the average breakeven point at a reserve level for these oil plays is $76 to $77 per barrel, but it is likely higher at the corporate level. That means that more and more U.S. shale basins are becoming unprofitable with every dollar that oil prices drop.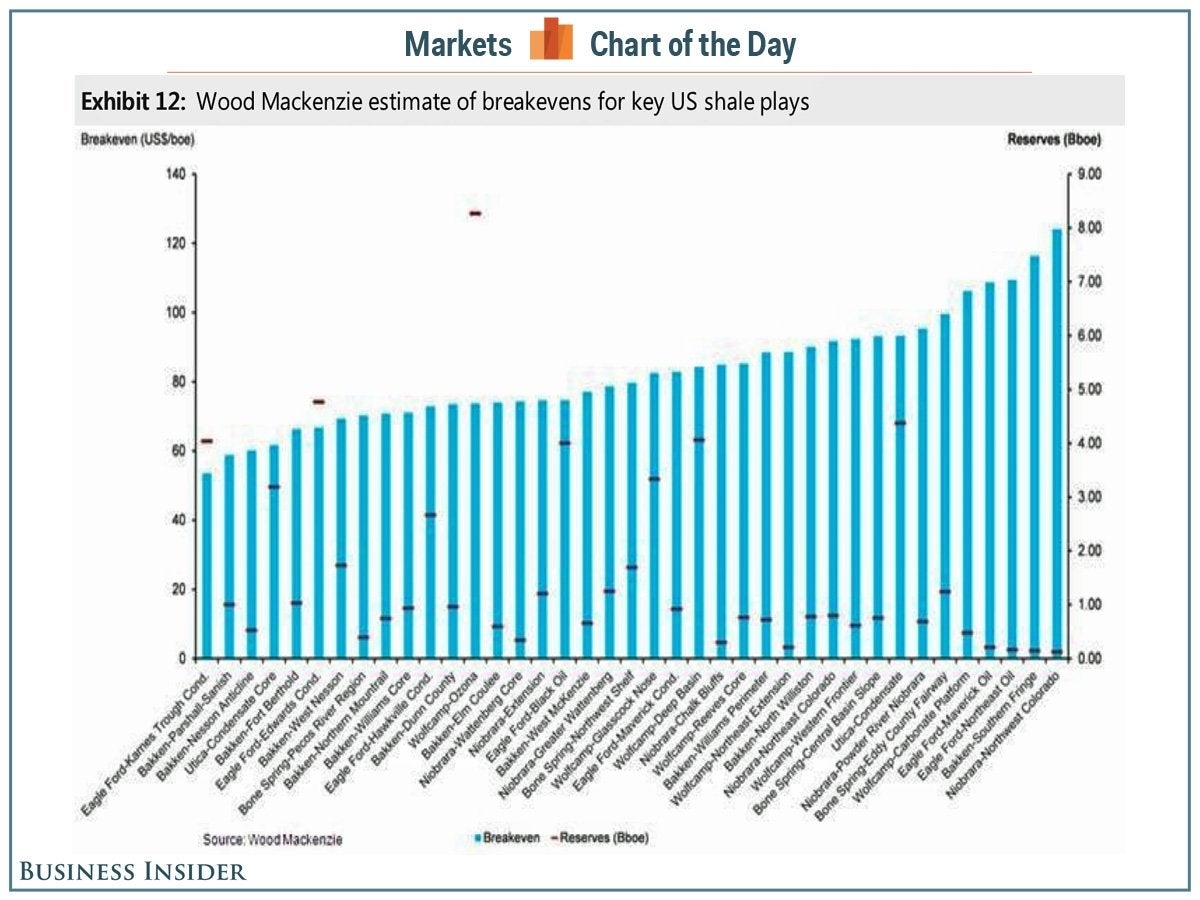 The graph below shows countries throughout the world that depend on oil to balance their national budgets. Saudi Arabia, Russia and Venezuela are among the countries that need at least $100 oil to pay the bills.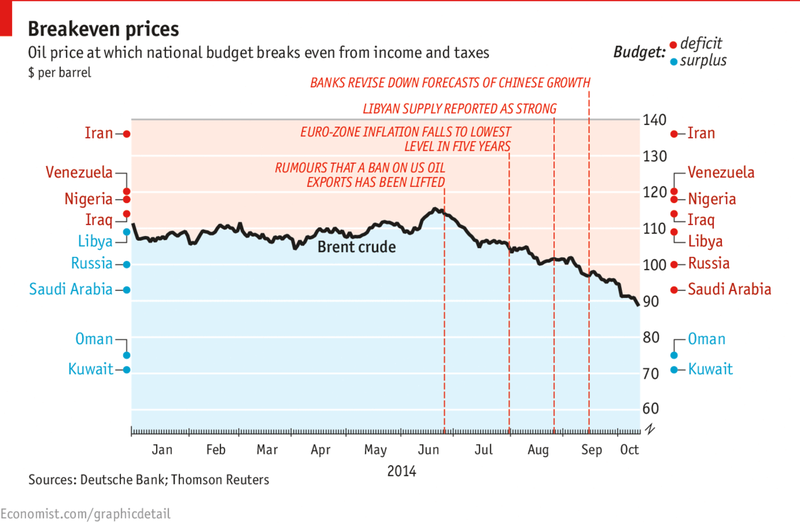 In the past, the Organization of the Petroleum Exporting Countries has cut oil production when prices fall too low, providing support for the price of oil. However, now that the United States makes such a large contribution to worldwide oil production, some believe that the price of oil is no longer under OPEC's control. Earlier this year, the United States surpassed Saudi Arabia and Russia as the world's leading crude oil producer, churning out more than 11 million barrels per day.
Related Link: Money Net CEO Thinks That Crude Oil Could Drop Below $70
Despite the United States gaining the top spot, it still produces less than 15 percent of the world's crude oil, and OPEC remains an extremely powerful influence on world oil supply. While many oil-producing countries would be willing and able to weather the storm of a short-term dip in oil prices, the long-term sustainability of $80 oil remains to be seen.
Disclosure: The author owns shares of United States Oil Fund ETF.
Posted-In: Alternative Energy Crude Oil EIASector ETFs Commodities Top Stories Economics ETFs Best of Benzinga
View Comments and Join the Discussion!