#PreMarket Prep Guest List For The Week Of November 3, 2014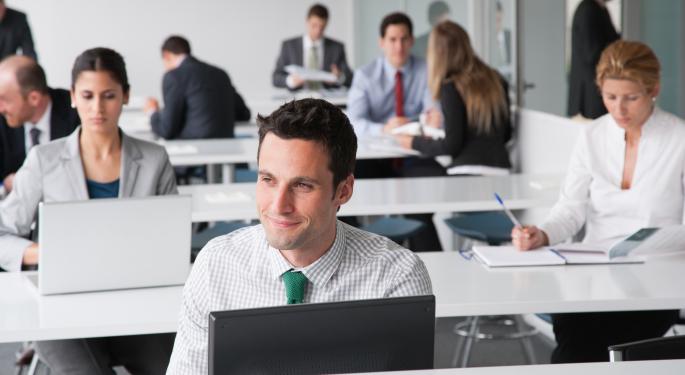 Benzinga's #PreMarket Prep broadcast, sponsored by Charles Schwab, will explore options, banks and alternative assets this week, among many other topics.
Be sure to tune in at 8:00 a.m. EST Monday-Friday here for an exciting show.
Monday, November 3, 8:35 a.m.
Bob Lang (@aztecs99), Equity & Options Trader and Founder of Explosive Options
Bob Lang trades equity and options markets at his company, Aztec Capital LLC. Through Explosive Options, Lang acts as an options trading mentor, providing trade ideas based on what he's doing for his own clients.
9 a.m.
Adam Sarhan (@adamsarhan), Founder and CEO of Sarhan Capital
Sarhan Capital, a boutique investment and advisory firm, strives to provide intelligent ideas that generate strong returns for its clients in all market environments.
9:20 a.m.
Greg Harmon (@harmongreg), CIO & Partner at Presidium Capital and founder of Dragonfly Capital
Greg Harmon has more than 25 years of trading experience at BNP Paribas, State Street and JPMorgan. He is the author of "Trading Options: Using Technical Analysis to Design Winning Trades."
Tuesday, November 4, 8:35 a.m.
Nic Chahine (@racernic), Creating Income with Options Spreads
Nic Chahine joins the show every Tuesday to discuss the week's options outlook.
9 a.m.
Andrew Keene (@KeeneOnMarket), Founder of KeeneOnTheMarket.com
Andrew Keene is the author of "Trade to Win Using Unusual Options Activity, Volatility, and Earnings." Prior to founding KeeneOnTheMarket.com in 2011, Keene worked as a proprietary trader at the Chicago Board Options Exchange.
9:20 a.m.
Nate Tobik (@oddballstocks), Investor and Founder of CompleteBankData.com
CompleteBankData is a place for information on banks, banking institutions and bank-holding companies. Nate Tobik also runs oddballstocks.com, an investment blog that uses research from CompleteBankData.com.
Wednesday, November 5, 8:35 a.m.
Fari Hamzei (@HamzeiAnalytics), Founder of Hamzei Analytics
Fari Hamzei joins the show every Wednesday, bringing his wealth of knowledge on aggressive equity options and index futures trends.
9 a.m.
Ann Logue (@annielogue), Consulting Analyst and Author of "Day Trading for Dummies"
Ann Logue is a freelance writer and consulting analyst who is fascinated by business and technology. She is the author of "Socially Responsible Investing for Dummies" and "Hedge Funds for Dummies." Her current career follows 12 years of experience as an investment analyst.
9:20 a.m.
Lydia Idem Finkley (@faithmight), Forex Trader and Author of FaithMightFX.com
Lydia Idem Finkley has been investing in equities for 18 years and actively trading currencies for seven years. With a special feel for sterling, Lydia trades exclusively GBP currency pairs, particularly the GBP/USD and EUR/GBP.
Thursday, November 6, 8:35 a.m.
Harlan Pyan (@AllAboutTrends), Co-Founder of All About Trends
All About Trends is a subscription-based newsletter service focused on helping individuals secure consistent profits in the market by trading what they see, not what they think, hear or fear.
9 a.m.
Tadas Viskanta (@abnormalreturns), Founder and Editor of Abnormal Returns
Tadas Viskanta is the founder and editor of Abnormal Returns. Abnormal Returns has over its nine years in existence has become a fixture in the financial blogosphere. Tadas is a private investor with more than 20 years of experience in the financial markets.
9:20 a.m.
Kiana Danial (@InvestDiva), CEO of Invest Diva
Kiana Danial is the CEO of Invest Diva and author of "Invest Diva's Guide to Making Money in Forex." She is a multilingual forex analyst, award-winning speaker, TV personality and entrepreneur based in Japan.
Friday, November 7, 8:35 a.m.
Sonny Singh (@BitPay), Chief Commercial Officer for BitPay
Sonny Singh is a seasoned sales and business development executive with more than 15 years' experience in helping grow technology companies. He is a frequent speaker on payments and ecommerce.
9 a.m.
Brendan Ross (@brendan_ross), President & Portfolio Manager for Direct Lending
Brendan Ross is the president of Direct Lending Investments LLC. An expert in alternative assets, Brendan has also been a turnaround CEO and run a number of companies, including ReserveAmerica and Fanfare Media Works.
9:20 a.m.
Chris Ciaccia (@Chris_Ciaccia), Technology Editor for TheStreet.com
Chris Ciaccia joined TheStreet as a technology reporter in November 2011. Prior to TheStreet, Chris covered markets for Benzinga.com and also worked as an analyst at GMAC and at Laurus Capital Management.
Posted-In: Adam Sarhan Andrew Keene Ann Logue Benzinga #PreMarket Prep Kiana DanialEducation Pre-Market Outlook General Best of Benzinga
View Comments and Join the Discussion!