Y Combinator's Stanford Startup Course: Where The Teachers Are Millionaires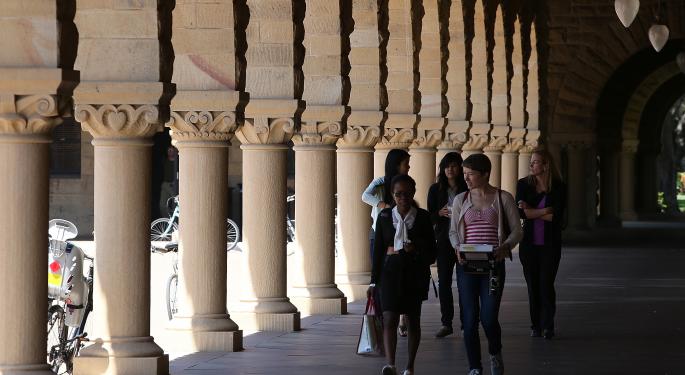 This college semester, Stanford University is trying something new by hosting a class from startup accelerator Y Combinator.
The class, called "How To Start A Startup," is mainly taught by Y Combinator President Sam Altman, but also features real-world entrepreneurial success like Facebook Inc (NASDAQ: FB) Co-Founder Dustin Moskovitz and Yahoo! Inc. (NASDAQ: YHOO) CEO Marissa Mayer.
Wayne State University School of Business Professor Jeff Stoltman told Benzinga he thinks it's a cool idea to bring together the powerful brands of Y Combinator and Stanford.
This particular class is unique for a number of reasons.
The Teachers Are Millionaires
While your typical college professor is making an average salary of about $50,000, according to The Washington Post, full-time professors at doctoral institutions have an annual salary of approximately $126,000.
Related Link: 3 Simple Steps To Take Your Startup From $0 To $10 Million
The teachers in this college course are worth at least 1,000 times any given full-time instructor's yearly salary.
Here's a breakdown of the net worth for just a few of the speakers in the class:
That's one of the things that makes the course really different, according to Y Combinator spokesperson Pulak Mittal: The speakers are all experts in their respective fields.
"The teachers have actually walked the walk, and know what you're going to struggle with, have personal stories to share," he told Benzinga in an email.
"A business professor may be well-versed in the theory, but often won't have the practical experience to back it up."
The Creator Is A College Dropout
It might be considered almost ironic that Altman, himself, dropped out of Stanford when he was 23 years old.
In addition, Thiel has outright said he feels the U.S. system of higher education is "broken" and encourages students to drop out of college and join his fellowship program.
"A college diploma is a dunce hat in disguise," Thiel told CNN http://t.co/8UdzGrshK3 pic.twitter.com/shdmHVQ1F7

— Heather Long (@byHeatherLong) September 16, 2014
The Lectures Are Available Wherever, Whenever
The course syllabus, schedule, assignments and lectures are available on the class website. Videos of each lecture are uploaded to the website the same day as they occur, and anyone can sign up for the mailing list to receive updates.
"We have students from countries all around the world, across a wide variety of backgrounds and roles, who are part of our community for this course," Mittal said. "The course will run at Stanford from September 23 to December 5, but the videos will be available forever."
Related Link: Banana Republic Creates 'Startup Guy' Look
Stoltman said the all-access platform Y Combinator has created makes it especially interesting.
"They've also made the effort to get their tentacles out to other universities across the country," he said.
More than 400 universities and other organizations are holding viewing sessions of the lectures.
Access To The Material Is Free
It's free for viewing purposes, at least. Those seeking college credit must pay for the course.
Lecture 4 of How to Start a Startup: Building Product, Talking to Users, and Growing http://t.co/mjNp9Iquas

— Y Combinator (@ycombinator) October 3, 2014
It Could Be The Class Format Of The Future
Stoltman said he thinks this is the future. He pointed out a lot of variations of this type of online, educational forum featuring advice from successful entrepreneurs, including the Kauffman Founders School and Stanford University's Entrepreneurship Corner.
"The digital platform is the future and the now," he said.
View Comments and Join the Discussion!
Posted-In: dustin moskovitz Marissa Mayer Sam Altman Stanford Startup Class Y CombinatorEducation Startups General Best of Benzinga