Choosing A Vehicle For Your Fleet And Paying For It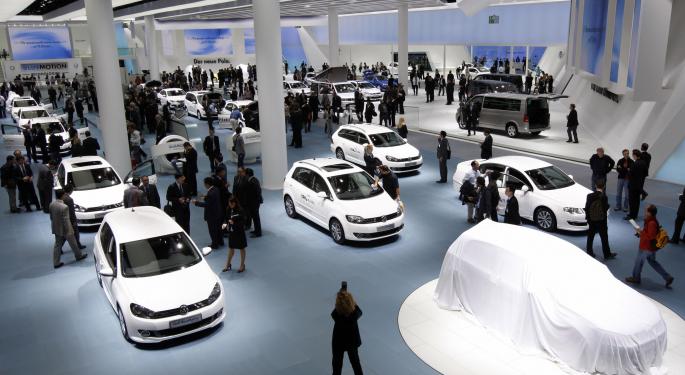 This post is sponsored by Gravytrain
This post is sponsored by GoMotorFleet.
Transportation goes hand in hand with running a business, with cars generally being the most flexible and reliable way of getting from client meeting to client meeting. Using business cars not only makes it easy to get around but also gives you the ability to offer company cars to new staff members, which could make the difference between recruiting that great salesman and losing them to a competitor. With this in mind you should consider having a fleet of vehicles for your business.
However, even though a number of businesses offer their employees company cars this doesn't mean that the process of getting a fleet is a straightforward one. This is because the fleet industry is constantly changing and there are numerous brands and models that you can choose from. There is also an abundance of information that needs to be considered when it comes to finance deals, insurance policies and taxation. To make matters more confusing there is also the option to buy vehicles out right too!
In the past most people were familiar with the Mondeo Man or seeing a vast amount of Vauxhalls on the roads, but as businesses have evolved the need for more luxurious vehicles has grown. This means that brands such as BMW, are now offering deals for businesses and there are now also more incentives for low-emission vehicles.
As there is so much choice and information to process when it comes to company cars, we have put together a post that collates most of the information you will need. However, you will probably still need to do your own research because – as already mentioned – the fleet industry is constantly changing.
Leasing Vs. Buying
The first decision you will need to make is whether you are going to buy or lease your company vehicles. Generally, it is best to lease vehicles as it means that your money won't be tied up in a fleet of cars. Assets are never going to make you money and therefore each year you own a vehicle it will depreciate in value, which of course needs to be recorded. As a result over half the fleet vehicles on the roads are leased due to the fact that the cost of running these vehicles is spread over a period of time. In contrast, if you purchase a vehicle outright you will not only incur a huge cost when you make the initial payment but the vehicle will also greatly depreciate in value during its first year.
Luckily, there are numerous leasing companies out there to choose from so picking a finance deal that is best for your business shouldn't be too difficult. You might even find that you can get a finance package tailor-made for you, especially if you are buying numerous vehicles! You should expect lease deals to be around three years but if you are looking for something a little more cost effective you could always opt for four. You will also need to choose your mileage allowance too. It is typical that if you go over the agreed miles then you will have to pay extra when it comes to giving the vehicle back.
Fleet Management Software
If you have ever been involved in managing a fleet you will know that an extraordinary amount of data is produced, which is why it is wise to invest in a fleet management department. According to fleet software specialist CFC Solutions, the amount of data that is going to be seen pouring into offices is going to increase by 10,000 percent over the next ten years, which is why you need a team to help you manage your fleet paperwork.
When it comes to choosing fleet software there are a number of products on the market right now. However, it's essential you make sure you choose one that has web based services to ensure that demands on your side are kept to a minimum. The software will take you step by step through the processes you need to go through to keep track of your fleet. As already mentioned, you will need a fleet department to manage the software and get in touch with your supplier when the need arises.
Stretching The Fuel Budget
We don't need to tell you that fuel is expensive; however we can provide you some tips on how to save money when it comes to fueling your fleet. Firstly, you should carefully choose the types of vehicles you have in your fleet.
For example, if you choose hybrid vehicles it will save you money in fuel due to the fact that they switch off when they are stationary or in slow moving traffic. Furthermore, whilst these vehicles cost more than their petrol or diesel alternatives, they are exempt from the congestion charge and you will also generally also save money on road tax.
The best way to save money on fuel is not to be so free and easy with it. With this in mind it is important to have your driver's plan each route before they head off and you might also want to go over braking habits and gear changes with them to ensure they are driving efficiently.
Insurance
A recent report has revealed that 60% of fleet managers have said that they have had to claim on their motor fleet insurance policy. With this in mind it is important to get the best cover you can find, and this doesn't always mean the cheapest. You need to have your vehicles, staff, third parties and any goods covered so the best option is fully comprehensive cover. Depending on the excess you are willing to pay the quotes will differ, but rather than just looking at the cost really look at what you are getting for your money. You might want to consider paying a little extra to ensure that you will be given courtesy cars for example.
Overall there is a lot to think about when setting up a fleet which is why you need to consider all avenues before taking the plunge. You don't want to end up paying for a fleet that is not suitable for your business or ends up digging a hole in your bank account!
For more information about sponsored articles, email ads(at)benzinga(dot)com.
The preceding article is from one of our external contributors. It does not represent the opinion of Benzinga and has not been edited.
Find out more about Sponsored Posts.
Posted-In: business transport business vehicles BZ Sponsored choosing a vehicle fleet fleet transportationEducation General Best of Benzinga