#PreMarket Prep Guest List For The Week Of September 8, 2014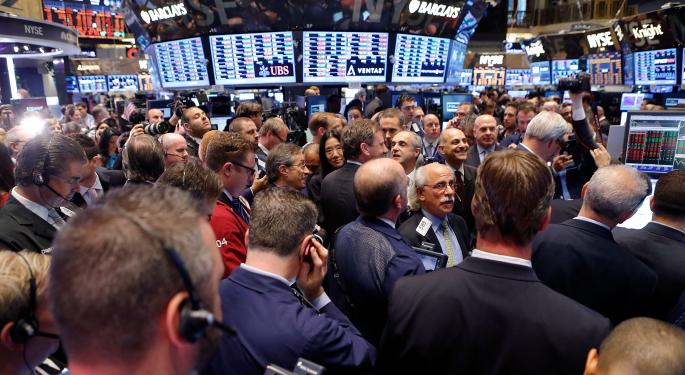 Don't miss these exciting new guests on Benzinga's #PreMarket Prep broadcast, sponsored by Marketfy.
Be sure to tune in at 8:00 a.m. EST Monday-Friday here to get your daily dose of market analysis and insight.
Monday, September 8, 8:20 a.m.
Paul LaMonica (@LaMonicaBuzz), Digital Correspondent at CNNMoney
Paul LaMonica writes daily about the markets, economy and technology, and also appears in the daily Buzz video segment. La Monica previously was an assistant managing editor overseeing the site's economic, markets and technology coverage.
9 a.m.
Ashraf Laidi (@alaidi), Chief Global Strategist at City Index/FX Solutions
Ashraf Laidi's analysis of currency markets stand out based on his distinct style in bridging the fundamental and technical aspects of the markets.
9:20 a.m.
Karl Setzer (@ksetzergrains), Grain Market Analyst at MaxYield Grain
Karl has spent his entire life and professional career in farming, and remains a farm kid at heart. It's this passion that guides his pursuit of leading edge information and insights that are featured in his daily commentary/market analysis, which is published and heard throughout the Midwest and internationally, including Europe, Ukraine, Pakistan, Singapore and Dubai.
Tuesday, September 9, 8:35 a.m.
Nic Chahine (@racernic), Creating Income with Options Spreads
Nic Chahine will join the show every Tuesday to discuss the week's options outlook.
9 a.m.
Angie Maguire (@goddessofgrain), Vice President of Grain for Citizens Elevator
At Citizens, Angie Maguire manages five elevator locations as well as a state of the art on-farm program, bringing the company's overall yearly handling to more than 11 mbu. Her main focus is on maximizing farm margins while pulling the curtain back on marketing fundamentals and tools in a fun, but informative manner.
9:20 a.m.
Sheldon McIntyre (@hertcapital), Founder of 360° Virtual Advisor
Sheldon McIntyre founded 360° Virtual Advisors in 2010. He has more than 14 years of experience in the investment industry.
Wednesday, September 10, 8:35 a.m.
Fari Hamzei (@HamzeiAnalytics), Founder of Hamzei Analytics
Fari Hamzei joins the show every Wednesday, bringing his wealth of knowledge on aggressive equity options and index futures trends.
9 a.m.
Steve Ellis (@Yodellis), Executive Vice President and Group Head of Wholesale Services at Wells Fargo
Wholesale Services includes enterprise payments strategy, technology services and treasury management groups, along with various operational areas including commercial loan services, customer analytics, marketing and communications, risk management, and mobile and social media strategies. Based in San Francisco, Ellis is also a member of the Wells Fargo Management Committee.
9:20 a.m.
Craig Erlam (@Craig_AlpariUK), Market Analyst at Alpari
Craig Erlam joined Alpari at the beginning of 2012 after four years in the financial services industry, including working at Goldman Sachs. He provides insight and analysis for clients which he posts daily on Twitter and the Alpari (UK) website. You can also find Craig on YouTube where he gives short market updates, including charting analysis.
Thursday, September 11, 8:35 a.m.
Harlan Pyan (@AllAboutTrends), Co-Founder of All About Trends
All About Trends is a subscription-based newsletter service focused on helping individuals secure consistent profits in the market by trading what they see, not what they think, hear or fear.
9 a.m.
Tobias Carlisle (@Greenbackd), Principal at Eyquem Investment Management
Eyquem Investment Management is a value investment firm located in Santa Monica, California. Eyquem manages separately managed accounts and the private Eyquem Fund, both of which implement a deep value, contrarian and activist investment strategy.
Friday, September 12, 8:35 a.m.
Jame Katoulous (@jameskoutoulas), C0-CEO of Typhon Capital Management
James Katoulous is also the Co-CEO of Typhon Access, which provides an easy way for qualified investors to invest in a diversified portfolio of top commodity traders, have transparent reporting and utilize the cash efficiency inherent in futures while having the liability insulation that pools provide.
He is the president and co-founder of the Commodity Customer Coalition, a non-profit customer advocacy organization formed in response to the MF Global bankruptcy.
9 a.m.
Justin Pulitzer (@JustinPulitzer), Swing Trader
Justin Pulitzer's specialty is in premium sales option trading as well as directional trade over multiple time horizons. He traffics mostly in momentum stocks like Apple, Facebook, Google and Priceline, as well as various dividend stocks for yield-based diversification.
Posted-In: Education Pre-Market Outlook General Best of Benzinga
View Comments and Join the Discussion!