Bear Versus Bull: Who Tells The Better Story?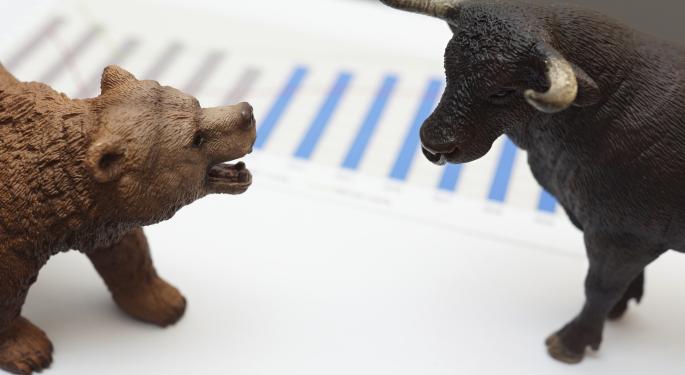 The S&P 500 (SPX) recently closed over 2,000 for the first time ever, and so far in 2014 the index has registered more than two-dozen new highs.
Many pundits are therefore proclaiming that the market is ripe for a correction. A 10 percent drop hasn't occurred in a few years. Some are even calling for a true bear market and a 20 percent drop.
Others are calling for calm and claiming that just because new records are being set left and right, business fundamentals and other factors are still pointing to even further gains.
Related Link: These Companies Could Scoop Up Digital Ally
Who is right?
Risk-On
The case for a fragile market as made by the bears includes the following points:
1. Today's market is overvalued. The P/E of around 15.5 is above the market's historical valuation of 13.4.
2. There hasn't been a 10 percent drop in the market since Sept. 2011. The bears suggests the "law of averages" indicates a drop has to come.
3. World events such as the wars in Ukraine and the Middle East could affect performance at some companies and push up oil prices which could pressure equities.
Risk-Off
The case for a continuation of the bull market:
1. During the current decade 71 new market highs have occurred, but that represents only about 6 percent of the total number of record closes ever. Almost half of all market highs occurred in the go-go 1980s and 1990s, so there is a long way to go to match that.
2. Fundamentals are still in place. While the market has risen to new highs so have corporate profits. The combined EPS for the companies in the S&P500 index was about $101 (and has been increasing at a 6 percent annual rate) as of March 2014 when the index was at 1864.
3. Interest rates are still low and the U.S. Federal Reserve has not indicated when an increase will occur. Stocks are still the best place to put excess cash even if rates rise.
4. While the P/E is above the norm it is not "excessively" so. Many analysts, such as Jeremy Seigal, have made the case for a general rise in the multiple for many reasons.
5. The North American energy boom will keep a lid on oil prices.
Take Your Pick
The S&P 500 recently finished above 2,000 for the first time ever, and both the bulls and the bears are making compelling cases regarding whether the current market represents an inordinately risky investment proposition. Investors need to decide whose arguments are most persuasive.
Happy investing.
View Comments and Join the Discussion!
Posted-In: Bear Market Bull Market record highs S&P 500Education Topics General Best of Benzinga