One Small Step For Afrezza, One Huge Step For MannKind?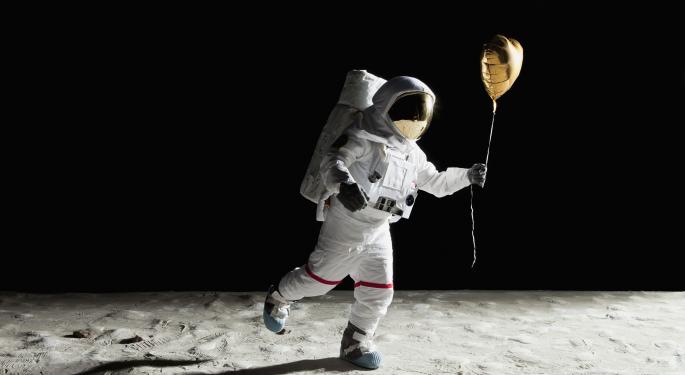 When it comes to biotech stocks, investors are always hoping for that drug approval that will make their stock "pop."
Unfortunately, it is difficult to see such an event coming.
Or is it?
In less than two short months, MannKind (NASDAQ: MNKD) shareholders will finally receive the FDA decision for Afrezza, which is MannKind's ultra rapid-acting insulin for the treatment of type 1 and 2 diabetes.
Back on May 12, during MannKind's conference call, the company carefully discussed what the company has been doing while awaiting a decision from the FDA. The call provided some key remarks from the CEO and COO that sent strong signals that an approval could be forthcoming from the FDA.
Chief Operating Officer Hakan Edstrom: "We are currently actively working with the agency to ensure a timely review. In the meantime, we are preparing our Danbury site for commercial production by executing qualifications and validations rounds using operational infrastructure."
Investors could read into the statement that in order for the company to be preparing for commercial production at it's Danbury site, management must have some confidence in the approval of Afrezza.
Chief Executive Officer Al Mann: "Another major activity during this past period has included rather intensive discussions and negotiations with a number of potential partners."
Some analysts believe that shares of MannKind have struggled to appreciate in value over the past year because of the absence of a partner being announced for Afrezza. Mann's comments seem to be hinting towards a resolution of that concern.
CEO Mann: "I believe that there is enough expectation of approval now which is really a question of the detail of the label and the program that are the only issues really outstanding at this point but one never knows what's going to happen with the regulatory process."
Simply put, it sounds like Mann is telling investors that approval is expected, he has informed investors of what the issues were, and those issues are being dealt with in order to finalize an approval of Afrezza.
That leads to the proof in the pudding: Has the stock reflected the favorable comments made by execs in MannKind's most recent conference call?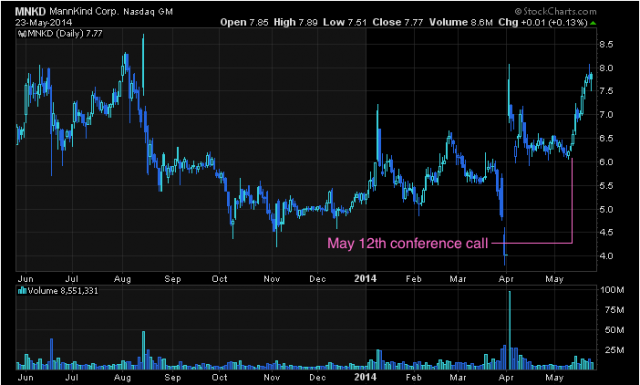 Although MannKind's stock has traded mostly sideways for the entire last year, you can see that the stock has rallied quite well since the company's May 12 conference call. It would seem that investors are buying into the CEO and COO's comments.
For most of the year the stock has stalled at or near $8.00. Might the FDA decision, or the belief in that decision, send the stock to new highs?
Of course, you never can tell for sure, but if the decision on Afrezza goes the way Mann and Edstrom seem to believe it will, the stock could very well end up breaking to new highs well beyond the $8.00 mark.
Posted in: Biotech Long Ideas Education Short Ideas Trading Ideas General Best of Benzinga