Is It Time To Sell The Rips Instead Of Buying The Dips?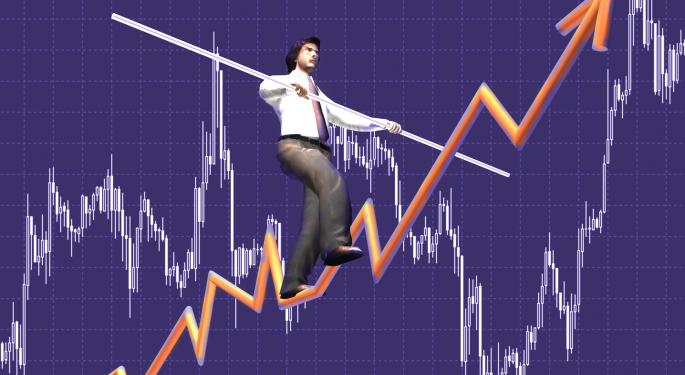 During major sell-offs over the last few years, the mainstream media will feature guests or analysts that preach "buy the dip."
It is hard to argue that this strategy has not been profitable, as the market has continued with its impressive run. These are many of same analysts, however, that said the same thing from mid-2007 and all of 2008.
Eventually they were correct, but how many investors threw in the towel during that time period and never came back to the market? Of course, it is nearly impossible to time the market, but there are times to adjust your trading strategies and take a different approach.
Now just be may be the time to sell the rips, instead of buying the dips.
Keep in mind that the nature of all bull markets, whether it be tulips, commodities or stocks, all end the same way. Months and years of slow incremental gains can be wiped out in a matter of days or months. The old saying "up like an escalator, down like an elevator" is applicable to almost any bull market over the course of time.
Related: When It Comes To Drug Stocks, Do Not Always Buy The News
Do not take the commonplace approach to the markets.
In other words, most investors who bought a stock at $20, watch it go to $80 and then pull back at $60, will not view their investment as a potential $40 gain.
Instead, investors will view exiting at $60 as taking a $20 loss (since that was its high) as opposed being content with a $40 gain. Taking on the mentality, when that stock gets back to $80, that will be the time to exit.
That is fine and dandy if and when the stock returns to that level. However, they do not make a contingency plan if the issue continues to decline. Perhaps if the issue drops to $50.00, they will lower their target to $70.00. But if the same catalysts are not in place that were present during its initial run, the issue may never return to its previous levels.
Case in point: Bank of America.
Another important factor that investors may ignore, is that during an issues decline, there are other investors or shorter-term traders that will pile into the issue. Following the "buy the dip" mentality, these investors will have much lower price targets for the issue and may be quicker to exit the issue on any further declines.
This further exacerbates the downward momentum as the process repeats itself time and time again. For example, Bank of America (NYSE: BAC), which made an all-time high of $55.08 in February 2006 before declining to $2.53 in February 2009, has so much overhead supply than no matter what the company does, it will never recover to its all-time high.
The huge overhead supply in this issue, coupled with high-frequency traders that identify any huge sell orders and trade ahead of it, creates a wall resistance that may never allow the issue to return to $30 or $40, let alone $55.08.
So what does "sell the rips" really mean?
It means if an issue in your portfolio has retreated from its high, pick a few levels for an exit. One level on the upside -- before its all-time high -- where you would be content with the profit, and another one on the downside, where you can secure some gain instead of allowing the investment to turn into a loss.
If not willing or able to implement this strategy, one may want to consider a variety of options strategies that may lock-in gains and or prevent any further losses. Just have a plan, because there is only one prediction that always rings true: the markets are unpredictable.
View Comments and Join the Discussion!
Posted-In: Long Ideas Education Short Ideas Technicals Psychology Economics Markets Trading Ideas Best of Benzinga